U.S. Yields Set to Leave Europe's in the Rearview Mirror
(Bloomberg Opinion) -- Where the U.S. leads, the world will follow. That has been the case in the bond market for the past month as American yields have climbed steadily. But Europe is unlikely to follow the leader much further if U.S. Treasuries move up to a higher yield range; there's simply not enough high-quality European debt to go around.
The reasons for rising U.S. government bond yields are easy to rattle off:
A Federal Reserve intent on raising rates and reducing its quantitative-easing holdings at a faster pace.
Robust economic growth.
A widening federal budget deficit, which means the Treasury needs to sell more bonds.
An inflation rate rising steadily toward 3 percent.
The risk that China, the largest holder of U.S. Treasuries, decides to use them as ammunition in an intensifying trade war.
All these are chilling for bondholders.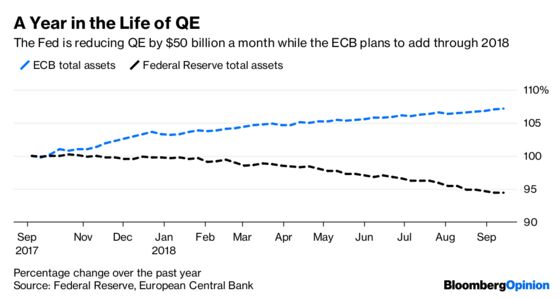 The reverse is largely the case for Europe:
The European Central Bank's negative 40 basis points deposit rate is on hold for at least another year.
The ECB's QE, though tapering off, will continue through the end of the year.
Growth in Europe is half that of the U.S.
Net issuance from the German government over the next few years is set to be around zero, according to Unicredit analysts.
Core euro-area inflation is stuck at just 1 percent.
This doesn't make a compelling case to buy European bonds, but it suggests yields are unlikely to move much either way. Another dynamic is holding down German yields: scarcity. Demand for super-safe debt has only increased just as the pool of core European government bonds has contracted thanks to the ECB's vast QE program.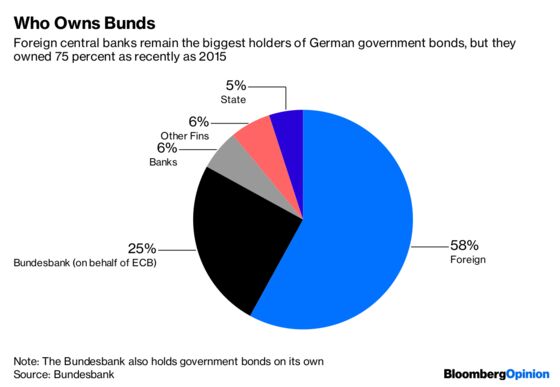 The ECB holds more than a quarter of outstanding issuance — as it does for other euro-area government bonds — with no plans to liquidate. Foreign central banks and sovereign wealth funds hold about 37 percent, according to Unicredit. These are long-term holders, so there is not much of a free float.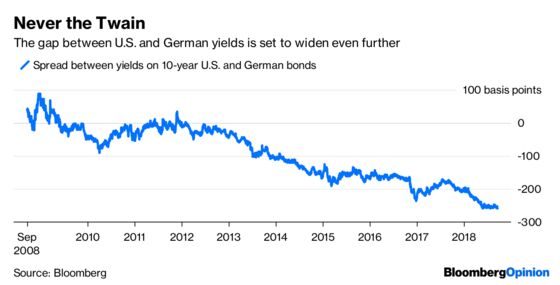 The spread between German and U.S. Treasuries has widened steadily from level in the aftermath of the financial crisis to more than 250 basis points now. That looks set to continue to widen further as the U.S. and Europe move in different directions.
This column does not necessarily reflect the opinion of the editorial board or Bloomberg LP and its owners.
Marcus Ashworth is a Bloomberg Opinion columnist covering European markets. He spent three decades in the banking industry, most recently as chief markets strategist at Haitong Securities in London.