U.S. Carmakers Need to Patch Their China Hedge
The trade dispute that's raging in the wake of Donald Trump's tariffs has made palpable the plight of the Detroit Three – General Motors Co., Ford Motor Co. and Fiat Chrysler Automobiles NV – as they dimmed their outlooks in financial results this week. If it wasn't clear before, the central role of their China businesses was on display: They either made or broke profits for the quarter.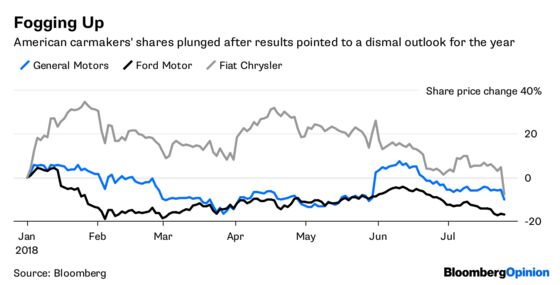 Fiat Chrysler's newly appointed CEO Mark Manley said that "it's obvious, China is clearly a key priority for me in the coming weeks," noting that the company's imported vehicles were hit by Beijing's retaliatory duties on the U.S. The automaker's average revenue per car fell 27 percent as shipments dropped. The high-end Maserati brand posted margins of just 0.4 percent and revenue plunged almost 50 percent from a year earlier, chiefly because of weakness in China.
At Ford, CEO Jim Hackett said he was "extremely dissatisfied" with China operations, where sales fell by one-quarter in the first half of the year. The company broke out its local results for the first time, unconsolidated from its Chinese joint-venture partner and the total: It lost market share, and more than half a billion dollars. CFO Bob Shanks acknowledged the risk from a nationalistic backlash in China of the kind that hurt Japanese and South Korean companies, but said Ford had "thought through those potential implications."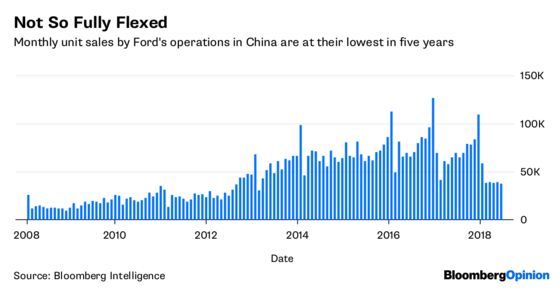 Automakers aren't to blame for the hit from Trump's tariffs in the last six months. But Ford and FCA also both got China – in volume and pricing – horribly wrong. That market is switching gears, as we explained here, and one size certainly no longer fits all. 
Retail volumes in June for locally made cars fell a bit more than 3 percent on the year, the first monthly drop in two years, though they were higher in the first half. Wholesale volumes, meanwhile, were up 2.5 percent in June and 5.6 percent on the year, raising the risk of inventory buildup at dealerships – just as Chinese consumers hold off purchases with tariffs looming. Moreover, Chinese brands are outperforming imports, and the likes of BMW AG and Toyota Motor Corp. are digging in deeper. 
Low volumes at Ford shaved $141 million off quarterly earnings, and average sales so far this year are 40 percent below the monthly mean for the last five years, as is production. So the company is now going to push harder in China, with new products and more staff – and therefore higher costs. The automaker still expects a significant annual loss in China.
FCA, too, posted a 40 percent decline in shipments from its China joint venture for the quarter, and blamed import tariffs that came into effect after the period ended.
While GM's earnings were dismal overall, the company showed how American carmakers could make China work. It managed to post a record first half, and even to boost margins to 9.5 percent. GM also succeeded in offsetting some of its rising costs in the international business with earnings in China. The automaker has lined up 10 new models in the second half, and now forecasts it will reach $2 billion in equity income for the year. As CEO Mary Barra noted, GM produces in China, for China, and held on to market share while the American brands as a group lost ground – in part because of limited luxury offerings.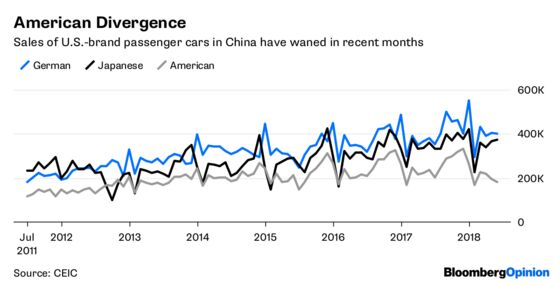 Global automakers have turned their sights on China in the last couple of years as they balance maturing markets, shrinking margins and the onslaught of technology. After being caught off-guard by the latest dismal performance, with more tariff pain to come, they have little choice but to do their best in the country.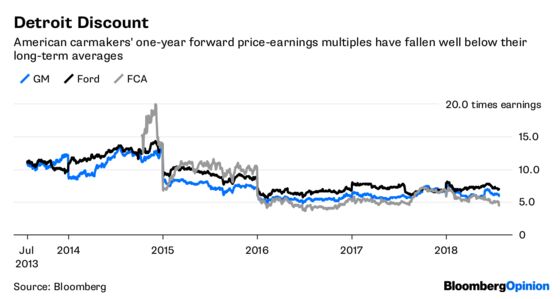 The challenge will be balancing increased spending to adjust operations and launch new cars with maintaining cost competitiveness.
Investors acknowledge that the road ahead is tough: The plunge in carmakers' stocks Wednesday took valuations down to 20 to 40 percent below their long-term averages. Unless Detroit gets its China hedge in order, that discount looks set to deepen.
This column does not necessarily reflect the opinion of the editorial board or Bloomberg LP and its owners.
Anjani Trivedi is a Bloomberg Opinion columnist covering industrial companies in Asia. She previously worked for the Wall Street Journal.