U.K. Bond Yield Surge Isn't What It Seems
(Bloomberg Opinion) -- The U.K. 10-year bond yield touched the highest since January 2016 on Friday. So, it's all over then for gilts?
Not so fast. The immediate cause of the selloff was a sloppy 3 billion-pound ($3.9 billion) five-year auction on Thursday, and that sour sentiment was probably exacerbated by the thought of a syndication coming next week for a 5 billion pound 2071 security. It's the last such deal to come this financial year, so there will be a lot of selling to get ready for it, not to mention that together this is an awful lot of supply.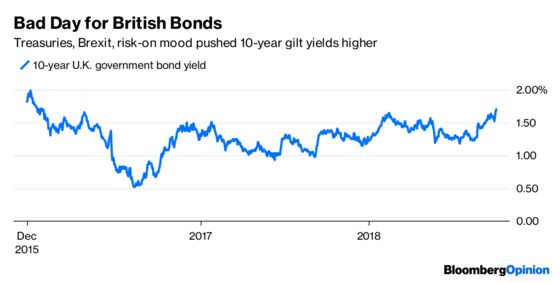 Then there is Brexit. A report from Reuters that a divorce deal is imminent cuts the fear factor for fixed income. This will pave the way for the Bank of England to persist with rate increases, and maybe even bring them forward. And, of course, the U.S. Treasury curve has shifted solidly higher, dragging all major markets along with it.
But this doesn't mean Armageddon is at hand. True, the Chancellor of the Exchequer may confirm that the government will loosen its purse strings when he presents its spending plans on Oct. 29 – if so, that would suggest there's a slew of new bond sales to come.
The steady improvement in official finances means that the extra spending doesn't need to be funded from a great slug of new borrowing. So while gilts have certainly sold off, they're not on a perpetual march upwards. Gilts are the most expensive major bond market in the world, in real terms, and they're likely to stay that way. 
This column does not necessarily reflect the opinion of the editorial board or Bloomberg LP and its owners.
Marcus Ashworth is a Bloomberg Opinion columnist covering European markets. He spent three decades in the banking industry, most recently as chief markets strategist at Haitong Securities in London.