Turkey's Banks Get Some Breathing Space
(Bloomberg Opinion) -- Turkey's banks are finally catching a break as the country's tumultuous currency crisis ebbs. But the peace may not last for long.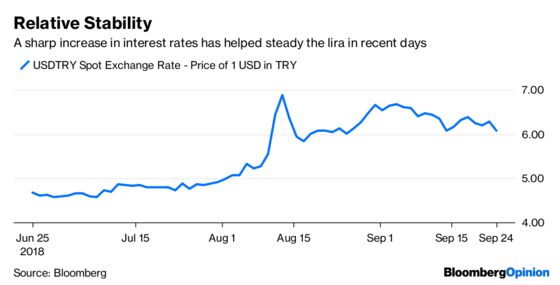 The additional yield, or spread, investors demand to own debt issued by Turkish lenders instead of the comparable government bond has fallen sharply from August's record level.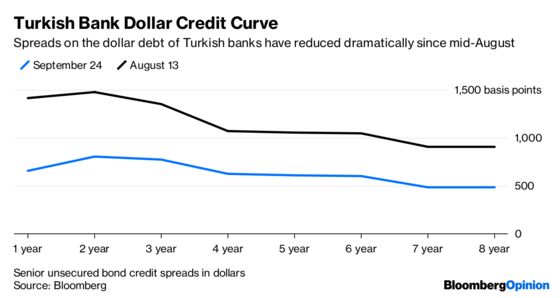 Investors' worst fears of an economic implosion that would lead to a painful bailout by the International Monetary Fund — or a bail-in of banks' subordinated bonds — appear to be ebbing. President Recep Tayyip Erdogan has so far eschewed direct outside aid and, on Tuesday, Finance Minister Berat Albayrak reinforced the message that the government is ready to provide support, if needed.
The government has already eased the rules on how banks report their souring loans, giving them more freedom to grant forbearance on companies' bad debts. That should help to keep afloat corporate borrowers reeling from the lira's plunge.
It has also dangled the idea of setting up a bad bank that would assume lenders' most troubled loans — potentially a major positive for the industry. Unfortunately there were no details in Albayrak's latest economic plan, and Turkey's top financial regulator, Mehmet Ali Akben, told the Dunya newspaper that such a move isn't planned. Action is urgently needed on this vital element in alleviating Turkey's distressed debt situation if the recent improvement in banks' credit costs isn't to be reversed.
One important litmus test for the industry is that Akbank Turk AS, the country's second-biggest lender by market value, looks set to sign a one-year rollover of a foreign currency syndicated loan this week — an indication that foreign capital is available, if at a higher price than before.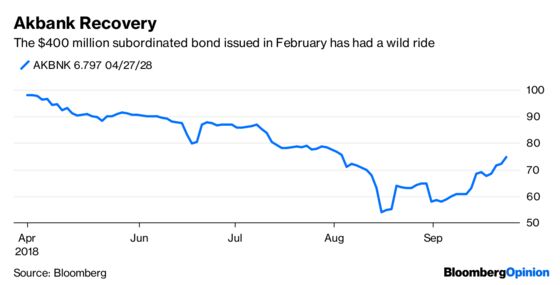 But make no mistake. This is no return to normality in the long term. A spate of mass bankruptcies has been averted, but lenders' profits will be severely squeezed in the long term as non-performing loans climb. A sharply inverted yield curve will also make it hard for banks to operate. Lenders mostly fund themselves by borrowing at shorter maturities and then lending to customers at longer durations.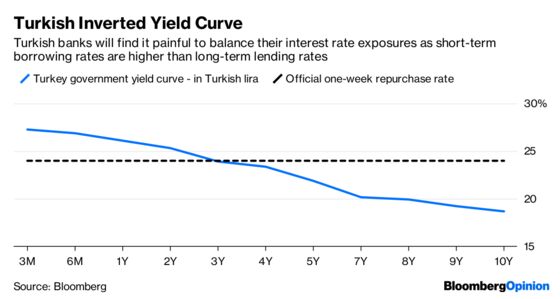 The central bank's decision to raise its one-week repurchase rate by 625 basis points to 24 percent on Sept. 13 has helped arrest the lira's slide and slow the crisis. For the government, the goal is keeping the economy and companies functioning, which means finance has to function, too. So far, Erdogan's ministers have been able to soothe investors' nerves — but they will need to follow through with their promises of help if they are to avert another financial crisis.
This column does not necessarily reflect the opinion of the editorial board or Bloomberg LP and its owners.
Marcus Ashworth is a Bloomberg Opinion columnist covering European markets. He spent three decades in the banking industry, most recently as chief markets strategist at Haitong Securities in London.