TSMC's Troubles Piling Up Show Risk for Global Tech
(Bloomberg Opinion) -- Excess inventories have been added to the list of headwinds facing the king of global semiconductors. 
Taiwan Semiconductor Manufacturing Co. was forced to cut its 2018 revenue forecast for the third time this year after previously blaming weakness in smartphones and cryptocurrency mining.
Its latest sales growth outlook is now as much as 50 percent lower than the company expected at the start of the year.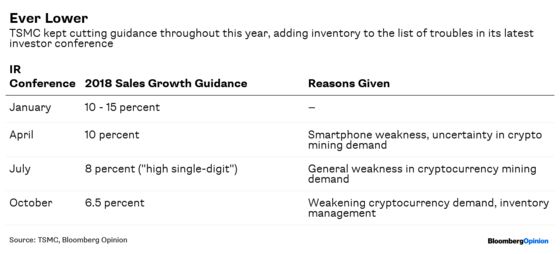 CFO Lora Ho once again pointed to crypto but this time added "inventory management by our customers" to the list of troubles facing the company. That's code for: Clients are cutting orders because they already bit off more than they can chew.
This adds to the ongoing saga of TSMC's exposure to cryptocurrency mining, although the company has declined to say how much it makes from the sector.
I crunched the numbers released by the biggest player, Bitmain Technologies Ltd., and estimated that the chip foundry got around $874 million in revenue from that single Chinese maker of mining machines during the first half. That's more than 5 percent of TSMC's revenue, a lot for a company with a very long client list.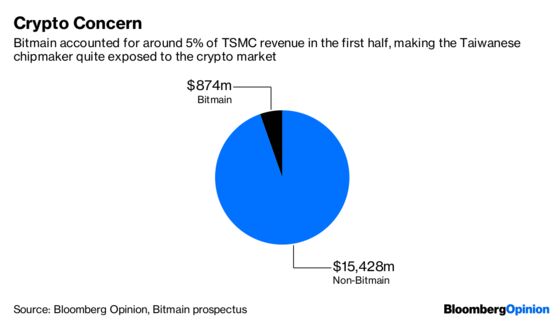 Now TSMC has to grapple with a decline in consumer electronics demand and weakness everywhere else, factors that have been driving stockpiles higher for the past few quarters.
I sounded the alarm over inventories almost two months ago after analyzing the balance sheets of a broad array of technology companies – including Apple Inc., Samsung Electronics Co. and Hon Hai Precision Industry Co. – to note that stockpiles were at the highest level since the financial crisis.
Seeking to ease investor concerns, CEO C.C. Wei on Thursday said that inventory at the end of this year, compared with the same time last year, won't be as high.
That's a good thing. But the path to lower inventory is a reduction in production as the rest of the supply chain hopes someone will buy what's already on their shelves.
Wei asserted that this inventory-led slowdown won't hurt demand for 2019. Given his track record in forecasting TSMC's own revenue growth, observers would be right to treat such reassurance cautiously.
Naturally, investors will be hoping he's right. He needs to be.
TSMC found an instant hit with its latest production technology – 7-nanometer accounted for 11 percent of revenue, from zero in the prior quarter. That's the fastest uptake of a new product in recent times. However, it comes with a reduction in profit margins as the company wears the high cost of introducing a more advanced technology. TSMC requires that new node to have long-term momentum to make the investment pay off.
But early demand for 7-nanometer won't mean much if consumers don't buy the end product (mostly high-end smartphones) in sufficient droves. 
Investors who ignored the inventory warning signs two months ago get a second chance with TSMC's latest guidance. They'd do well to keep a close eye on the rest of the sector during this earnings season.
This column does not necessarily reflect the opinion of the editorial board or Bloomberg LP and its owners.
Tim Culpan is a Bloomberg Opinion columnist covering technology. He previously covered technology for Bloomberg News.