Trump Says You Should Feel Richer. Do You?
(Bloomberg Opinion) -- For most Americans, the answer to that commonly asked election question — are you better off than you were two years ago? — is most likely either no, or not much, unless they're in the stock market.
Excluding investment accounts, Americans' collective wealth, despite the strong economy, has grown $4.7 billion a month slower under President Donald Trump than it did in the two years of Barack Obama's administration before the 2016 election, according to data from the Federal Reserve.
Another sign that Americans' fortunes aren't improving as fast: The cash they have on hand — what is in their checking and savings accounts, as well as any money market funds or under their mattresses — is up just 7 percent since Trump was elected president, according to the most recent data from the Fed. That compares with the 13 percent gain during the two years before Trump's election.
All told, America is collectively wealthier since November 2016. The total net worth of all American households has climbed nearly $14 trillion, but 62 percent of that gain came from investments and was most likely not shared equally. About 84 percent of the wealth in the stock market is held by the top 10 percent wealthiest households. By comparison, during the last two years of the Obama administration, 69 percent of the increase in Americans' net worth came outside of investment accounts.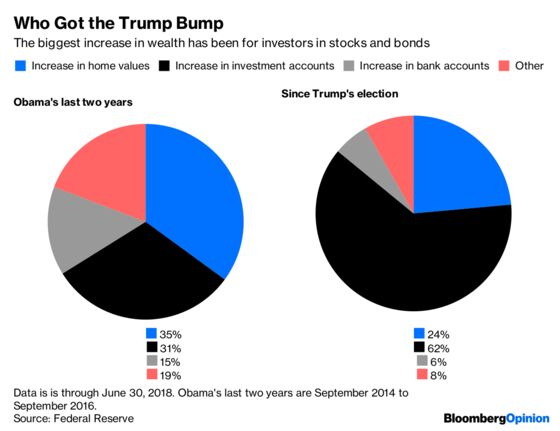 On top of that, Americans' indebtedness has been growing faster under Trump, by about $43 billion more a quarter, than it did under Obama. That figure excludes the growth in the federal debt, which could rise by as much as $2 trillion from the tax cuts alone, which in theory will have to be paid back by individual Americans but is officially counted on the government's balance sheet, at least by the Fed, which is where I got my data.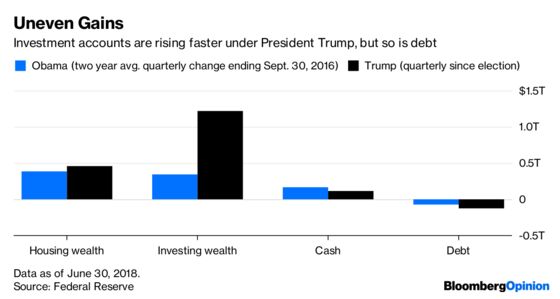 Still, measuring whether Americans are better off financially or not under one president or another isn't easy. Wealth is only one part of the equation. About 4.5 million jobs were added from January 2017 through October. Going from unemployed to employed arguably provides a much bigger improvement in financial well-being than just a larger investment account. And people who get a first job or are employed for the first time in a while most likely spend much of their new income, which is difficult to capture in the wealth data. The value of all durable goods — which includes cars, appliances and furniture — and all other nonfinancial and real estate assets owned by American households did rise $290 billion from September 2016 through the middle of this year, compared with $277 billion in the two years before that. Wages, too, are rising faster than they had been under Obama, though inflation is as well, which offsets some of that increase.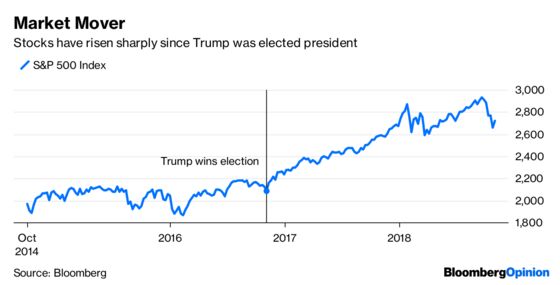 Trump can take credit, at least in part, for the jump in the stock market in the past two years because of his successful effort with Congress to cut corporate taxes. He needs to shoulder some of the responsibility for the recent sell-off, too, given his penchant for trade wars.
Still, Trump and others promised that all Americans would share in the gains from lower corporate tax rates. And Trump has regularly trumpeted, and tweeted, that this is the best economy in decades, if ever. Yet the bank accounts of average Americans have little to show for it. Instead, in Trump's America, there are are stock market winners and everyone else.
This column does not necessarily reflect the opinion of the editorial board or Bloomberg LP and its owners.
Stephen Gandel is a Bloomberg Opinion columnist covering banking and equity markets. He was previously a deputy digital editor for Fortune and an economics blogger at Time. He has also covered finance and the housing market.