Trump's Latest Plan to Slash Drug Prices Has Real Teeth
(Bloomberg Opinion) -- Up to now, most of President Donald Trump's drug-pricing proposals have been more flash than substance. But that's about to change.
Trump is set to detail a major pricing initiative in a speech Thursday afternoon in Washington, and early details suggest that this one has real teeth. Politico reports that the administration plans to benchmark Medicare prices for certain drugs against (much lower) prices in 16 other nations, and drop prices to their level over five years. The administration is specifically targeting expensive biologic drugs — medicines made by living cells — that are paid for by Medicare Part B, which covers drugs administered in doctors offices and hospitals. 
It would be an unprecedented use of government muscle to bring drug costs down in Part B, where pharmaceutical companies currently have nearly unfettered pricing power. It remains to be seen if it can distract from the GOP's other health-care woes as U.S. midterm elections approach. But in contrast with other recent drug-pricing efforts, this one has pharma investors scared, and for good reason.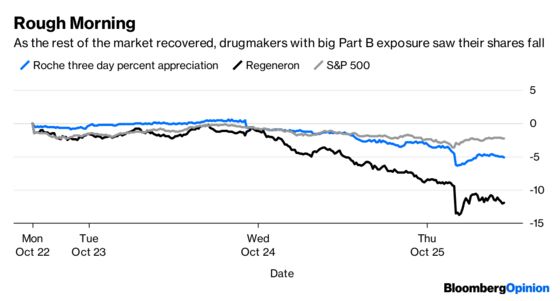 Drugmakers could theoretically avoid some pain by increasing prices abroad, and the administration is set to focus on the idea that this proposal will force other "freeloading" countries to pay their fair share. 
But that's easier said than done. Those 16 nations are much more aggressive about negotiating drug prices in a variety of different ways, and are sometimes even willing to exclude high-priced medicines from their market. On top of that, patent protection can be less robust or shorter-lived abroad, and generic competition for biologics is fiercer. Bottom line: Foreign governments are unlikely to allow prices to increase to U.S. levels, so the biggest impact will likely be on American prices. 
The administration criticizes other countries for benefiting from pharma innovation that the U.S. largely pays for with its higher drug prices. Ironically, this proposal would effectively involve the U.S. freeloading off of the more-aggressive drug pricing efforts in other countries without having to deal with the difficult trade-offs that such policies require. 
The biologic drugs that are the focus of the initiative make up a particularly expensive and lucrative corner of the drug world. A Department of Health and Human Services report released Thursday found that the country would have paid some $8 billion less in 2016 for a set of 27 widely used drugs if U.S. prices mirrored those in the rest of the world.  
Amgen Inc., Roche Holding AG, and Regeneron Pharmaceuticals Inc. are among the drugmakers that could take the biggest hit. Many medicines that generate significant sales from Part B have seen spending jump significantly in recent years. For example, Merck & Co. revealed in its third-quarter earnings report Thursday that its blockbuster cancer drug Keytruda generated $1.9 billion in revenue in the period. It brought in $1.4 billion in sales in all of 2016.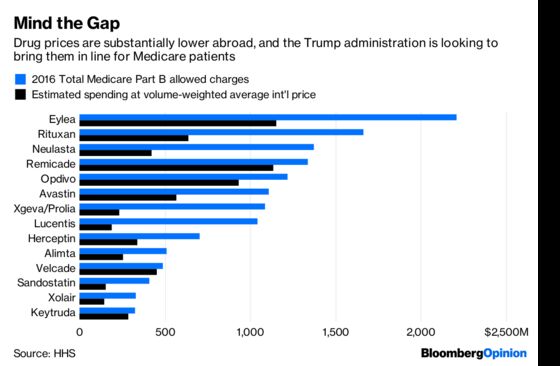 Though the international price index is the most impactful component, other
reported proposals
won't make the industry happy either. The administration plans further experimentation in how the private sector can negotiate with drugmakers, and wants to shift how doctors are paid in order to reduce incentives to prescribe expensive drugs. 
It's highly uncertain that these measures will be enacted as planned. Formidable pharma and physician lobbying forces are going to fight this proposal with everything they have, and may well win. A milder initiative from the Obama administration speedily fell apart under such an assault. 
The rule may have unintended consequences, it could discourage pharma from spending on drugs with potentially heavy Part B exposure, for example. Or firms could refuse to sell to Medicare at the new lower price, putting the government in a very difficult position. It also won't have nearly as big of an impact on the larger commercial market. 
But the timing of this proposal and its aggressiveness make it clear that the president is acutely aware of his party's weakness on health-care issues, and that he's willing to anger an important constituency in an effort to toss voters some populist red meat. 
That points to a very disruptive couple of years for the pharmaceutical sector as the administration works to put this proposal into force, and potentially goes further in the run-up to the 2020 presidential election. 
This column does not necessarily reflect the opinion of the editorial board or Bloomberg LP and its owners.
Max Nisen is a Bloomberg Opinion columnist covering biotech, pharma and health care. He previously wrote about management and corporate strategy for Quartz and Business Insider.