Trade Skepticism Is Alive and Well in the Bond Market
(Bloomberg Opinion) -- It looks as if after all the talk, all the back-and-forth and all the market swings, the U.S. and China have finally reached the terms of a "phase-one" trade deal.
The message from the world's biggest bond market: Don't get too excited about what that means for the economic outlook.
For the first half of the U.S. trading session, long-term U.S. yields surged by 10 basis points, on pace for one of the three largest increases of 2019, on the news that U.S. negotiators were offering to cut existing tariffs on Chinese imports by 50% and also cancel the tariffs that were set to take effect on Dec. 15. But then the Treasury Department auctioned $16 billion of 30-year bonds at 1 p.m. New York time, which provided a reality check of what a small agreement between the world's two largest economies would mean.
Not only did the auction price at a yield 2 basis points lower than the market was indicating before the offering, but primary dealers, which are required to submit bids, took a record-low 15.5% share. That means investors who weren't obligated to buy the longest-dated Treasuries rushed to take advantage of the trade-induced sell-off. Simply put, this sort of demand is rare. Yields ended the trading session off their highs.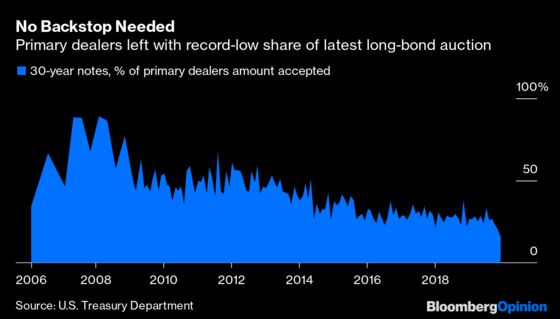 It's perilous to read too much into a single Treasury auction. And last month's 30-year bond sale also set a record for low primary-dealer takedown, at 20.7%, so Thursday's result could just be continuing that trend.
Still, if investors believed that this potential trade deal was truly a game-changer for markets and the global economy, I doubt they'd be so shortsighted to jump at a 10 basis-point move to the highest yield in a month. The effective duration of 30-year Treasuries is about 22 years, according to ICE Bank of America Merrill Lynch index data, meaning that another 10 basis-point increase would saddle owners of these new bonds with a 2.2% loss. If yields rose in the next six months to where they were as recently as April, bondholders would stand to lose more than 20%.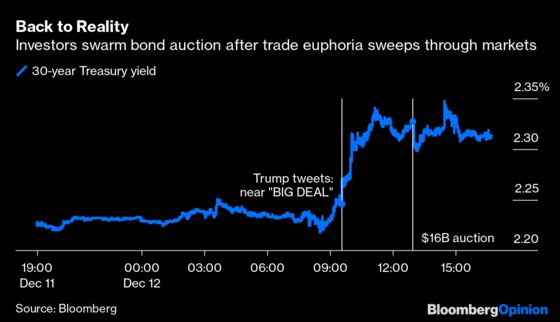 I once called long-dated Treasuries one of the most dangerous parts of the bond market. And in July 2016, when yields hit record lows, it was for good reason: It takes a tiny shift in interest rates to cause huge gains or losses. There's no credit spread to fall back on, as there is with corporate bonds. They're not like two- or three-year notes, which are closely tethered to the Federal Reserve's policy decisions. Rather, 30-year bonds are entirely subject to the whims of markets. Case in point: Recession fears reached a fever pitch in August, and long-bond yields tumbled to a record low. For a brief moment, 30-year Treasury bonds yielded less than three-month bills.
Judging by the Fed's confidence coming out of its meeting this week, the economic doomsday scenario appears to be in the rearview mirror. But the prospect of a somewhat stagnant economy is still the consensus. A Bloomberg survey shows analysts expect U.S. real gross domestic product to grow just 1.8% in 2020, the slowest pace since 2016. That could change with a trade agreement. Tom Orlik, chief economist at Bloomberg Economics, said "a deal that takes tariffs back to May 2019 levels, and provides certainty that the truce will hold, could deliver a 0.6% boost to global GDP."
For now, the deal seems to be that the U.S. will not introduce a new wave of tariffs on about $160 billion of consumer goods on Dec. 15 in exchange for a promise by China to buy more U.S. agricultural goods. Officials also apparently discussed possible reductions of existing duties on Chinese products. The bond market has already voiced its opinion: Not impressed.
This column does not necessarily reflect the opinion of the editorial board or Bloomberg LP and its owners.
Brian Chappatta is a Bloomberg Opinion columnist covering debt markets. He previously covered bonds for Bloomberg News. He is also a CFA charterholder.
View
Opinions
From Business And Policy Experts On BloombergQuint