Toyota's Buyback Gives Back Very Little
(Bloomberg Opinion) -- Toyota Motor Corp. sure gave investors something to cheer. Too bad it didn't give them much to line their pockets.
The Japanese automaker on Tuesday announced its net income rose 15.9 percent in the first half of the fiscal year. Unlike its peers, Toyota raised its forecast for the year and even managed to boost sales in China — a commendable effort for a late entrant to the world's largest car market. The company's shares rallied.
Add shareholder returns and who wouldn't be happy? Toyota announced it would buy back as much as 250 billion yen ($2.2 billion) of its shares. Total shareholder returns for 2018 were just 6 percent of the company's market value, and have barely budged in the past couple of years.
On dividends too, it wasn't any better. Toyota's dividend payout ratio fell 4 percentage points to 23.4 percent in the interim period. Its full-year payout ratio fell to 26.1 percent in 2018 from 34.6 percent a year earlier. The total return ratio – defined as dividends and buybacks as a percentage of the company's net income — will fall from 51 percent to a maximum of 43.6 percent.
Toyota says it targets a payout ratio of 30 percent to common stockholders "while giving due consideration to factors such as business results for each term, investment plans and its cash reserves."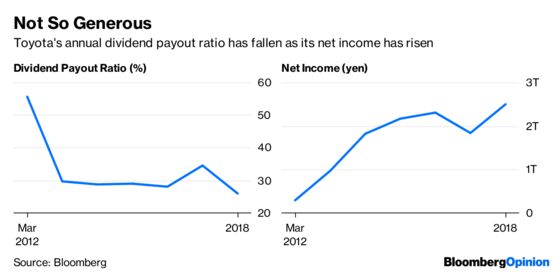 None of this sounds too generous. Especially as the company's free cash flow totaled 708.2 billion yen in the quarter ended Sept. 30, up from 400.6 billion yen in the last quarter. Toyota's return on equity over that period has gone up only 0.3 percentage points.
The basic premise of buybacks is to return excess cash to shareholders. Toyota isn't doing that. But the reduction of outstanding shares also makes metrics like return on equity, return on assets and earnings per share look better. That's one way of keeping investors happy.
This column does not necessarily reflect the opinion of the editorial board or Bloomberg LP and its owners.
Anjani Trivedi is a Bloomberg Opinion columnist covering industrial companies in Asia. She previously worked for the Wall Street Journal.