Tiffany Knows It Has to Spend Money to Make Money
(Bloomberg Opinion) -- Tiffany & Co. has some expensive plans to take its nascent turnaround to the next level. In the second quarter, it began plowing more money into marketing, technology and visual merchandising, and it expects stepped-up spending on these items to weigh on profitability for the rest of the year.
Its earnings results, though, made a strong case to investors that such expenses are worth it.
The jewelry giant reported on Tuesday that comparable sales in the second quarter rose 7 percent on a currency-adjusted basis over a year earlier, growth that easily exceeded analysts' expectations. The retailer bumped its full-year earnings guidance on the solid performance.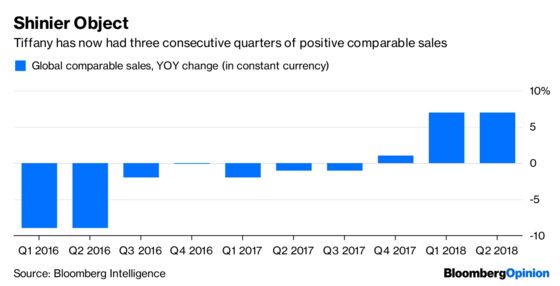 Meanwhile, its strategic initiatives drove selling, general and administrative expenses up 20 percent over a year earlier. But in a press release, CEO Alessandro Bogliolo said he was "pleased with initial customer reactions to our new communication, product and in-store initiatives."  
That suggests the spending helped stoke the stronger-than-expected sales during the quarter. For example, Bogliolo said the healthy sales growth in its engagement jewelry division was fueled almost entirely by its marketing campaign, not by product innovation.
And this round of strategic investment is only just ramping up, so it can likely do even more to drive growth in the future.
It also doesn't hurt that Tiffany was able to expand its gross margin to 64 percent in the quarter, in part thanks to lower commodity costs. That gives it more cushion to absorb the costs of flashy marketing campaigns or more inviting store displays.  
With second-quarter results showing strength at Tiffany across most geographic markets and product categories, investors can feel confident that executives are not throwing money at a brand that that is losing relevance. Rather, Tiffany has already regained some momentum, and all this profit-eating spending should help the brand build on that for the long term.
It was already evident how Tiffany intends to continue its top-line growth: It largely comes down to products that are younger and fresher. Its recently introduced Paper Flowers collection, the first significant launch from head designer Reed Krakoff, clearly demonstrates that vision. Executives said Tuesday that initial reads on that line show it is gaining traction with both new and existing customers across a wide age range.
Tiffany also said that it planned to refresh its engagement-ring offerings, too, with a coming collection called Tiffany True. 
Returning Tiffany's luster won't be cheap, but the company is demonstrating the investment is worth it.
This column does not necessarily reflect the opinion of the editorial board or Bloomberg LP and its owners.
Sarah Halzack is a Bloomberg Opinion columnist covering the consumer and retail industries. She was previously a national retail reporter for the Washington Post.