This German TV Mystery Is a Lot Easier in English
(Bloomberg Opinion) -- ProSiebenSat.1 Media SE bought matchmaking website eHarmony last month. Unfortunately for new Chief Executive Officer Max Conze, investors are falling out of love with the German broadcaster.
The former Dyson Ltd. CEO, who took over in June, has a problem. German TV advertising spend is slowing, encroachment into local language content from Netflix Inc. is accelerating, and ProSieben's investments in digital startups are yet to generate noteworthy returns.
Conze's response is an almost 500 million-euro gamble ($571 million) on German-language content. To create space for these shows, he's renegotiating a series of contracts with U.S. studios to get both the streaming rights for shows the company is already broadcasting, and renege on some programs they'd already agreed to buy. 
The process is costing ProSieben as much as 400 million euros. Developing new local content will cost an additional 80 million euros next year. The outlays contributed to a cut in the 2018 dividend, and, paired with a forecast for revenue to fall this year, left investors with a bad taste in their mouths. The shares fell as much as 18 percent on Thursday.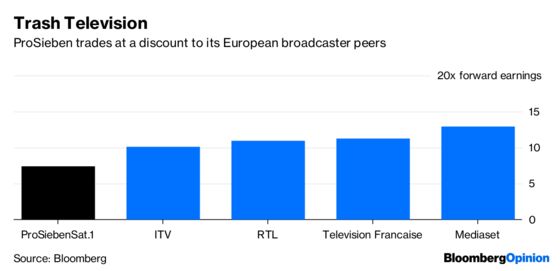 There's no doubt that German shows are important to ensure people stick with ProSieben's offering rather than competing streaming services such as Netflix, Amazon.com Inc. and, increasingly, Comcast Inc.'s Sky Plc.
But a focus on original German-language content is a higher stakes bet for ProSieben than it is for, say, ITV Plc. Because the British private broadcaster makes its shows in English, it can more readily sell those same productions to the English-speaking world, not least the U.S. That's why it's investing more in scripted content: It attracts viewers and can then be sold abroad if it's any good.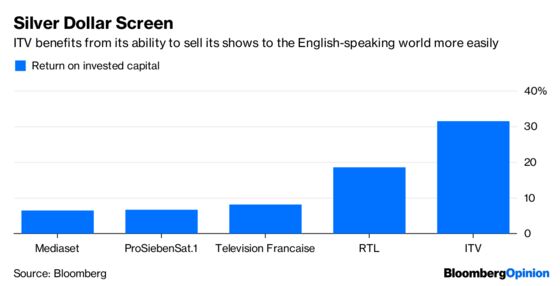 It will be harder for ProSieben to justify writing checks to make glitzy flagship scripted productions when they're in German and therefore harder to sell abroad. Sure, it can still license a format, but that is less profitable than selling a show that's already been produced.
Netflix has partly built its success on having a few prize shows such as "House of Cards," "The Crown" or "Narcos" to attract subscribers, offered alongside cheaper, lower-quality productions aimed at retaining those users. That approach would seem a wise one to imitate.
ProSieben's Red Arrow Productions unit already makes high-end dramas such as Amazon Prime's "Bosch." It wants to expand the proportion of shows Red Arrow makes for its parent's German channels to 30 percent by 2023 from the current 13 percent. But when Conze was asked on a conference call with analysts how much would be unscripted or scripted, which tends to be more expensive and higher quality, he didn't answer. 
To compete with Netflix, he'll undoubtedly need a few big-ticket productions. But it's lower risk to invest in trashy reality formats. For investors to have faith in the new approach, they'll need clarity on what shows they'll be backing, and the likely payoff. The company may shed more light when it presents its strategy update on Nov. 14.
Conze's challenge seems intractable: spend enough to attract streaming users, without betting the house. He will have to get the balance just right if investors are going to fall back in love.
This column does not necessarily reflect the opinion of the editorial board or Bloomberg LP and its owners.
Alex Webb is a Bloomberg Opinion columnist covering Europe's technology, media and communications industries. He previously covered Apple and other technology companies for Bloomberg News in San Francisco.