Think You Can Pick Trump Stocks? Guess Again
(Bloomberg Opinion) -- The Make America Great Again exchange-traded fund hasn't done so great, and that's probably worth remembering when predicting where stocks, which appeared to get a boost Wednesday from the midterm elections, are headed. 
The ETF, which is officially named the Point Bridge GOP Stock Tracker but trades under the Donald Trump-friendly ticker symbol MAGA, has returned 2 percent in the past year, including dividends, and is up 8 percent since it was introduced in early September 2017. The S&P 500 Index has risen a nearly double 16 percent over the same period. The fund's biggest bet, and misstep, was to predict that the president's mixture of promised deregulation and general skepticism of human-induced climate change would be a huge boon for the energy sector. That was wrong. Energy stocks have been one of the worst-performing sectors since Trump was elected, up just 6 percent in the past two years compared with 34 percent for the S&P 500.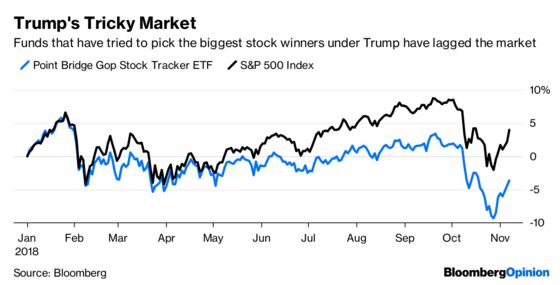 The fund's not alone. Plenty of others misplaced their bets on which stocks would benefit the most from a Trump presidency. Research firm Bespoke Investment Group predicted that infrastructure stocks would do best under Trump. They haven't, rising about 8 percent on average. Morgan Stanley's so-called Long Trump Basket, 54 stocks that the brokerage firm said would "outperform in the case of a Clinton loss/Trump win," hasn't, trailing the S&P 500 by 9 percentage points since early November 2016. 
Mexican cement company Cemex, which was on a lot of traders' Trump stock list because a lot of its product would be needed to build a wall, is down 35 percent in the past two years. An investment in prison operator GEO Group, which has a contract with the government to house undocumented immigrants, hasn't paid off in the past year, either. The value of its shares are down 9 percent, including dividends, though they were up strongly the year before.
The two of the best-performing major sectors since Trump was elected have been a surprise. Tech companies, many of which Trump bashed on the campaign trail for moving jobs overseas or avoiding taxes, have been the biggest winners, up 55 percent. Many thought health-care stocks would be disrupted by Trump's effort to overturn Obamacare. Instead, shares in the sector are up an average of 37 percent.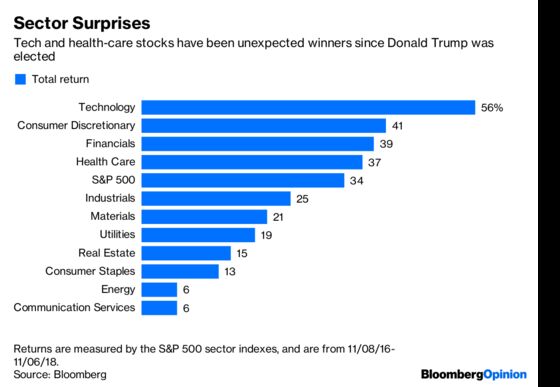 On Wednesday, the S&P 500 was up 1.5 percent at midday. The logic is history: The stock market tends to do well after midterms. Stocks have also generally risen when the government is divided.
But there are some reasons to believe history won't repeat itself this time. A Democrat-led House of Representatives will most likely do what it can to give Federal Reserve Chairman Jerome Powell political cover to continue to raise interest rates as long as Trump continues to complain about them. What's more, the traditional jump in stocks after the midterms, as my colleague John Authers recently pointed out, is most likely due more to the presidential cycle than the actual elections. And given that Trump has already pushed through a tax cut and the economy is strong, it's unlikely Washington will add any more stimulus. Worse, in the event of a recession, a divided Congress means it will be harder for lawmakers to act.
Predicting which stocks would do well when the president and his party controlled the White House and both chambers of Congress with relatively clear objectives proved to be nearly impossible. Think how tough it will be with at least two years of established opposition and a muddled policy agenda. 
This column does not necessarily reflect the opinion of the editorial board or Bloomberg LP and its owners.
Stephen Gandel is a Bloomberg Opinion columnist covering banking and equity markets. He was previously a deputy digital editor for Fortune and an economics blogger at Time. He has also covered finance and the housing market.