The Bargain Basement Might Just Be the Place to Be
(Bloomberg Opinion) -- Swathes of shuttered stores. Customers slamming their wallets shut. Amazon.com Inc. lurking in the background.
It doesn't look like the ideal time for a retailer to go public. But that's what TheWorks.co.uk Plc is planning to do. It's a brave decision given the crisis engulfing bricks-and-mortar retailers, but TheWorks is right to press ahead.
That's because the company, which was bought out of administration by private equity group Endless LLP in 2008, operates in the discount sector of the market. It sells cheap gifts, toys, books and arts and craft materials from 447 outlets. That's the one area of retail that's still thriving.
The logic goes that if consumers are going to spend in difficult economic times they want the best value for money. That's evident in the performances of Associated British Foods Plc's Primark operation, which will make more profit this year than it had forecast, and B&M European Value SA, where sweltering Brits have flocked over recent weeks to buy patio sets and paddling pools.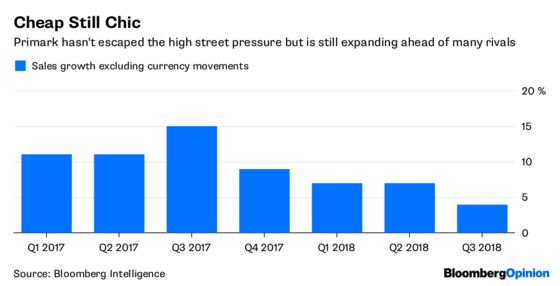 The outlook for British consumers, though, is decidedly mixed. It had looked as if the second half of the year might be more benign for struggling store chains, with wage growth moving ahead of inflation. But rising oil prices and a fresh weakening of the pound have kept inflation from continuing its downward trajectory, squeezing consumer spending. And after splurging during the World Cup and recent heatwave, Brits may now want to spread their remaining money more carefully.
What's more, with store closures sweeping across the main street there are opportunities for chains that are still growing — The Works plans to open 50 stores a year — to expand and upgrade their estates.
The company is also unusual in that it sells products online. That's still relatively rare in the discount world, where small baskets make the economics of delivery challenging. About 34 percent of online orders are collected in store helping to ease that cost burden.
Of course being in hottest part of the market is no guarantee of success. Even cut-price retailers need the right execution, and the discount aisle hasn't escaped unscathed. Poundworld went into administration last month, while value home furnishings retailer Dunelm Group Plc and Greggs Plc both recently warned profits will be lower.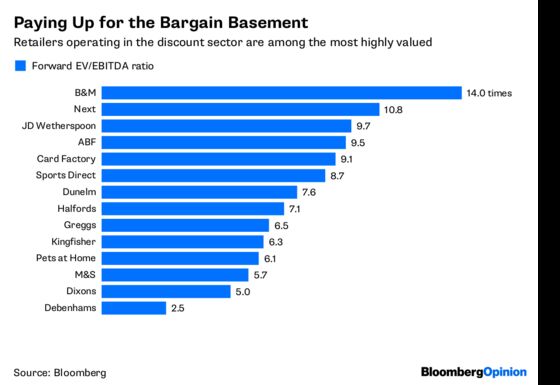 And while the products these retailers sell might be cheap, the valuations of the companies themselves are far from cut-price. That makes it an attractive time for The Works's owners to sell most of their shares. Investors, though, will need to be prepared to pay up for the privilege of being in the bargain basement.
Andrea Felsted is a Bloomberg Opinion columnist covering the consumer and retail industries. She previously worked at the Financial Times.