The Euro Stops Its Run of Self-Harm
(Bloomberg Opinion) -- German Chancellor Angela Merkel has proved once again she is the ultimate political survivor. As the immediate threat of a collapse of her government coalition passes, so does one source of some of downward pressure on the euro.
That pressure has been pretty substantial over the past two months, and the blowup in Italian politics in mid-April was just a part of it. The European Central Bank has been very effective in talking the euro weaker from the 1.25 peaks versus the dollar earlier this year, especially as President Mario Draghi navigated the end of QE in as dovish a fashion as possible.
Short positioning from hedge funds in euro currency futures is at the highest since the French elections in May 2017. That seems less justified today.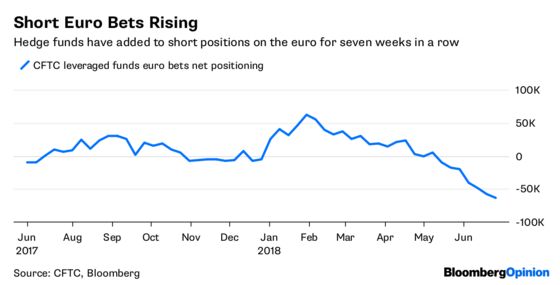 One of the bloc's biggest political problems, Italy, looks to be less hazardous. At least on the fiscal front, the new Italian government seems to be trying to conform to European Union deficit rules. And the happy result from Merkel's discussions Monday is an outlook for the German immigration issue to be tackled by the current administration, rather than by a wholesale shakeup of the political furniture. 
With Greece's exit this August from its bailout now looking assured, there seem to be no elections or political events on the horizon that look likely to shake up the euro in the near term. 
The flow of ECB bond buying will end this year, so that kills one major source of downward pressure on the currency. And in the short term, it is tough to see how the governing council can dial up the dovishness any further, after euro area inflation hit 2 percent in June.
The region's economic rebound has disappointed. Gross domestic product in the first quarter expanded 0.4 percent from the previous three months, less than the 0.7 percent pace of the fourth quarter. However, the recovery is still very much alive. According to the latest Bloomberg survey, Thursday's German factory orders will show a rebound to a 1.7 percent year-on-year pace, reversing some of this year's steep plunge. That should bolster the floor under the euro.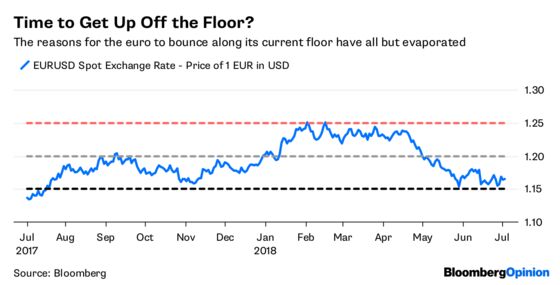 You can't think about a currency in isolation, and Europe's is vulnerable to the vagaries of the dollar. The widening differential between the U.S. Federal Funds rate, which is set to rise further this year, and the negative ECB deposit rate, whose slow crawl back to positive territory won't start until late next year, makes it hard for the euro to appreciate too far. How much this will feed dollar strength is hard to assess, but at least the euro looks set to stop harming itself.