China's Market Rescuers Could Use a Rescue
(Bloomberg Opinion) -- Pity China's brokers.
Not only must they grapple with the challenges facing their U.S. counterparts of shriveling commissions amid a stock rout – they're compelled to keep riding to the rescue of the market.
In the 2015 bailout, the brokerages were asked to buy stocks in the open market as part of the so-called national team. This time, they've been pressed into service to help prevent a mass liquidation of shares pledged as collateral: in effect, to save themselves with their own funds. China's stocks have been dragged down this year by Beijing's deleveraging campaign, which forced private firms, their owners and other investors to turn to pledging as a last resort to raise money.
So China's 11 biggest brokerages, all of which are state-owned, are leading the creation of a fund that may ultimately reach 100 billion yuan ($14.4 billion) to buy pledged shares and prevent mass liquidations. Most are held by the big brokers.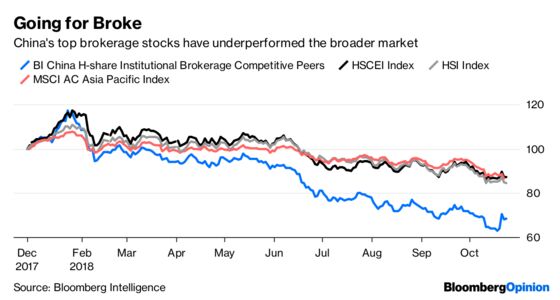 This is a different national team than the version in 2015, when brokerages and other state firms banded together to rescue a market inflated by margin loans. Then, the focus was Shanghai-listed blue chips, on which retail investors had made massive leveraged bets. This time, the big 11 have started their fund with a 21 billion-yuan investment to target the cash-strapped private sector that's shunned by big banks.
It's telling that while around 11 percent of China's shares by value have been pledged, as much as 45 percent of the Shenzhen-based ChiNext market – which lists smaller companies – is on the hook, according to CLSA Ltd. In the Shanghai market, home to the biggest state-controlled companies, just 2 percent of the stock has been set aside as collateral.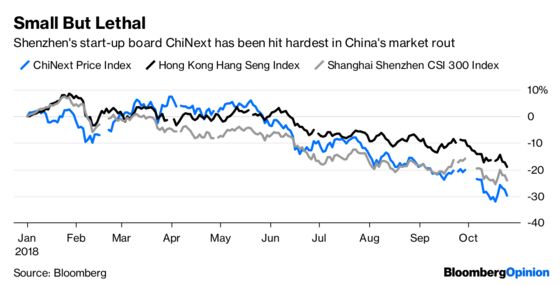 There's some consolation for the brokerages: The new fund theoretically will buy their holdings at book value rather than fire-sale prices, and at some point, state-owned banks and insurers will join the party. Also, the brokers are lending a lot less than they were earlier in the year, when they had $240 billion in exposure. That's because China ruled in March that no more than 60 percent of a company's free float could be pledged. As a result, loans with shares as collateral have declined 12 percent from a January peak, to 1.4 trillion yuan, according to Bloomberg Intelligence.
Still, transgressors endure. As many as 63 A-share companies exceeded the 60 percent "red line" this month, according to CLSA analyst Alexious Lee, up from 47 in March.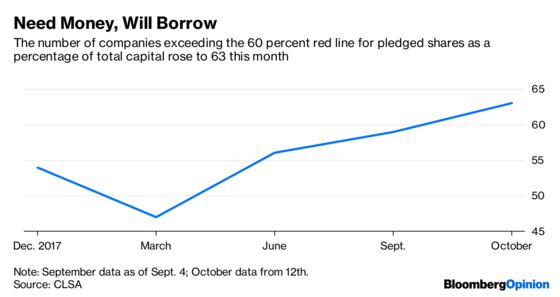 The brokerages have limited room to maneuver. They've been barred since March from forcibly selling stock pledged by controlling shareholders of companies, because that would change a firm's ownership. Sales to date have been of less crucial holdings.
Despite the recent declines in pledges, exposure remains high. Haitong Securities Co., one of the 11 called on to invest in the rescue fund, is also among the most exposed, according to Bloomberg Intelligence analyst Sharnie Wong. She reckons that if 10 percent of its loans backed by shares were to go bad, 8.9 percent of Haitong's net capital would be wiped out.
At least the private companies hit by funding difficulties can look forward to some relief, especially after President Xi Jinping expressed "unwavering" support. That potential 100 billion-yuan rescue fund will go a lot further on the ChiNext, with a 1.8 trillion yuan total market value, than on the 27 trillion-yuan Shanghai exchange.
China's deleveraging campaign is now in reverse mode, with three cuts in banks' reserve requirements since April and more expected, plus a central bank commitment to fund private companies' bonds. The full national team could return, too.
At some point, panic selling of Chinese stocks will stop as the government puts a cushion under them. For the brokerages, though, there could be more pain before any gain.
This column does not necessarily reflect the opinion of the editorial board or Bloomberg LP and its owners.
Nisha Gopalan is a Bloomberg Opinion columnist covering deals and banking. She previously worked for the Wall Street Journal and Dow Jones as an editor and a reporter.