The Bond Market Is Not Impressed With Italy's Budget
(Bloomberg Opinion) -- The bond market has voted on the Italian budget. It said no.
Officials agreed late Thursday on a 2019 deficit target of 2.4 percent, busting the 2 percent maximum that Finance Minister Giovanni Tria had said he'd accept. The government debt selloff that started on Friday continued on Monday, with 10-year yields soaring a total of 40 basis points to 3.3 percent. That's close to levels reached in May, when the realization that Italy could be governed by a coalition of anti-establishment and anti-immigrant politicians sparked a panic.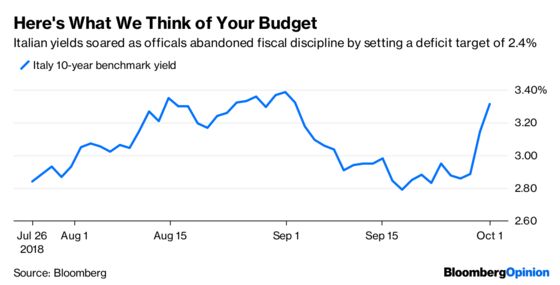 Deputy Prime Minister Matteo Salvini insists the fiscal program will win over "the gentlemen of the spread," so there doesn't seem much hope that officials will turn around and produce a new plan with a lower deficit target to avoid a fight with investors, or the European Union.
Could it get worse for the bond market? Sure. But October is a lucky month for Italian fixed income, because some technical factors may limit the fallout from the swing in sentiment.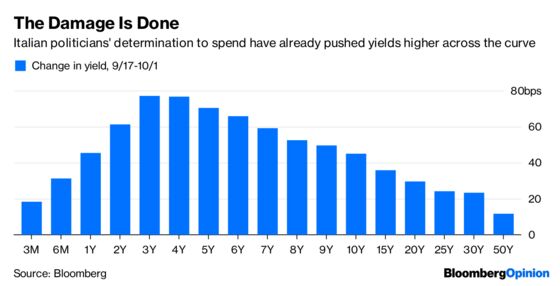 True, there is about 10 billion ($11.6 billion) of new supply expected over the month, and the European Central Bank will reduce its bond purchases from about 3.5-4 billion euros a month to about 2 billion euros or less.
But this is handily outweighed by 22.5 billion euros of redemptions from maturing debt. These cash flows are normally reinvested right back into the market. There could be a bit of skittishness that keeps some of this money from returning, but it would be odd if the bulk of it didn't find its way back to Italian government securities. 
It helps also that the Treasury has completed more than 80 percent of its annual issuance requirements, in line with the euro-area average. It's a welcome signal that the market is still functioning properly, and attracts a decent amount of demand. The announcement Monday of a 2.5 billion-euro bond swap, where investors can exchange short maturities for 10-year debt, shows officials are working hard to smooth out fundraising requirements.
The fun winds down from November. The next big redemption won't come until mid-December, just as quantitative easing purchases stop for good. Though the ECB's plan to maintain its 360 billion-euro stock of Italian securities is a comfort, it's only a modest one given the substantial size of the nation's debt burden.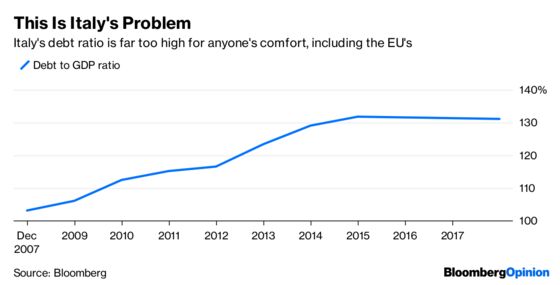 Navigating these lumpy repayments will become much more difficult. Investors have been benefiting from an easy carry trade, collecting a higher yield than what they could get from, say, Germany, safe in the knowledge that the ECB had their backs. Those happy days are ending. 
The best hope for bonds is found at home. Italy's banks loaded up on government debt as yields rose in May and June, according to analysts at NatWest Markets. This reversed in August as yields fell, so perhaps the recent rout will spark a return.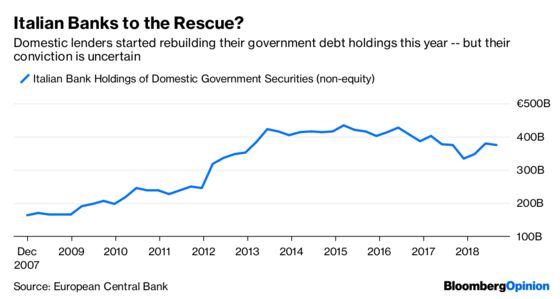 About two thirds of the market is in domestic hands. These holders are going to have to ride to the rescue to pick up the slack when the biggest buyer of all exits the room. In the meantime, don't get overly excited if Italian yields stabilize this month. It could just be the redemptions talking. 
This column does not necessarily reflect the opinion of the editorial board or Bloomberg LP and its owners.
Marcus Ashworth is a Bloomberg Opinion columnist covering European markets. He spent three decades in the banking industry, most recently as chief markets strategist at Haitong Securities in London.