That 16% Turkish Yield Looks Awfully Tempting
(Bloomberg Opinion) -- Turkish President Recep Tayyip Erdogan will be sworn in on July 8, having secured a first-round victory in the June 24 presidential elections. After the ceremonial flummery, the most important thing for investors will be the amount of independence he bestows upon the central bank. And there is a case to be made for giving Turkish investments a — very careful — look. Because now, you're getting paid for the risk. 
Investment in Turkey really is the home of the brave. The currency has lost a quarter of its value to the dollar this year as Erdogan consolidated power and deprived monetary policy makers of the independence they needed to contain soaring inflation. So while his victory removed some investment uncertainty, his economic announcements this weekend could mark a real turning point.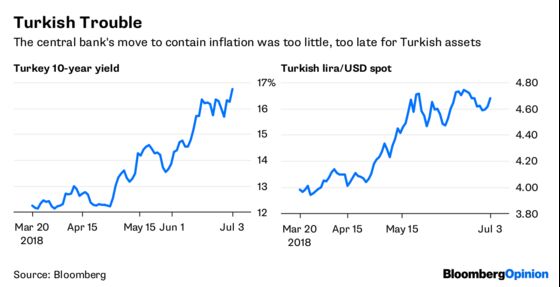 The lira's weakness is particularly painful, given the country's massive current account deficit leaves it heavily reliant on dollar funding. A pledge to keep monetary policy at an arm's length could draw a line under the currency rout. Any repeat of his campaign vows "to deal with interest rates" upon his reelection would be calamitous.
That remark, made days before the June 24 election, unwound the small amount of good faith he'd built up with investors by allowing the central bank to raise the benchmark interest rate 500 basis points since late April to 17.75 percent and adopt a hawkish bias at its June 7 meeting. That was too little and too late. Inflation in June accelerated more than economists had forecast to an annual pace of 15.4 percent, according to data published Monday. While the central bank rate is now above that, it needs to be even higher to get a grip on prices — inflation looks likely to accelerate, given that producer prices are rising at nearly a 24 percent rate.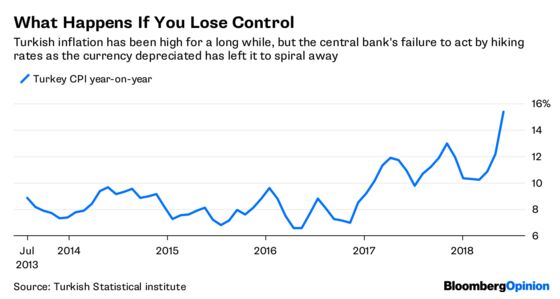 Erdogan must choose whether his uses his mandate and substantially increased powers to become a dictator, or a grown-up. Hopefully he'll opt for the latter — to secure his legacy he needs to stop the rot in the economy, and that means putting it into professional hands.
If so, then there are some substantial returns available for the greedy, or if you prefer, the courageous. Ten-year Turkish lira-denominated government bonds yield about 16.7 percent, a very long way from, say, German bunds at 0.3 percent, or even Russian ruble bonds at 7.7 percent. If the lira stands still, or even depreciates at a modest pace, the returns would still be substantial.
And if the currency were to claw back some of its losses from here, that would only juice potential returns. A 5 percent gain in the lira would bolster investment returns by the same amount — and would push the lira through the floor it's had through the election campaign. An announcement by Erdogan this weekend to bolster the central bank and give the economy the support it needs could be enough to produce this sort of result.
The trouble is, you can't count on him. On the one hand, he shoots from the hip and doesn't understand economics, but on the other, he's prey to outbursts of rationality. Letting the central bank hike by 500 basis points is one example. It would be bold to say that, having achieved power, reason will prevail, he'll recognize his weaknesses, and leave policy makers alone. It's a big risk to bet on it — which is standard practice in emerging markets. 
But it could happen. An independent central bank hiking rates again suggests Turkey may have seen the worst of its currency crisis. The lira's fate hangs on who Erdogan chooses to take charge of monetary policy. It would be a whole lot better if it wasn't him.