Thailand's No Beach Party for Investors
Bloomberg
Opinion
(Bloomberg Opinion) -- Bangkok may be among the world's top 10 tourism destinations, but for overseas investors it's about as popular as a beach holiday in the Arctic.
Foreigners sold a net $8.7 billion or so of Thai stocks this year, the most since data began in the late 1990s.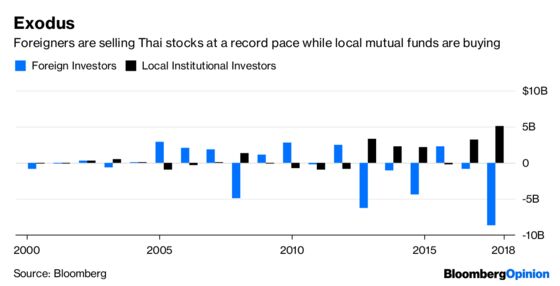 On the face of it, that's a puzzle. Thailand has been something of a haven amid this year's emerging markets sell-off. The baht, supported by an influx of overseas tourists, has dropped only 1.3 percent against the dollar. Meanwhile, the MSCI Thailand Index is showing a total return of minus 2.6 percent, outperforming the broader emerging-markets stock gauge by more than 10 percentage points.
In many ways, Thailand is Southeast Asia's Japan — burdened with an aging population and with a stock market that recaptured its 1994 high only this year. Only 38 percent of the Thai population is under the age of 30, compared with around 50 percent for neighbors Indonesia and Vietnam.
While regional super-apps such as ride-hailing service Grab and Internet hospitality chain OYO are plowing hundreds of millions of dollars into Indonesia, Thailand is only an afterthought for them. The economy grew 3.3 percent in the third quarter from a year earlier, data showed Monday, the weakest pace since 2016 and missing all estimates in a Bloomberg survey.
Foreigners increasingly see Thailand as little more than a giant beach resort, choosing to invest instead in Vietnam's manufacturing prowess and Indonesia's underbanked youth. Tourism revenue accounts for almost 12 percent of Thailand's GDP, by far the highest ratio in Southeast Asia. By contrast, the country's inbound foreign direct investment could politely be described as paltry.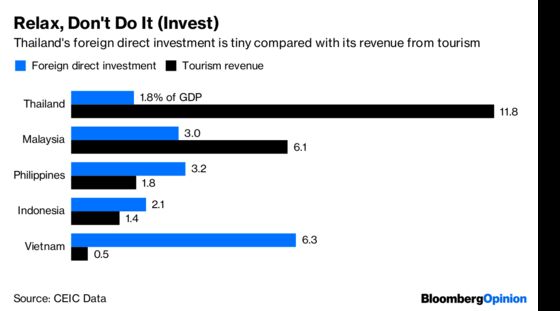 And there are those two lost decades for stock investors. By comparison with Thailand, equity benchmarks in Indonesia and the Philippines have set fresh records every few years.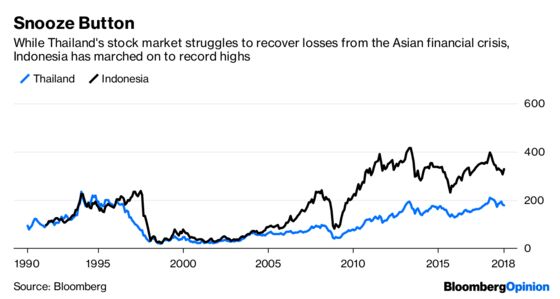 Thailand's stock market has been resilient this year in part thanks to strong buying from local mutual funds. But what if these pools start to invest abroad instead? Foreigners buying into Thailand now could find themselves facing another long wait for gains.
The country has a history of political turmoil and natural disasters that should give investors pause. Since 2004, Thailand has undergone a devastating tsunami, two military coups, violent street protests, destructive floods and the bombing of a shrine in Bangkok — among other disruptive events.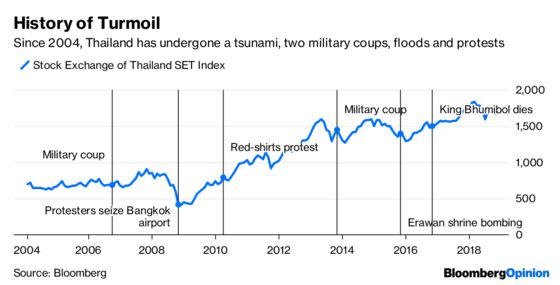 A fresh bout of turbulence may not be far away. The outcome of a general election scheduled for February looks increasingly uncertain. The popularity of the new pro-military Phalang Pracharat Party declined to 20.6 percent in September, from 25.1 percent in May, while the leading Pheu Thai Party, the third incarnation of a movement founded by ousted former Prime Minister Thaksin Shinawatra, has 28.8 percent support.
A worst-case scenario would see a closely contested election followed by a backlash and protests, as witnessed in 2006, Goldman Sachs Group Inc. warned in its 2019 Asia Economics outlook.
Thailand's famed beach resorts are fun for a short stay. Investors seeking a longer-term home for their money should probably find somewhere more stable.
This column does not necessarily reflect the opinion of the editorial board or Bloomberg LP and its owners.
Shuli Ren is a Bloomberg Opinion columnist covering Asian markets. She previously wrote on markets for Barron's, following a career as an investment banker, and is a CFA charterholder.