Tesla Delivers, But the Stock Demands Much More
(Bloomberg Opinion) -- With numbers like these coming, you have to wonder why Elon Musk was so vexed by the short sellers. Because, in the same quarter Tesla Inc.'s CEO indulged in that weird $420 takeover episode, the electric car company actually generated very good results.
As promised, Tesla generated a GAAP profit of $1.75 per diluted share. It also turned in positive cash from operations of almost $1.4 billion, and generated free cash flow for the first time in eight quarters, to the tune of $881 million. Working capital changes helped that some, and capital expenditure came in a bit light. But it is still an impressive number. This enabled Tesla to end September with just shy of $3 billion in the bank, reversing the steady increase in net debt: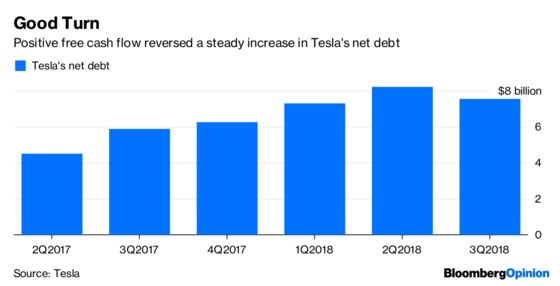 Higher margins on the Model 3 provided a significant boost. Even adjusting for the sale of zero-emission vehicle credits – an irregular top-up to Tesla's earnings over the years – the automotive gross margin came in above 25 percent. It remains to be seen whether Tesla also sold other regulatory credits; it only discloses those in its 10-Q filing, and they have moved the needle substantially at various points in the past. Still, on the face of it, I estimate it made almost $5,500 of pre-tax profit on each vehicle. In particular, research and development and selling, general and administrative costs were noticeably held down even as revenue jumped.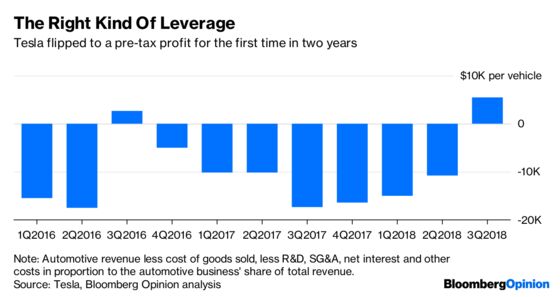 One of the big questions hanging over these results is whether they will be sustained. Tesla flipped the script similarly in the third quarter of 2016 (another time Musk was bent on rebutting "naysayers"). Back then, though, ZEV credit sales and pushing out supplier payments were the big swing factors. This time, Tesla can instead point to high sales of vehicles, especially of higher-priced versions of the Model 3.
What remains to be seen is if margins can remain healthy as demand migrates down to lower-priced versions – such as the $35,000 Model 3 that Tesla has yet to introduce. For Tesla's part, it says it can keep the gross margin on the Model 3 "stable" this quarter while operating expenses rise only slightly. The answer to this question of operating leverage is critical.
We aren't going to know about that for a quarter or two at least. Still, Tesla's stock jumped 11 percent in after-market trading anyway. At about $320 a share, that implies 34 times forecast 2020 earnings. Boost those forecast earnings by half off the back of these results, and the multiple would still be 23 times.
That is still a lot of goodwill for a company whose recent history has been so volatile. Amid the good stuff, there were still some issues lurking in Tesla's results. For example, average Model 3 weekly production of 4,300 in the third quarter remained light relative to earlier guidance, and production is expected to "increase" by an unspecified amount this quarter. The vaunted "solar roof" product, first unveiled in late 2016 when Tesla was in the throes of closing the SolarCity Corp. acquisition, remains in "intensive reliability testing." And while there was a notable improvement, Tesla's indebtedness and negative working capital remain high.
On that front, Tesla ought to use any share-price strength to raise more capital, especially given its ambitious growth plans. This is still a cyclical business, and Tesla's recent, sometimes bizarre history – born of weak governance – cannot just be erased. A good quarter and some promised reforms (at the SEC's prodding) are welcome. But Tesla must do a lot more, and sustainably, to justify the hopes already embedded in its stock.
This column does not necessarily reflect the opinion of the editorial board or Bloomberg LP and its owners.
Liam Denning is a Bloomberg Opinion columnist covering energy, mining and commodities. He previously was editor of the Wall Street Journal's Heard on the Street column and wrote for the Financial Times' Lex column. He was also an investment banker.