Shame, Tesla-Alike NIO Could Have Used the Extra Cash
(Bloomberg Opinion) -- What's a dollar here, a dollar there? A lot, if you're NIO Inc.
The Chinese electric-car company, a self-proclaimed rival to Tesla, priced its initial public offering in New York on Wednesday and came in at the bottom of its range of $6.25 to $8.25 per share. The 160 million American depositary shares sold raised $1 billion. That values the company just north of $6 billion, far less than the $20 billion it had hoped for in the early stages.
At this price, NIO is around $100 million to $200 million short of where it wanted to be. Throughout the prospectus, the company uses $7.25 a share, the mid-point of its range, and says net proceeds could be $1.11 billion to $1.27 billion. That's boilerplate language in most offering documents, to be sure. Adding fees for all eight bulge-bracket banks (and another small one) that sold the IPO, the net proceeds are less — a take-home of around $950 million.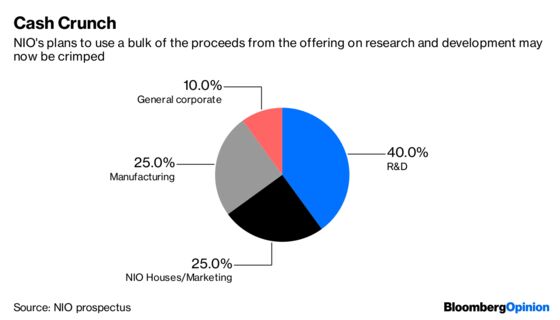 Making ends meet won't be easy. NIO doesn't manufacture its own cars, a key difference with Tesla. Yet it burns large amounts of cash and its needs, as we wrote Sept. 4, are only going to get bigger. The company had planned to spend most of its offering proceeds on research and development, and will be around $60 million short there. For marketing and manufacturing facilities, it will be about $80 million light. As we also pointed out, NIO plans to spend $600 million over the year than began in July — and that's equivalent to its cash on hand as of June.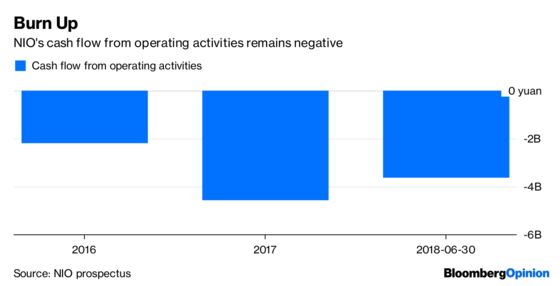 As NIO said in the prospectus, it plans to keep spending and investing and it may "not result in an increase in revenue or positive cash flow on a timely basis, or at all." Investors should now be asking how quickly their cash evaporates.
This column does not necessarily reflect the opinion of the editorial board or Bloomberg LP and its owners.
Anjani Trivedi is a Bloomberg Opinion columnist covering industrial companies in Asia. She previously worked for the Wall Street Journal.