Tesla's Numbers Keep the Drama Alive
(Bloomberg Opinion) -- After the drama of the past couple of months, it's almost merciful to just read some numbers from Tesla Inc. It still makes sense to pay attention to the language, though.
Tesla's hotly anticipated third-quarter production update landed Tuesday morning. The headline is that it met the guidance given in its second-quarter letter to investors. Model 3 production of more than 53,000 was almost exactly in the middle of the forecast range. Deliveries tripled to almost 56,000. Meanwhile, output of the Models S and X ticked up, and deliveries did indeed "accelerate" as promised, rising 24 percent versus the prior quarter.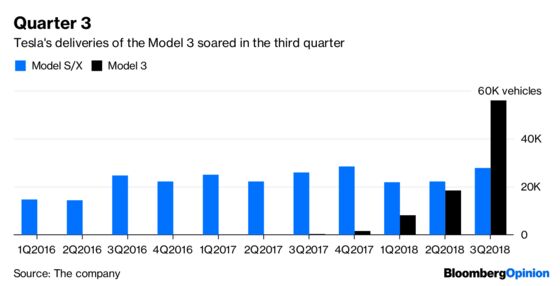 Such growth is usually catnip for Tesla's stock, but it didn't do much for it early Tuesday morning. Sure, that may represent some fatigue after Monday's 17 percent rebound off the back of CEO Elon Musk settling with the Securities and Exchange Commission. But it may also be due to some weakness and uncertainty lurking in the release itself.
Production of the Model 3 has been arguably the single most important number in Tesla's story this year. And while output did meet guidance given in the most recent letter to shareholders, it didn't meet expectations of the vaunted "ramp." The last time Tesla released quarterly sales figures, the company said it expected to be producing 6,000 Model 3s per week by the end of August. As it is, output reached "more than 5,300" in the last week of September.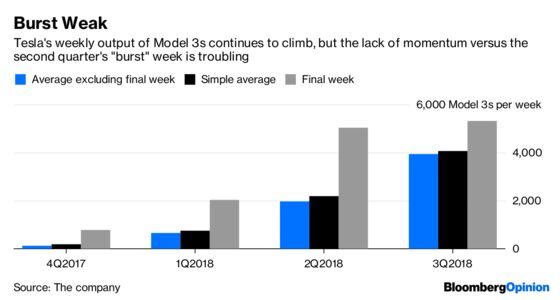 Including the Models S and X, Tesla's overall production averaged about 6,600 a week. That fell short of the "7,000 cars a week plus" Musk spoke of on the latest earnings call. He caveated that at the time by saying it would happen absent a "force majeure" event. However, the biggest swing out of left field this quarter that I can think of was Musk's own "funding secured" tweet.
As if to address concerns about this, Tesla emphasized it had switched to dual-motor Model 3s toward the end of the quarter (as opposed to simpler rear-wheel drive), meaning it "achieved a production rate of more than 10,000 drive units" in the last week of September. So, just to be clear, you should be tracking "drive units" now.
Tesla also said demand for the Models S and X is still "high." However, its guidance implies selling roughly 28,000 of these in the final quarter, which would be flat with the fourth quarter of 2017. Look back at that chart of deliveries above, and it's clear sales of Tesla's older models have been pretty flat since the fall of 2016.
China also figures prominently in Tuesday's release, with Tesla highlighting the competitive disadvantages it faces as a foreign manufacturer caught up in that country's gathering trade war with the U.S. This is a serious problem, as China is the engine of growth in vehicle electrification (see this).
Hence, Tesla says it's "accelerating" construction of its Shanghai factory. In August, Tesla said this should begin "within the next few quarters," implying by the middle of 2019. Presumably, it now expects to start sooner than that. And so another chapter is now firmly layered onto Tesla's narrative of growth that and should be watched closely. In any case, as I wrote here, the stock is priced as if the thing were already up and running.
Then there's what wasn't in the announcement. There was no firm target for higher weekly production, with Tesla saying this had "stabilized" and it's now focused on exiting the "logistics hell" Musk tweeted about recently. There was also no mention of the number of Model 3 reservations this time around (to be clear, Tesla ought to be reporting this critical figure as a matter of routine).
Perhaps most importantly, Tesla didn't take the opportunity to reaffirm its "guidance for positive GAAP net income and cash flow in Q3 and Q4," as it did when it released second-quarter sales figures. Instead, it went with boilerplate language about releasing these numbers with its third-quarter results (due at the end of this month).
This may be nothing. But it sticks out because of Musk's email to staff this weekend – dutifully reproduced as an 8K filing following the SEC settlement – telling them the company was "very close to achieving profitability" with only one day left in the quarter. Given Tesla's push to achieve this, including the focus on higher-end versions of the Model 3, it will be telling if the quarter's bottom line comes in red on Halloween.
This column does not necessarily reflect the opinion of the editorial board or Bloomberg LP and its owners.
Liam Denning is a Bloomberg Opinion columnist covering energy, mining and commodities. He previously was editor of the Wall Street Journal's Heard on the Street column and wrote for the Financial Times' Lex column. He was also an investment banker.