Tesco's Battle In The Aisles Has Gone Global
(Bloomberg Opinion) -- It's been a long time since the U.K. was the undisputed star of the show for Tesco Plc. But Britain's biggest retailer on Wednesday announced a step-up in domestic same-store sales growth to 2.5 percent in the second quarter of its financial year.
A strong showing from the recently acquired Booker Group Plc, a British wholesaler, and an increase in the dividend are all useful additions to the recovery overseen by chief executive Dave Lewis. But difficulties in Poland and Thailand meant Tesco failed to meet analyst expectations on operating profit. It rose 24 percent to 933 million pounds ($1.2 billion) in the six months to August 25, but this was well below the Bloomberg consensus of 992 million pounds.
While the shares fell 6 percent as a result, we shouldn't overstate the international problems. Tesco has shed many of its overseas businesses, and the U.K. and Ireland accounted for 78 percent of sales and 65 percent of operating profit in the year to February 2018.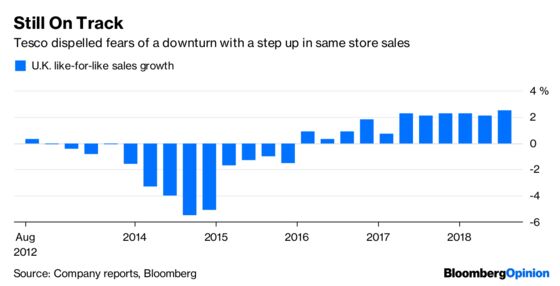 But they're unhelpful nonetheless. While Tesco is making progress in the U.K., its domestic market is still challenging. Lewis is trying to take on the German no-frills supermarkets Aldi and Lidl with the introduction of cheaper brands, and has debuted its own value supermarket, Jack's.
The discounters aren't taking this lying down. Aldi said this week that it might cut prices in response to Jack's. That's a threat to all of Tesco's stores. What's more, Walmart Inc.'s Asda and Wm Morrison are cutting prices too. Lewis faces a tricky balancing act in keeping prices low in the U.K. while increasing profitability.
The group operating margin was 2.9 percent in the first half of its financial year, and Lewis said the international problems won't hamper the plan to reach an 3.5 percent-4 percent by 2020. But they won't help.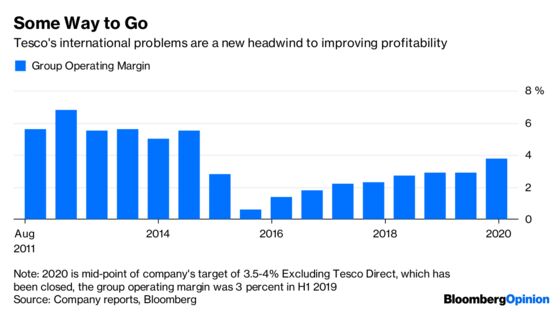 At least there are the cost savings from the 4 billion-pound purchase of Booker to fall back on. These are expected to be "at least" 60 million pounds in the full year.
Lewis should also keep examining the group's overseas presence. He insists that Thailand remains an opportunity, and is pleased with progress in Poland. But Asia and the broader central European operations look increasingly marginal. It would need some work to be able to generate decent prices. But it would be worth it.
Tesco shares have now fallen about 18 percent in just two months. They're valued at about 14 times forward earnings, a discount to those of J Sainsbury Plc, which have benefited from its 7 billion-pound plan to buy Asda.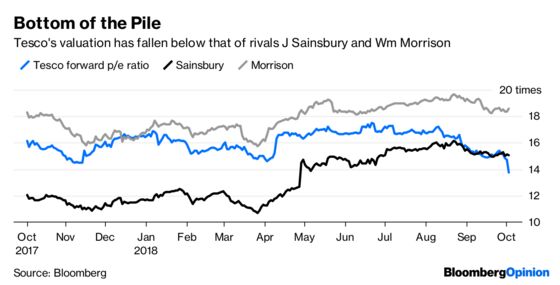 Investor's preference for Sainsbury looks overdone. Tesco has made progress since the dark days of its 250 million profit overstatement in 2014, and the Sainsbury-Asda tie-up faces big regulatory challenges.
But for Tesco, more advances in Britain won't be easy, which is why the international problems hurt. Until shareholders are convinced Lewis has a handle on both issues, they probably won't reward him further.
This column does not necessarily reflect the opinion of the editorial board or Bloomberg LP and its owners.
Andrea Felsted is a Bloomberg Opinion columnist covering the consumer and retail industries. She previously worked at the Financial Times.