Tesco Is Playing With Fire By Cutting Jobs Now
(Bloomberg Opinion) -- In Britain's retail apocalypse, culling staff might seem like an obvious course of action for hard-pressed store chains.
But cut too deep, and the damage inflicted on the business can be even more devastating than Brexit-induced nervousness.
Tesco is looking to eliminate up to 9,000 jobs – about half of which could be shifted elsewhere in the company – as part of a broader restructuring. This will include changing its fresh-food offering by closing meat, fish and delicatessen counters in 90 locations.
Tesco said a shift in shopping habits meant customers were using these services less.
But Chief Executive Officer Dave Lewis is approaching crunch time for meeting his target of a group operating margin of between 3.5 percent and 4 percent by February 2020. He needs to be careful he doesn't repeat the mistakes of his predecessors – and his rivals should be wary of moving too quickly to match his move.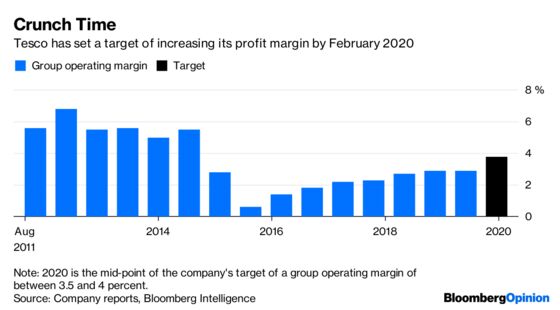 Analysts at HSBC estimate that he will make it – just about – scraping in at 3.6 percent in 2020.
That doesn't leave much wiggle room, particularly as the U.K. arms of the German discounters, Aldi and Lidl, continue to gobble up what growth there is in the food retail market.
So Lewis, dubbed "Drastic Dave" for cost-cutting during his time at Unilever Plc, is still looking for operational savings. He is aiming to curb spending by 1.5 billion pounds ($2 billion) by February 2020.
It's easy to see why fresh food counters might be in the firing line, as they have high staff costs.
But such a move could be detrimental to the overall customer experience. Older people might want to buy two slices of ham rather than a family-sized packet, and enjoy the interaction too.
And such counters differentiate big stores from all others. Without these services, there is little to mark them out from smaller supermarkets and the German discounters. Indeed, Lidl has started offering fresh bread, with great success.
But there is a broader concern that Lewis needs to navigate. Under his predecessor, Philip Clarke, Tesco cut costs in order to meet profit targets and fund international expansion. That resulted in running the business "too hot" – the shops were dirty, and there was not enough staff. Lewis needs to be careful that eliminating roles accounting for as much as 3 percent of the workforce will not cause him to fall into the same trap.
For a more recent reminder of what can happen when cost cutting goes awry, he needs only to look at rival J. Sainsbury Plc. It introduced a new management structure last summer. That coincided with a heatwave that boosted demand, leaving shelves empty.
Rival Wm Morrison Supermarkets Plc is going down a different track. It is bolstering its fresh and prepared food counters, making them more of a feature in new and refurbished locations. "Market Street," as the concept is known, could now make the chain even more of a stand out against the competition, heaping the pressure on Tesco.
As Sainsbury pushes ahead with its acquisition of Asda, Tesco should be in a position to benefit from the inevitable turmoil, including job losses, that follow.
By wielding the knife itself, it becomes just as vulnerable to distraction.
This column does not necessarily reflect the opinion of the editorial board or Bloomberg LP and its owners.
Andrea Felsted is a Bloomberg Opinion columnist covering the consumer and retail industries. She previously worked at the Financial Times.