Tencent Music Plays Spotify Rhythms to a Facebook Beat
(Bloomberg Opinion) -- What really pops out when looking at Tencent Music Entertainment Group's IPO prospectus is the importance of social interaction to its business model.
That makes sense, given its pedigree as an offshoot of Tencent Holdings Ltd.
Prospective investors logically should compare the Chinese company to Spotify Technology SA or Pandora Media Inc., since there aren't a lot of online music companies to choose from.
By revenue, Tencent Music is much smaller than Spotify because one is a global phenomenon and the other decidedly local.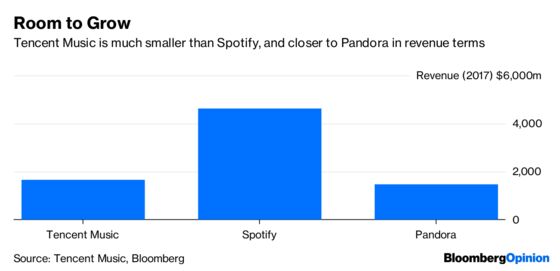 In its own words, though, Tencent Music's model is far deeper than the relatively mundane Spotify business of charging a monthly fee to stream music.
Our platform is an all-in-one music entertainment destination that allows users to seamlessly engage with music in many ways, including discovering, listening, singing, watching, performing and socializing.
That means pure online music streaming accounts for a minority of its top line, with the lion's share of revenue coming from leveraging the social aspects of the business, more akin to Facebook Inc. This includes online karaoke and live-streamed performances, which then offer the chance to gather revenue from the sale of digital items like virtual gifts to friends, or more often, to favorite performers.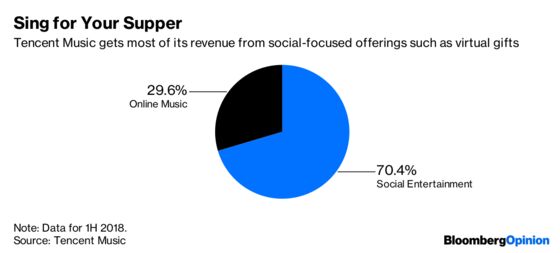 Being part of the Tencent family means it has a built-in net addressable market of more than 1 billion WeChat users. That helps it run  a trim marketing budget that keeps costs under control, resulting in consistent operating profits not enjoyed by either Spotify or Pandora.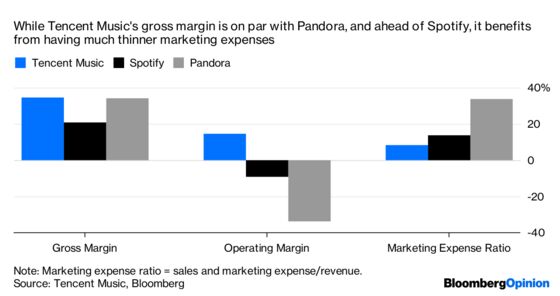 As bankers start to shop the offering around, investors should be focusing on long-term growth. The company already has more than 800 million monthly active users, so expansion there will be limited unless the company decides to go global. Tencent's own history suggests an international strategy is unlikely.
This IPO will probably be hot, given the shortage of profitable Chinese consumer plays to come to the U.S. over the past year.
How hot the shares remain after listing will depend on Tencent Music's ability to squeeze more money out of its existing user base and avoid the size constraints its parent is facing this year.
This column does not necessarily reflect the opinion of the editorial board or Bloomberg LP and its owners.
Tim Culpan is a Bloomberg Opinion columnist covering technology. He previously covered technology for Bloomberg News.