Tencent Churn Has Hong Kong Investors Feeling Sickly
(Bloomberg Opinion) -- Tencent Holdings Ltd. is Hong Kong's bread and butter.
The owner of WeChat seems to be unstoppable, even after Naspers Ltd. dumped $10 billion of shares in March. Last Thursday, turnover topped $3.5 billion after the Chinese internet giant reported a solid first-quarter earnings beat.
Outsized trading volumes are perhaps one reason why Hong Kong Exchanges & Clearing Ltd. is begging high-tech startups to list in the city. To lure new economy firms, Hong Kong now permits dual-class shares, and even removed revenue requirements for biotech companies.
After all, the exchange isn't a charity. Its quarterly revenue is closely married to trading volumes. Over the past decade, the correlation between its revenue and the bourse's trading activity has climbed to an impressive 82 percent.
And investors generally love new economy shares. Tencent has a 9.4 percent weight in the blue-chip Hang Seng Index, but weighting component stocks using 30-day average turnover instead gives Tencent a quarter of the benchmark. Other stocks that see heavy trading are Ping An Insurance Group Co., Geely Automobile Holdings Ltd. and Apple Inc. suppliers AAC Technologies Holdings Inc. and Sunny Optical Technology Group Co.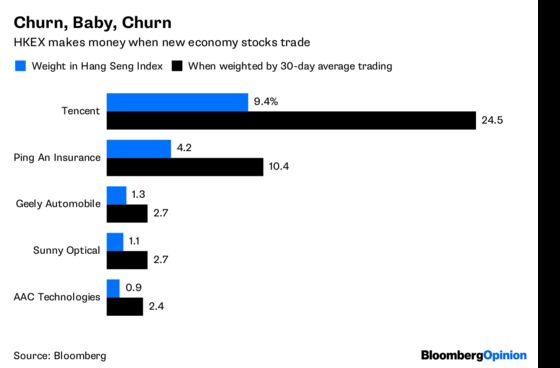 In other words, HKEX makes more money out of Tencent and Geely than it does HSBC Holdings Plc, Industrial & Commercial Bank of China Ltd. or China Mobile Ltd. Startups and high-tech firms are the exchange's real prize.
This focus on profit, however, may be short-sighted. Turnover has come off significantly this year. Granted, bearish sentiments globally have muted trading but for a market that's supposed to be in the midst of an IPO boom, it doesn't bode well.
Some investors are also becoming jaded. Family offices that bought into Ping An Healthcare & Technology Co.'s $1.1 billion IPO would have lost $20,000 on day one. Razer Inc., 2017's hot debut, is down 35 percent from its listing price.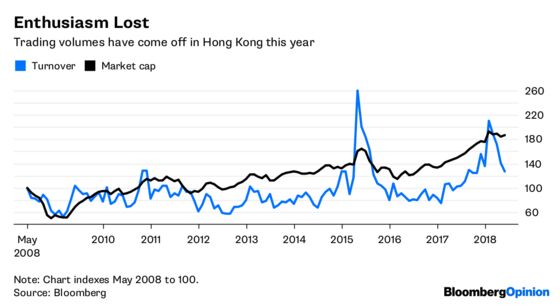 With the pipeline as fat as it is, more disappointment might be in store. Naspers' $10 billion sale was difficult enough to swallow. Now state-owned China Tower Corp. has applied to list as well, challenging the valuation of smartphone maker Xiaomi Corp. The two are seeking $10 billion, each.
Being a market regulator and a profit machine has never been easy. Besides, HKEX's Chief Executive Officer Charles Li has families to take care of. Last year, the company's labor costs for its some 1,700 employees were about HK$2.3 billion ($293 million), or 20 percent of revenue. Li himself took home more than HK$25.5 million.
There's nothing wrong with making money. But while bread and butter's good, so is a balanced diet.