Ted Baker's Board Should Have Foreseen Hug-Gate
(Bloomberg Opinion) -- Ted Baker risks becoming Toxic Brand.
The inquiry follows reports in the Observer and the Sunday Times that staff at Ted Baker Plc had filed a petition against Kelvin, accusing him of creating a culture of routine hugging and other improprieties.
It really should not have taken newspaper articles to flag this to the board. These senior officials should have realized that with the #MeToo movement, this kind of culture can make some people, particularly young women, feel uncomfortable.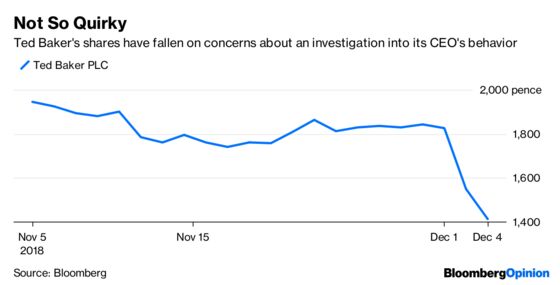 Kelvin, who owns 35 percent of the company, is well-known in the industry as an eccentric who rarely shows his face in photographs. His quirks have helped to make Ted Baker into a recognizable and successful brand. But this looks like a classic case of a board being unable to challenge a dominant founder. 
Some weakness has been allowed to develop at the top. The Chairman is David Bernstein, the former Football Association and Blacks Leisure Group Plc chairman. He resigned from Blacks in 2011 after Sports Direct International Plc, a big holder, voted against him on concerns about the group's poor performance and faltering share price. Last year Institutional Shareholder Services recommended that shareholders not reelect him as chair at the fashion chain as his membership on the audit committee raised issues concerning non-compliance. 
Though it's encouraging that the retailer has recently appointed two new female non-executives, that doesn't ease concerns about governance. It's a worry, because the company now has two important tasks. 
First, it needs to avoid any situation where a consumer backlash develops.  
Given the board dynamics, for the investigation concerning Kelvin to be credible it must be external – it is likely to be carried out by a law firm – and truly independent. Kelvin, for his part, must agree to abide by its findings. He should also say publicly that while he is who he is, he recognizes that the world has changed, and he will adapt his behavior accordingly and apologize profusely for any offense caused. 
Beyond this retailer has a delicate balance to strike. Kelvin is Ted Baker, and Ted Baker is Kelvin. That is too much reliance on a key executive.
But he has created one of Britain's most successful retailers. It is one of the few store groups to have cracked the U.S. It is also a genuine lifestyle brand, with everything from home furnishings to mens' barbers.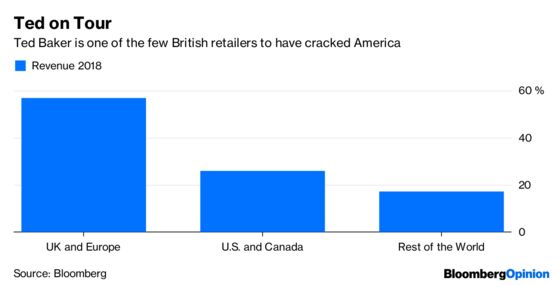 Were he to go, the company wouldn't be left completely rudderless. Lindsay Page, finance and operations director, is Kelvin's long-serving right hand man, and the group also has a broader operational board. And given Ted Baker's success, it wouldn't be too difficult to recruit a high-caliber executive to take over. 
Even so, any change would come at a difficult time. Although Ted Baker has only 20 U.K. stores, it faces a challenging domestic market, as well as turmoil at concession partner House of Fraser, which was bought by Sports Direct in August. Part of the share-price weakness over recent days is because of fears that Kelvin could be ousted.
However successful the company has been, it is not in an enviable position. Whatever the outcome of hug-gate, the board needs to address the shortcomings that has allowed it to become the latest focus of #metoo ire in Britain. 
This column does not necessarily reflect the opinion of the editorial board or Bloomberg LP and its owners.
Andrea Felsted is a Bloomberg Opinion columnist covering the consumer and retail industries. She previously worked at the Financial Times.