Will T-Mobile's Megamerger Hurt Lower-Income Customers?
(Bloomberg Opinion) -- The prepaid wireless business is so much more interesting than what little time and space it's given on earnings calls and in research reports. Now, it warrants a much closer look.
Prepaid, or pay-as-you-go, plans — the kind that don't have a contract and are offered by providers including MetroPCS and Boost Mobile — are most often used by lower-income consumers or those with poor credit. It happens that right now, the customer base for this service is shrinking, and from an economic standpoint, that's a good sign.
Job growth and a moderate uptick in wages are enabling more folks to instead qualify for postpaid wireless plans, which are billed at the end of each month based on your data usage and typically offer better perks and more of the latest phone models. But for many, prepaid plans are still a primary means of obtaining mobile service, and the extent to which this market is accessible and affordable matters to them. With consolidation looming in the industry, this should also be a concern for regulators.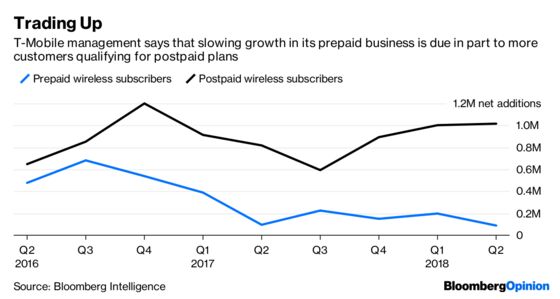 In some instances, the lines between prepaid and postpaid are blurring. That's especially the case at T-Mobile US Inc., the parent of MetroPCS. Part of that may even be a deliberate strategy to get its $59 billion takeover of Sprint Corp. — including Sprint's Boost Mobile and Virgin Mobile prepaid brands — through a previously ill-fated regulatory review process. 
On Monday, the company launched Metro by T-Mobile, which is almost a hybrid: It offers prepaid plans that have benefits similar to those normally reserved for postpaid customers, such as unlimited service and sweeteners like Amazon Prime and Google One. That launch could be key to T-Mobile's efforts to now secure government approval to combine with Sprint, putting the country's No. 3 and 4 wireless carriers under one roof. Together, they'll still lag behind Verizon Communications Inc. and AT&T Inc. in the overall market, but they'd have by far the largest share of U.S. prepaid subscribers: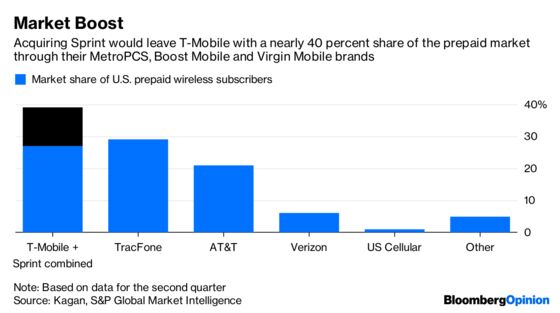 Prepaid tends to be an overlooked segment of the industry, and even the U.S. Federal Communications Commission hasn't distinguished between the two categories, instead taking the wireless market as a whole into account. But antitrust regulators may want to focus on protecting prepaid customers in this case. After all, two-thirds of U.S. business economists expect a recession to begin by the end of 2020, and even though customers may be trading up to postpaid service lately, competition on the prepaid side is still very important. The New York attorney general's office is already reportedly investigating the deal's impact on the prepaid market. And in addition to the FCC, the transaction needs to be cleared by the Justice Department.
Bloomberg News noted the muted opposition over the summer, relative to other high-profile transactions such as AT&T's hard won fight to acquire Time Warner. But now things could start to heat up. The FCC, which aims to complete its merger review in 180 days, paused the "shot clock" last month on day 55, saying that it needs more time to study updated models submitted by the companies.
There's also one individual motivated to help direct regulators' attention to the prepaid businesses specifically, and he's making no secret of his intentions. Peter Adderton, who founded Boost Mobile in Australia and New Zealand and has long been unaffiliated with the U.S. operations, made the media rounds in recent months to discuss the merger's competitive concerns. And what do you know, he says he'd like to bid for Boost should the business just so happen to come up for grabs.
With the new Metro by T-Mobile service, the company is trying to get ahead of any pushback or calls for divestitures by saying, look, prepaid and postpaid are nearly one in the same now. When Senator Amy Klobuchar asked during a Senate judiciary subcommittee hearing back in June about the potential harm to low-income consumers, T-Mobile CEO John Legere had this to say:
"We have made prepaid so similar to postpaid that it's almost the difference if you pay on the first of the month or the last of the month. … We plan for those prepaid customers to be amongst the biggest beneficiaries going forward."
As I've written before, the smooth-talking, sunny Legere is the pitchman the companies need to finally pull off this long-envisaged merger. But as Klobuchar noted during the hearing, it's preserving T-Mobile's status as a disruptive competitive force in the industry that's of concern. Will Legere and his team continue to keep prices down and offer attractive plans with perks like Netflix and Amazon Prime if the consolidated market share means they no longer need to strategically?
If reducing the broader wireless landscape to three major carriers — Verizon, AT&T and T-Mobile — isn't the sticking point for regulators, concentration in the prepaid space could be. 
This column does not necessarily reflect the opinion of the editorial board or Bloomberg LP and its owners.
Tara Lachapelle is a Bloomberg Opinion columnist covering deals, Berkshire Hathaway Inc., media and telecommunications. She previously wrote an M&A column for Bloomberg News.