T-Mobile's Cheerleading Can Work on Trump and Everyone Else
(Bloomberg Opinion) -- John Legere is the pitchman T-Mobile US Inc. and Sprint Corp. need for their merger. Can he pull it off? 
The cheerleader-like qualities that have helped the CEO bring enthusiasm to T-Mobile are the same ones that induce groans. Testifying before the Senate judiciary subcommittee on antitrust June 27, Legere wore his usual uniform: a superhero-esque magenta T-Mobile t-shirt under a black sports coat emblazoned with the company's logo, his shoulder-length hair resting on the collar. Say what you will, but Legere's shtick has worked, and even the groaners can't argue against his track record at T-Mobile.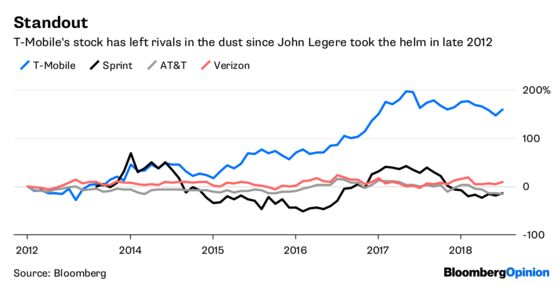 With AT&T Inc.'s takeover of Time Warner Inc. now complete, and with Walt Disney Co. and Comcast Corp.'s bidding war for 21st Century Fox Inc. taking an intermission, some attention is shifting back to the potential merger between T-Mobile and Sprint. It's the next phase in Legere's transformation of T-Mobile and the most crucial, but the $59 billion deal announced in April faces an uphill battle in securing regulatory approval.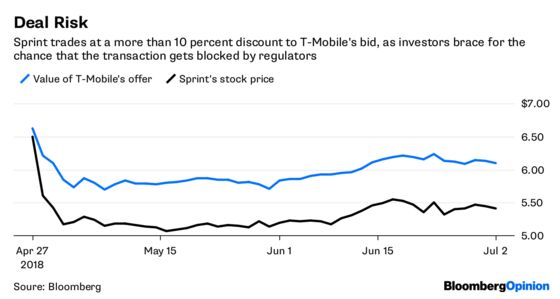 For context: Of all the consolidation sweeping through the media and telecommunications arena, T-Mobile and Sprint are the most direct of competitors. Their merger would reduce the number of national wireless carriers from four to three, a move the U.S. Federal Communications Commission has firmly opposed in the past. Then again, the wireless market looks a bit different now, as does the administration in power.
Legere is a rare breed. He has the sort of loud personality that makes for entertaining TV and thus would probably appeal to President Trump, yet he's also a straight talker comfortable in more serious settings such as last week's Senate hearing. In answering Senators Mike Lee and Amy Klobuchar's questions, Legere was prepared and fairly specific. He also brought more authenticity to the argument for the Sprint deal than AT&T did in fighting for its Time Warner acquisition. While it's not difficult to imagine the consumer ramifications of creating another Comcast-like monstrosity that will be AT&T-Time Warner, T-Mobile and Sprint combined may not be so bad. It could even do some good. 
Klobuchar's concerns give a glimpse into what the regulators may take issue with — that competition brought by T-Mobile and Sprint to the benefit of consumers may go away if they merge. Legere, alongside Sprint Executive Chairman Marcelo Claure who will be on the combined entity's board, said the deal would instead enable the carriers to keep prices down and build a nationwide 5G network, keeping the wireless market competitive and also helping the U.S. to be more competitive vis-a-vis China when it comes to the intricate and robust technological infrastructure needed to support things like driverless cars. They're essentially saying that low prices are the only way they can continue trying to take share from Verizon and AT&T, especially as Comcast and Charter Communications Inc. enter the market.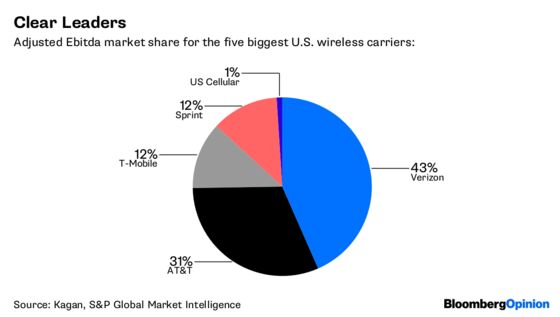 Gene Kimmelman, CEO of consumer advocacy group Public Knowledge who also testified at the hearing, said the market is likely to get more innovation and lower prices by maintaining four carriers. But he then went on to say that if the deal were rejected Sprint and T-Mobile would probably look for other partners. Just who might Kimmelman think those likely partners are? Cable and internet giants Comcast and Charter seem obvious, and I wouldn't be alone in struggling to understand why that'd be better for consumers than a combined T-Mobile-Sprint. 
It's also possible that folks outside of Wall Street don't fully grasp how challenged Sprint is. Sprint had negative free cash flow of $837 million last quarter and it's had to offer desperate promotions to attract subscribers. The Overland Park, Kansas-based company has been propped up by Japanese billionaire Masayoshi Son, whose commitment to Sprint has even caused some to wonder whether he's more quixotic than visionary. Between Comcast's launch of Xfinity Mobile last May and the first quarter of this year, the service added 577,000 customer lines. That exceeded Sprint's net signups for its post-paid service over that span.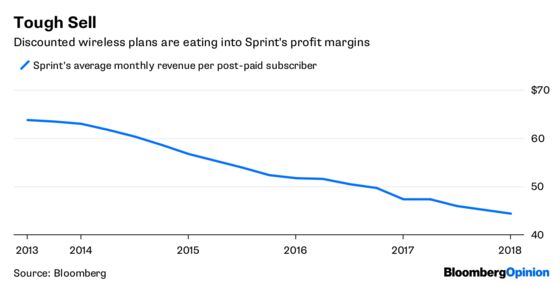 Jobs, while not in the purview of antitrust enforcement, are surely an important factor. Retail jobs will decline as the companies close overlapping locations in cities and open new ones in rural areas. But Legere said that overall more Americans will be employed by the combined company as they build a 5G network and also bring Sprint customer-service jobs that are overseas to the U.S. 
Megamergers warrant scrutiny and precautions. To judge this deal comes down to whether you take Legere — unconventional style and all — at his word. It's probably best for T-Mobile, just as it is for consumers, that the company sticks with his strategy with or without the merger.