Summer, Sunscreen, Shorts. B&M's Got All Three
(Bloomberg Opinion) -- Suitcases, solar lighting, sun screen. Value retailer B&M's product selection is getting ready for long hot summer days. But it is attracting interest from the shorts.
B&M European Value Retail SA has been a rare British store-based success story. But hedge funds are circling, with both Citadel Europe and Marshall Wace betting against it, according to Bloomberg News.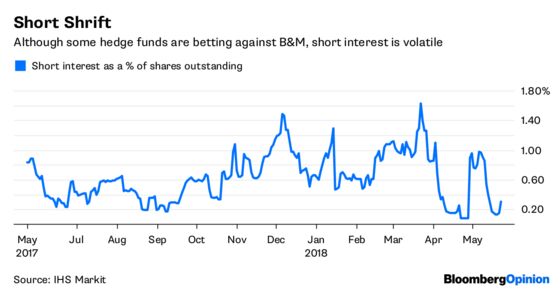 B&M certainly offers some fodder for short sellers in the form of its big store-expansion plan. But there's one trend that could scupper that trading strategy: supermarket consolidation.
The company, which will announce full-year earnings next week, has about 560 B&M branded outlets in the U.K. It wants to increase that to 950. 
B&M argues that it still has plenty of scope to grow.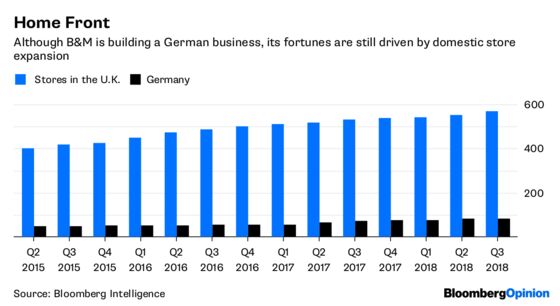 The company says more upmarket customers are discovering the delights of its garden furniture and Christmas decorations, increasing the potential shopper base. Because B&M sells so many different types of products, a shop can thrive on a smaller catchment area than, say, a DIY specialist. And B&M believes it can make inroads into the southeast of England. 
But the enlargement looks ambitious. It's also at odds with the current trend of reducing real estate. The supermarket race for space, which saw Britain's big grocers open new locations at a time when consumers were cutting back and discounters Aldi and Lidl were expanding, has left shops with an excess of capacity that they're still trying to tackle.
It's also worth keeping a careful eye on its sales reports. The company has pointed out that sales at its new stores tend to ramp up very quickly, in contrast to most other outlets, whose shops take some time to mature. However, this creates difficult annual comparisons when it reports like-for-like sales, which hit home as the pace of openings picked up around 2015 — sales slumped in 2016.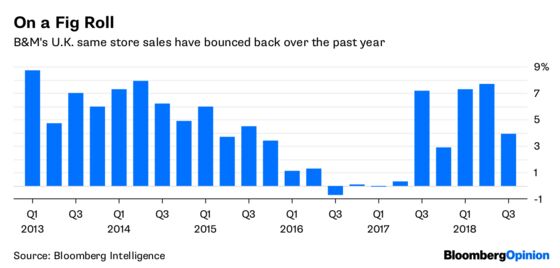 B&M changed the way it reports its same-store sales in May that year. Consequently, it now includes new stores' revenue in its year-on-year figures only after they've been in business for 14 months, from 12 months previously. That way, it doesn't have to make comparisons with those rip-roaring early weeks of trading. However, this move has the lucky benefit of also flattering reported growth.
The group says this change has little impact on its figures. And indeed, like-for-like sales have since recovered. But it's always worth noting when companies change their reporting criteria.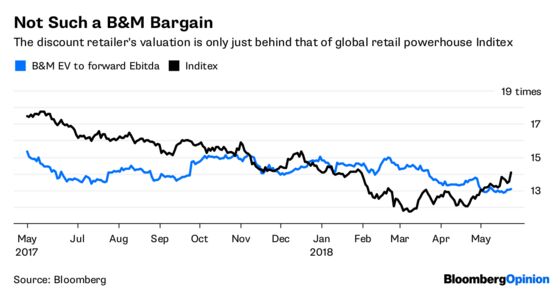 Add in the fact that the company is highly valued, then the short-sellers should have an easy ride. Analysts at Morgan Stanley note that on an enterprise value to Ebitda basis B&M has the highest rating of all the British chains, excluding the online-only retailers.
British grocers are in flux after Tesco Plc's takeover of Booker Plc and J Sainsbury Plc's proposed combination with Asda. B&M is one of the few remaining targets. It would bring a big general merchandise business to a more food-focused grocer — for example Wm Morrison Supermarkets Plc. It would also add a discount convenience format, following B&M's purchase of Heron Foods last year.
True, B&M is expensive. It has a market capitalization of 3.9 billion pounds ($5.2 billion). With net debt of 589.8 million pounds at the end of the first half, any buyer would be looking at spending about 4.5 billion pounds before any takeover premium.
The recent drop in the share price makes a deal slightly more affordable. What's more, grocery consolidation is only just beginning. Just as supermarkets raced to open more and more stores, they are now battling to gobble up rival businesses. So they've got a reason to swallow steep pricing. 
For hedge funds betting against B&M, that could turn their short strategies into a supermarket squeeze.