Studzinski's Exit Says Something About Blackstone
(Bloomberg Opinion) -- John Studzinski's departure from Blackstone Group LP says something about the buyout firm and the value of rainmakers in the second half of their career. He's among the finance industry's most successful, best-connected dealmakers, with a global network and wide-ranging interests. Yet that didn't make him invaluable to Blackstone, and suggests that advisers add most value when they work for an advisory business.
Studzinski made his name as an M&A banker at Morgan Stanley in the 1980s and 1990s. In 2003 he went to HSBC Holdings Plc to lead a revival of its investment bank. Three years later he joined Blackstone to establish an advisory pratice. That went pretty well. But as the franchise grew, so did the risk of potential conflicts of interest with Blackstone's core investment business.
In 2015, Blackstone moved out of advisory work by combining the unit with PJT Capital, now PJT Partners, a boutique set up by another Morgan Stanley alumnus, Paul Taubman. Studzinski stayed with Blackstone in the new role of vice chairman, investor relations and business development. On Thursday, Blackstone told staff he was leaving.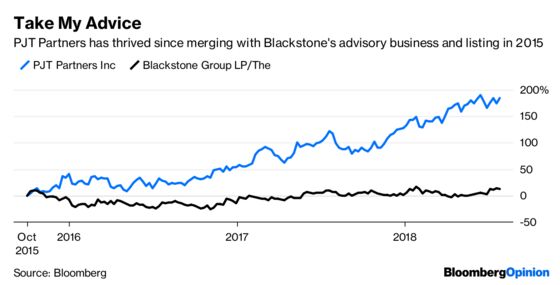 The departure shouldn't come as a surprise. It's natural that Studzinski wouldn't suit a role playing second fiddle in a boutique run by Taubman. But staying on at a Blackstone without its advisory business was a leap of faith.
Studzinski has an enviable rolodex and is famed for his ability to make connections both socially and intellectually. The Blackstone role couldn't make the most of these. It's not as if the buyout giant needs help raising money. Even if it did, potential clients would still rather sit down with one of its investment professionals than an M&A adviser – even one of Studzinski's stature.
Moreover, a meeting with Blackstone's founder CEO Stephen Schwarzman would always count for more. Even a firm this rich clearly can't afford to have trophy hires on the payroll without a well-defined revenue-generating job to do.
So how could 62-year-old Studzinski utilize his skills now? His contribution to the world outside finance has been considerable. But it's hard to avoid the impression that the greatest achievements of his career came at Morgan Stanley. Might even Studzinski still have something to prove? Morgan Stanley alumni such as Frank Quattrone, Michael Zaoui, Simon Robey and Taubman have achieved success with their own M&A shops. Studzinksi built a franchise at Blackstone but he hasn't yet built a firm.
The question is what would such an outfit do? Studzinski has insisted he won't return to investment banking, Bloomberg News reported. He has in the past sounded slightly dismissive of "vanilla" transaction work, and boutique success seems to depend on doing just that in a narrowly focused area. His skills, interests and network are anything but narrow and niche. That creates a conundrum around his next move. Lucky Studzinski likes problem solving.
This column does not necessarily reflect the opinion of the editorial board or Bloomberg LP and its owners.
Chris Hughes is a Bloomberg Opinion columnist covering deals. He previously worked for Reuters Breakingviews, as well as the Financial Times and the Independent newspaper.