Stocks Have Lost Sight of What's Reasonable
(Bloomberg Opinion) -- The S&P 500 Index fell again on Monday, leaving the gauge down 9.88 percent from its all-time high in late September and on the cusp of a correction. (The Dow Jones Industrial Average did enter into a correction.) And yet, despite the turmoil, the dialogue seems to be starting to turn in a good way. Specifically, the debate has gone from guessing where the bottom is to determining the appropriate price to pay for equities in an environment where the economy is slowing from a sugar high to a normal rate of growth.
The big drop in the S&P 500 has left its forward price-to-earnings multiple below the five-year average for the first time since 2012, according to Bloomberg Intelligence. The index is now trading at 15.5 times expected earnings, the lowest since the tail end of the 2015-2016 correction in stocks and what Bloomberg Intelligence calls "historically reasonable levels." Back then, the economy was expanding at a less than 2 percent rate. Now, economists are forecasting growth above 3 percent for at least this quarter and the start of 2019. "The sell-off appears to have overshot the fundamentals," Goldman Sachs Group Inc. strategists led by David Kostin wrote in a research note Friday. They expect earnings-per-share growth of greater than 7 percent in 2019 will support a rebound in the S&P 500 toward 2,850 by the end of the year, a gain of almost 7 percent. "The resumption of discretionary buybacks should also provide a tailwind," they added. But that's hardly the consensus view. Stocks are selling off in ways that differ from other recent declines and it bodes badly for future performance, Morgan Stanley strategist Michael Wilson wrote in a research note Monday. "The rolling bear market continues to make progress and there is growing evidence that it is morphing into a proper cyclical bear market," Wilson wrote.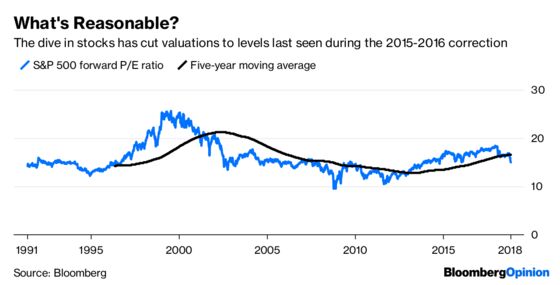 Wilson, who is in the minority, has been a bear for months. The bottom line is that the jobs market remains very tight and consumers are spending freely. Purchases, which account for about 70 percent of the economy, rose 0.4 percent in September from the prior month, matching economists' estimates and following an upwardly revised 0.5 percent increase for August, Commerce Department figures showed Monday. "The economy in the U.S. is still in very good shape," Nuveen Asset Management Chief Equity Strategist Bob Doll told Bloomberg TV Monday. "It would be unlikely to have a bear market while the economy is doing well. Corrections, they can happen anytime unannounced. Bear markets are usually associated with an economic problem i.e. recession."
MEXICO'S MISERABLE MONDAY
Incoming Mexican President Andres Manuel Lopez Obrador is a leftist who won over investors with a market-friendly approach to politics. Investors are now probably wishing they could turn back the clock. Mexico's peso fell the most in the world, depreciating as much as 3.30 percent in its biggest loss since Donald Trump was elected U.S. president in November 2016, after Lopez Obrador ditched a $13 billion airport project backed by some of the nation's wealthiest businessmen. Almost 70 percent of 1.07 million people who participated in a national referendum voted against the airport, among the nation's biggest infrastructure projects, Bloomberg News reported. "Our decision is to follow the referendum mandate," Lopez Obrador said at a news conference in Mexico City. "The citizens' decision is rational and democratic." While Lopez Obrador said funds are available to protect the investors who bought $6 billion of airport bonds, the bigger concern is the impact on investor confidence. Until now, the new leader had managed to soothe those who fretted that the populist would take steps such as the rollback of regulations that allowed more foreign access to the nation's oil and gas industry. Currency traders weren't the only ones blindsided. Mexico's main stock index plunged as much as 3.86 percent, also its biggest loss since November 2016, and the nation's government bonds took a dive, pushing up yields.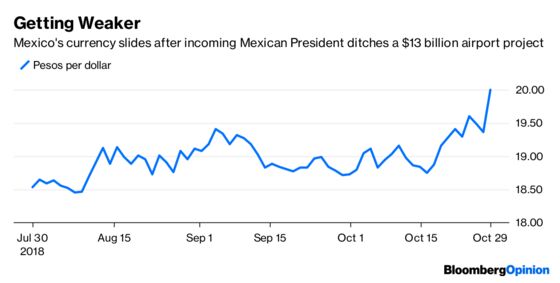 DOLLAR BULLS ARE RIDING HIGH
Currency traders have a lot riding on the U.S. currency, and they are getting rewarded in spades. The Bloomberg Dollar Spot Index advanced the most in more than two months Monday, rising as much as 0.64 percent to its highest level since May 2017. The dollar's appreciation is one of the few bets that are working in global markets. Hedge funds and other large speculators have 242,000 contracts betting on dollar gains, Commodity Futures Trading Commission data show. That's about seven times more than the average over the past 10 years. There's an overwhelming sense in the currency market that the turmoil in equities and the rise in bond yields won't deter the Federal Reserve from its plan to keep boosting interest rates at a one-per-quarter pace through next year, which should further bolster demand for the greenback. It also helps that the euro zone political situation looks a bit unsettled at the moment, with Germany's highly respected Angela Merkel planning to quit as head of her Christian Democratic party and not running for another term as chancellor. There is a downside to a stronger dollar, which is that it potentially restrains exports by making American goods relatively more expensive. That wouldn't be good thing for multinational U.S. firms and their share prices. Just last week the Commerce Department said the U.S. merchandise-trade deficit expanded in September to a monthly record of $76 billion.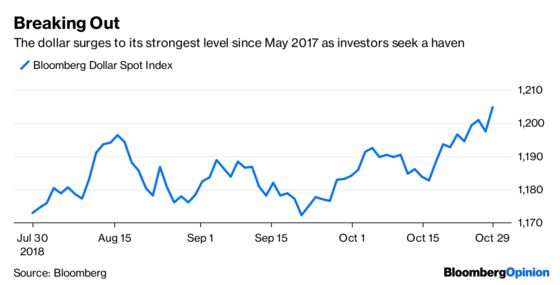 DEBT, DEBT AND MORE DEBT
The upside to a rising dollar is that it may attract foreign investment, money that the U.S. needs to finance a soon-to-be $1 trillion budget deficit. That's never been more important than now, with the U.S. Treasury Department saying on Monday that government borrowing for the year will rise to $1.34 trillion, more than double 2017's level. The Treasury said it issued $353 billion in net marketable debt from July through September, and will issue $425 billion from October through December. Someone needs to buy all that debt, and it's clear that without foreign participation, borrowing costs may shoot up even more than they are now. As it is, international investors own slightly less than 50 percent of all U.S. marketable debt outstanding. "Deficits aren't going anywhere, and Treasury will need to continue to ramp up issuance," Jon Hill, an interest-rate strategist at BMO Capital Markets, told Bloomberg News. It's certainly not cheap for the government to be borrowing so much. Since bottoming at 1.04 percent in mid-2016, the average yield on U.S. Treasuries has risen to about 3 percent, according to the Bloomberg Barclays U.S. Treasury index. In fiscal 2018 ended Sept. 30, the U.S. spent a total of $523 billion on interest expense, up from $458.5 billion in fiscal 2017 and $432.6 billion in fiscal 2016.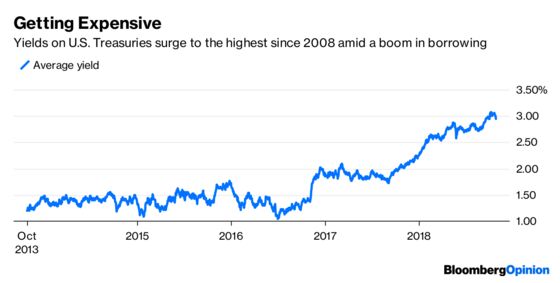 BRAZIL PUTS A DAMPER ON COMMODITIES
Jair Bolsonaro's presidential election win in Brazil sent a ripple through commodities markets Monday, as both sugar and coffee tanked. Sugar futures dropped the most in a month amid speculation that the recent rally may encourage more output in Brazil, one of the key producers. Arabica coffee dropped 4 percent to $1.1148 per pound, while robusta coffee declined 2.1 percent. Sugar output in Brazil, the world's top producer and exporter, may rebound following a 21 percent price rally this month, Juan Blanchard, the chief executive officer of Biosev, a Louis Dreyfus Co. unit, told Bloomberg News Monday. Mills in Sao Paulo state are fetching higher prices for sugar versus cane-based ethanol for delivery in mid-2019, partly because of closer proximity to ports, Blanchard said. Benchmark raw-sugar futures in New York surged this month, partly because of the Brazilian real's rally against the dollar, but the currency weakened on Monday, making sugar and coffee exports from Brazil more attractive. Bolsonaro swept to power in Brazil's presidential election Sunday, marking a hard pivot to the right that promises to open up the resource-rich economy to private investment, strengthen ties to the U.S. and unleash an aggressive crackdown on epidemic crime, Bloomberg News reported. To many, Bolsonaro is the best hope to revive an ailing economy and streamline an inefficient state.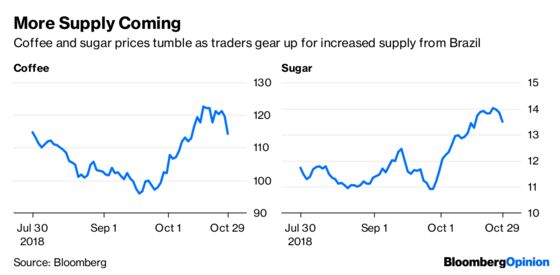 TEA LEAVES
It's been a rough October, both in terms of markets and otherwise. On Tuesday we'll get a sense of how all this is playing with consumers when the Conference Board releases its monthly sentiment index for October. The consensus is that there will be a slight pullback in the organization's Consumer Confidence index to 136 from 138.4 in September, which was the highest since 2000. As Bloomberg Economics notes, political uncertainty heading into the midterm elections and trade-war concerns will likely weigh a bit on optimism, but job gains remain strong on average, which should help to soften the blow from gyrating equity prices. That's what happened back in February. Despite the S&P 500 dropping 3.89 percent that month, the Conference Board's sentiment index rose 5.70 points in its biggest jump since March 2017.
This column does not necessarily reflect the opinion of the editorial board or Bloomberg LP and its owners.
Robert Burgess is an editor for Bloomberg Opinion. He is the former global executive editor in charge of financial markets for Bloomberg News. As managing editor, he led the company's news coverage of credit markets during the global financial crisis.