Stocks Can Forget About a Big Leap From China Trade Deal
(Bloomberg Opinion) -- Donald Trump tweeted on Monday, after a G-20 meeting with President Xi of China, that relations between the two nations had made a big leap forward. Stock investors seemed more than willing to buy that narrative. Shares climbed sharply on Monday. The S&P 500 Index, which was in the red for the year less than a month ago, is back up above 4 percent for 2018.
Many on Twitter, though, pointed out that Trump's tweet seemed to ignore history. China's most famous leap forward in the 1950s resulted in tens of millions of its citizens dying in famine. More recently, the trade negotiations between China and the U.S. have been more "one step forward, two steps back" rather than any great leaps. More important, it's not clear that a trade deal with China would provide a lasting boost for the stock market. That's because the market's biggest problems are growth and interest rates, neither of which will be solved by a trade deal with China. In fact, for investors, it could make their issues worse.
Stock price gains are a combination of two things — earnings and what investors are willing to pay for them. The first half of that equation is good news. Earnings for the companies in the S&P 500 are expected to be up 10 percent next year. The problem is the second half, namely the price-to-earnings ratio.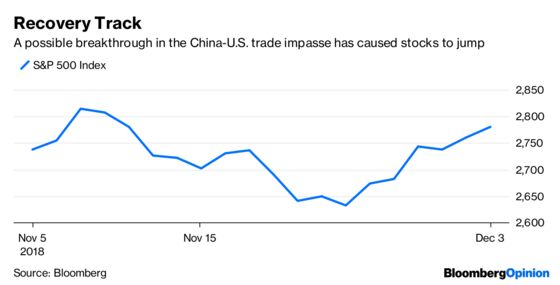 While earnings will be up, earnings growth will be down, from nearly 25 percent this year. That's usually not good for stock prices. Jim Paulsen, the chief equity strategist for the Leuthold Group, pointed out in a note on Monday morning that a one point drop in the economic growth rate tends to cause a 2.2 percent drop in P/E ratios. U.S. GDP growth rate is expected to drop to 2.6 percent next year, from 2.9 percent in 2018, and to 1.9 percent in 2020, according to Bloomberg's most recent survey of forecasters.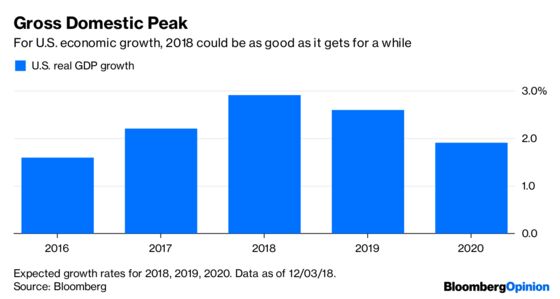 On top of that, interest rates, the stock market's kryptonite, are rising. And a trade deal with China is likely to remove one of the economy's most feared obstacles. That could lead to even higher interest rates. The inverse relationship has been roughly about a third, meaning the market's P/E drops by about a third of what long term-interest rates rise. And, as Paulsen points out, the market's P/E is down about 20 percent in the past year as long-term interest rates — the average between the yield on 10-year and 30-year Treasuries — have risen from about 2 percent to 3.2 percent. That rate is expected to be above 3.5 percent by the end of next year, again according to Bloomberg's survey, a gain of about 10 percent.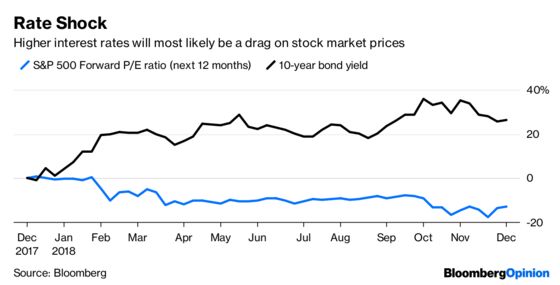 Put them together and that equates to a 5.4 percent drag on the S&P 500. Profit margins, another long-term booster of stock prices, are also likely to come under pressure next year. All of that most likely means that next year's expected earnings growth of about 10 percent will probably translate to only a 4.6 percent or less jump in stock prices, or not much more than the 4.4 percent that the average corporate bond is yielding right now. The most likely steps for the stock market going forward will be baby-sized. The leaps, for this bull market at least, have already been taken.
This column does not necessarily reflect the opinion of the editorial board or Bloomberg LP and its owners.
Stephen Gandel is a Bloomberg Opinion columnist covering banking and equity markets. He was previously a deputy digital editor for Fortune and an economics blogger at Time. He has also covered finance and the housing market.