Stocks Are Starting to Favor the Optimists
(Bloomberg Opinion) -- The S&P 500 Index enjoyed one of its biggest rallies of the month on Monday, gaining 1.55 percent. Nevertheless, the benchmark is still down almost 9 percent from its record in late September and is still in the red for the year. Although it seems as if there's no shortage of naysayers willing to point out all the ways stocks are doomed, one easy-to-understand metric suggests there's reason for optimism.
At about 15.1, the forward 12-month price-to-earnings ratio for the S&P 500 is closer to its 10-year average of 14.5 than to its five-year average of 16.4, according to Bianco Research and FactSet data. That's a positive development for those who prefer taking longer-term views. Besides slower earnings growth going forward, the biggest knock on equities is that the economy is also decelerating. That's true, but gross domestic product is expected to still expand at a healthy 3.1 percent rate this quarter and 2.6 percent next year. Plus, the early signs from this holiday season are that consumers are feeling pretty flush. Deloitte expects sales from November to January to rise as much as 5.6 percent to more than $1.1 trillion from the same period last year. "You get a sense of how desperate people are to hate the current economic backdrop when the bearish crowd is now using the recent weakness in the Dallas Fed manufacturing index as a proxy for the broader economy," Tom Porcelli, the chief U.S. economist at RBC Capital Markets, wrote in a research note Monday. That index slipped to 17.6 for November from 29.4 in October, hitting a fresh 15-month low, but that's most likely a reflection of the big drop in oil prices starting in early October.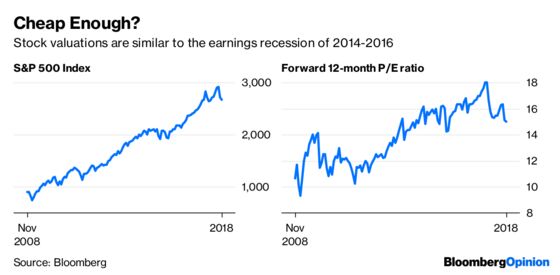 "By the way, the U.S. economy as a whole came out of the much steeper collapse in oil prices circa 2015 largely unscathed," Porcelli added. Even Wall Street's biggest bear figures the downside is limited. Mike Wilson, the chief U.S. equity strategist at Morgan Stanley, forecast that the S&P 500 will end next year at 2,750, the same level he forecast for 2018 and about 3 percent above the index's current level. With five weeks to go in 2018, Wilson's estimate is by far the closest of all the estimates to coming true, according to Bloomberg News's Lu Wang.
BONDS ARE IN HIGH DEMAND
Treasuries fell on Monday as investors regained their appetite for riskier assets. Even so, U.S. government bonds are poised for their first winning month since August, with the Bloomberg Barclays U.S. Treasury Index gaining 0.74 percent in November through Friday. An auction of two-year Treasuries demonstrated how traders think the Federal Reserve may be changing its tune on the path of interest rates, perhaps raising them no more than two times over the next 12 months instead of the four hikes currently forecast. The Treasury Department's monthly sale of two-year notes drew bids of 2.65 times the amount offered, little changed from the 2.67 at October's auction. That's a minor victory given that the $39 billion sold was the most since 2010 as the government ramps up its borrowing to pay for a ballooning budget deficit. At 2.836 percent, the yield on the new notes was in line with the 2.837 percent they were trading at in the so-called when-issued market. That's another sign of demand as many recent auctions have produced yields higher than the when-issued market. "Compared with the very mediocre to outright poor auctions seen over the past few months across maturities, at least (Monday's two-year) auction — very sensitive to expectations for Fed policy — had a bright spot in end demand," Bleakley Financial Group chief investment officer Peter Boockvar wrote in a note to clients Tuesday. "And, likely that is due to the possibility being priced in that the fed funds rate ends up at 2.75 (percent), thus giving us one more (Fed rate increase) after the hike in December."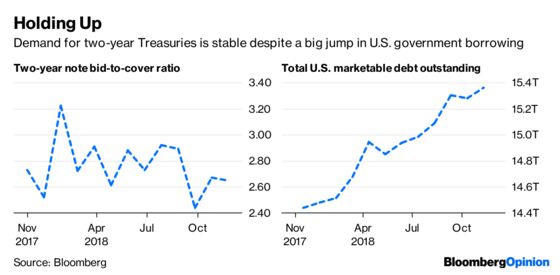 HEDGE FUNDS GIVE UP ON OIL 
What's been remarkable about the rally in Treasuries is how closely they have tracked the drop in oil prices. That makes sense because lower oil prices tend to temper inflation and many traders think that the drop in crude is due largely to lower demand and therefore a weakening global economy. And although West Texas Intermediate futures surged on Monday, gaining as much as 3.63 percent, they are still down 32 percent since early October, and hedge funds are losing hope of any sustained rebound. In fact, large speculators haven't been this pessimistic about global oil prices since Brent crude was spiraling into its worst rout in a generation almost three years ago, according to Bloomberg News's Alex Nussbaum. Net-long wagers on the international benchmark fell 15 percent in the week ended Nov. 20, hitting their lowest level since oil crashed below $30 a barrel in January 2016, according to data released Friday by ICE Futures Europe. Then as now, Saudi Arabia and the U.S. are tipping the balance, prompting money managers to bet against a price recovery. Under pressure from President Donald Trump, the kingdom is pumping crude at a record pace even as volumes from American shale producers reach new heights. "People are really reacting to a double whammy of both supplies and inventories going up at the same time that demand seems to be cooling down," Tamar Essner, an analyst at Nasdaq in New York, told Bloomberg News. "Oil is getting hit from both sides."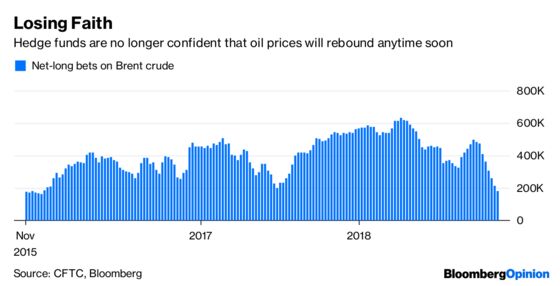 GEOPOLITICS STING THE RUBLE  
One of the big losers in the global currency market on Monday was Russia's ruble. It weakened as much as 1.72 percent, the most since early August, after Russia fired on Ukraine warships Sunday. Several sailors were wounded in the clash, sparking a renewal of tensions between the ex-Soviet neighbors in the Kerch Strait, near Crimea, which President Vladimir Putin seized with his military four years ago. The "resurfacing of geopolitical risk," combined with a recent slump in oil prices, creates a negative bias for the ruble, Piotr Matys, an analyst at Rabobank, said in a research note. Other Russian financial assets also suffered, with the benchmark MOEX Russia Index of equities dropping as much as 2.50 percent. The yield on local-currency bonds due in 2028 rose 12 basis points to 8.92 percent, the highest in about two weeks on a closing basis, according to Bloomberg News's Olga Voitova and Áine Quinn. The developments put a damper on the newfound optimism of emerging-market investors, who pumped $1.23 billion into U.S.-listed exchange-traded funds that invest across developing nations as well as those that target specific countries in the week ended Nov. 23, according to data compiled by Bloomberg. That was the sixth consecutive week of inflows, bringing this year's total to $20.5 billion. Investors including Aberdeen Standard Investments, Schroders Plc, Goldman Sachs Asset Management and BlackRock Inc. are looking with renewed interest at emerging markets amid signals from the Fed that it could pause its rate hikes next year, according to Bloomberg News's Aline Oyamadas. Morgan Stanley joined the bulls on Monday, announcing a "double upgrade" to emerging-market stocks, to "overweight" from "underweight."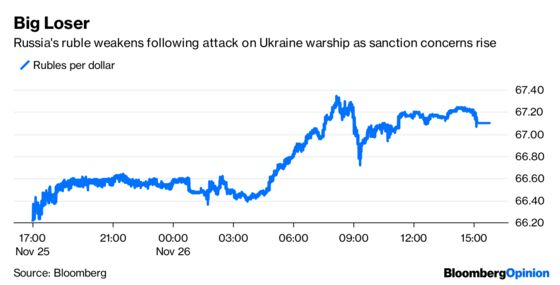 MEXICO TAKES A BEATING
Trump is tweeting about Mexico again, which is never a positive development for that country's financial assets. The president tweeted early Monday that "Mexico should move the flag waving Migrants, many of whom are stone cold criminals, back to their countries. Do it by plane, do it by bus, do it anyway you want, but they are NOT coming into the U.S.A. We will close the Border permanently if need be." Mexico's benchmark S&P/BMV IPC was the biggest loser in the global equity markets Monday, tumbling as much as 4.51 percent to its lowest level since 2015, as traders worried that Trump may step up his attacks on Mexico, scaring away international investors. That can be seen in the peso, which fell on Monday to its lowest level since June. Also weighing on Mexico's stock market are new concerns that the incoming administration of President-elect Andres Manuel Lopez Obrador may scrap some bank commissions, according to Bloomberg News's Justin Villamil. Banco del Bajio's 11 percent skid led losses after Mexico's antitrust agency, Cofece, recommended the Senate ask the central bank to conduct a case-by-case analysis of proposed modifications. Grupo Financiero Banorte and Banco Santander Mexico slumped at least 7.7 percent. "Banks have certainly been a concern for investors because of concerns about the potential for increased government regulation that could crimp profits," Morgan Harting, a senior portfolio manager at AllianceBernstein in New York, told Bloomberg News. "More broadly, I think the Mexican market remains under pressure amid political uncertainty and a sluggish economic setting."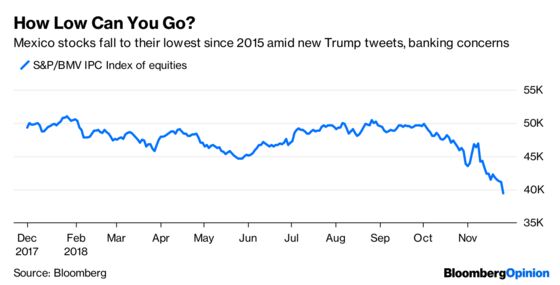 TEA LEAVES
The big event this week in markets will be the planned meeting between Trump and President Xi Jinping of China at the Group of 20 summit in Buenos Aires on Friday and Saturday. The reason this meeting is so important is because of the potential impact it might have on China's currency. The yuan has stabilized in recent weeks after falling to 6.9799 per dollar at the end of October. Market watchers say a breach of 7 per dollar would spark a flight of capital from China and throw global markets into a tailspin. Perhaps because of the weakness in China's economy and the drop in Trump's approval rating — the latest weekly Gallup poll puts it at the lowest since February — the odds are relatively high that the two leaders will announce something that puts the markets at ease, at least for the time being. The options market no longer thinks it's inevitable that the yuan drops to 7 per dollar this year, but early 2019 is still on the table, according to Societe Generale SA.
This column does not necessarily reflect the opinion of the editorial board or Bloomberg LP and its owners.
Robert Burgess is an editor for Bloomberg Opinion. He is the former global executive editor in charge of financial markets for Bloomberg News. As managing editor, he led the company's news coverage of credit markets during the global financial crisis.