Here's a Fresh Look at Stocks: They're Cheap
(Bloomberg Opinion) -- If price is any indicator, the stock market rout that began a week ago could end soon. The reason: Stocks, at least by one important gauge, are the cheapest they have been in nearly seven years. The market is also significantly more attractively priced than it has been in other recent periods when stocks have struggled.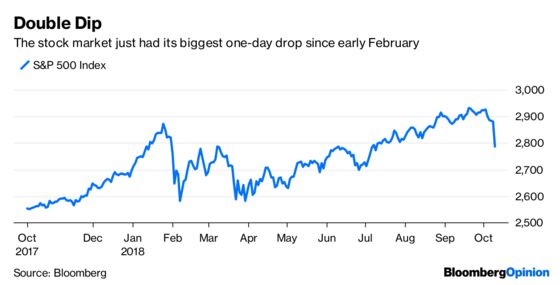 The gauge is the so-called PEG ratio, which compares the price investors are willing to pay for expected earnings with how fast those earnings are expected to rise. The exact equation is to divide the market's price-to-earnings ratio by expected earnings growth, which is where the name comes from. On Wednesday, the PEG of the S&P 500 Index dropped to just under 0.65, based on this year's expected earnings. On average for the year, the PEG ratio is higher, but it recently dropped below 1, and that's the lowest annual average going back to late 2011.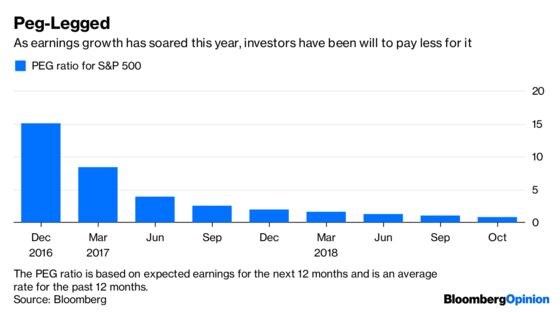 The idea is that when earnings are growing faster, investors should be willing to pay more for them. That's because those companies have a higher rate of return. Put $10 in a company that is earning $1 a year and growing its bottom line by 10 percent annually, and that investment will double in a little more than seven years, which is the same time it will take to double a $12.75 investment in a company that is increasing the same earnings by 20 percent. Mutual fund legend Peter Lynch helped make the PEG ratio popular.
And earnings, propelled by tax cuts and a good economy, have been rising quickly lately. The bottom lines of the companies in the S&P 500 are expected to jump nearly 25 percent in 2018. That high growth along with the recent drop in stock prices is why the PEG ratio has sunk so low. Earlier this year, just before the market plunged 10 percent in late January and early February, the PEG ratio was nearly 2. In mid-2015, when stocks dipped on fears about China and oil prices, the PEG ratio was as high as 15.
The main caveat is that the situation could shift quickly. A low PEG ratio implies that earnings growth will continue to be as strong as it is now. That's probably not the case. By next year, with the one-time boost of the tax cuts fading, earnings growth is expected to slow to just under 12 percent. Base current stock prices on next year's expected earnings, and the PEG ratio jumps to 1.3, or slightly higher than the 1.2 it has averaged going back to 1986, according to Bank of America Merrill Lynch.
For now, at least, stocks have wandered into bargain PEG ratio territory. But the ratio is built on faith. And this year, even as the economy has heated up, investors have become increasingly nervous about growing trade tensions, higher inflation and rising interest rates. That's likely to continue to put their faith to the test.
This column does not necessarily reflect the opinion of the editorial board or Bloomberg LP and its owners.
Stephen Gandel is a Bloomberg Opinion columnist covering banking and equity markets. He was previously a deputy digital editor for Fortune and an economics blogger at Time. He has also covered finance and the housing market.