The Buyback Boogeyman May Have Struck Again
(Bloomberg Opinion) -- The buyback boogeyman may have just bit investors once again.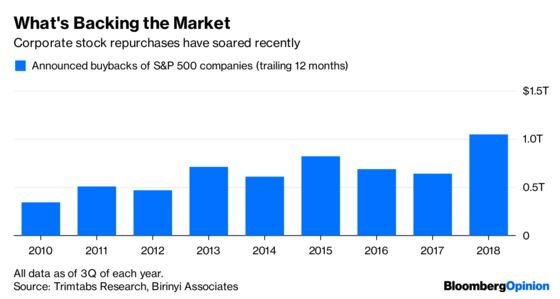 The Dow Jones Industrial Average fell more than 800 points on Wednesday and the S&P 500 Index dropped nearly 3.3 percent, one of the biggest slumps of the year. Market participants and observers were pointing fingers at a lot of reasons but may have glossed over an important one: the so-called buyback blackout period. Companies are prohibited from repurchasing their shares in the month before they release their earnings. Earnings announcement will start in earnest at the end of this week, which means we are at the tail end of the blackout period.
Companies have been among the biggest buyers of stocks in this bull market, spending $4.4 trillion on buybacks since the end of the financial crisis, or about $800 billion more than the Federal Reserve has put into quantitative easing. Some dispute how much buybacks have been driving the bull market, or the bumps. Wednesday provides more evidence that when buybacks dry up, market famines follow. February's big sell-off similarly came at the tail end of buyout blackout period. But if buybacks are the reason the market dropped, or a crucial contributing factor, expect a rebound soon. Announced, but not yet completed, buybacks have soared 72 percent this year, pumped up by repatriated cash and tax cuts. Completed buybacks are expected to hit $1 trillion this year. There is plenty of dry buyback powder still left to be spent.
This column does not necessarily reflect the opinion of the editorial board or Bloomberg LP and its owners.
Stephen Gandel is a Bloomberg Opinion columnist covering banking and equity markets. He was previously a deputy digital editor for Fortune and an economics blogger at Time. He has also covered finance and the housing market.