Markets Seek a Silver Lining That Isn't There
(Bloomberg Opinion) -- U.S. stocks took another big dive on Tuesday, with the benchmark S&P 500 Index at one point falling 2.34 percent to its lowest since late May. And although the market recovered almost all those losses by the close of trading to end lower by just 0.5 percent, the striking thing is that all the recent turbulence is coming amid a strong economy. Imagine how much worse things would be if that wasn't the case. 
On Friday, the government is forecast to say gross domestic product expanded at a 3.3 percent rate in the third quarter. While that is slower than the 4.2 percent pace in the second quarter, it's still higher than anything seen since 2014. But here's the thing: Companies are reporting earnings that are beating estimates by a smaller margin (3.9 percent) than over the past year (5.4 percent) or five years (4.6 percent), according to DataTrek Research. That simply won't do, with the S&P 500 priced for perfection at a lofty 21 times earnings coming into the month. "If U.S. companies can't blow away the numbers when domestic GDP is growing at (greater than) 3 (percent), when exactly will they?" DataTrek co-founder Nicholas Colas wrote in a research note Tuesday. "Markets have spent the last two years discounting earnings-boosting tax cuts and fiscal stimulus. Now the story changes to more sustainable growth, which is a different calculus." So the question now is, what exactly is an appropriate price to pay for stocks amid a higher interest-rate environment and earnings growth forecast to decelerate to a 10 percent rate in 2019 from 20 percent in 2018? One thing's for sure: The forward 2018 price-to-earnings earnings ratio for the S&P 500, which at 16.7 times is above the average of 14.5 times over the past decade, is probably still a bit rich.
It's easy to say that the market is overreacting given the growth in earnings and the economy until you realize that three of the worst performing sectors of the equity market are also three of the most important to the economy: housing, banks and autos. The Bloomberg Americas Home Builders Index has plunged 36 percent this year, while the S&P Supercomposite Automobiles & Components Index has tumbled 26 percent and the Bloomberg Americas Bank Index has dropped 9.25 percent. "It's discouraging to see such large moves for two segments which represent major areas of the economy," the strategists at Richardson GMP wrote in their daily note Tuesday. "This leaves us wondering how much worse it has to get before it begins to alter the Fed's point of view."
THE FED ISN'T COOPERATING
The notion of a Federal Reserve "pause" in the interest-rate hiking cycle would be one of those silver linings, if policy makers hadn't made clear on multiple occasions this year that they consider turbulence in financial markets just a minor headwind to a strong economy that won't alter the path of rate increases. Bond traders are pricing the odds of another rate increase in December at about 75 percent, which is little changed from a month ago, according to data compiled by Bloomberg. "Markets are left wondering if an equity market correction will stay the Fed's hand in December. The short answer is no," the strategist at Brown Brothers Harriman wrote in a research note Tuesday. "The long answer is that short of a plunge along the lines of 1987 or 2008, Fed policy should not be impacted." They point out that the Chicago Fed's National Financial Conditions Index, which covers 105 measures of financial activity divided into risk, credit, and leverage buckets, "remains as loose as it's ever been." In other words, "be bullish if you think the Fed can pull off a soft landing," Bleakley Financial Group chief investment officer Peter Boockvar wrote in a note to clients Tuesday. "Be more defensive if you think this time won't likely be different."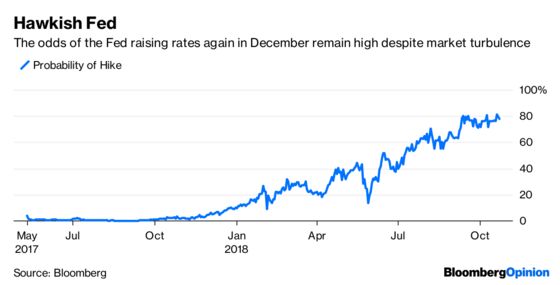 THE DOLLAR AS A DISRUPTOR
The Fed's hawkish rhetoric is also helping to support the dollar, removing another potential silver lining for risk assets. Although the Bloomberg Dollar Spot Index fell on Tuesday, it's still up almost 7 percent since mid-April and is trading at about its highest level since mid-2017. The problem here is that a stronger dollar tends to act as a drag for exporters by making their goods less competitive. The Commerce Department is forecast to say Thursday that the U.S. merchandise-trade deficit expanded to $75.1 billion in September, from $64.9 billion in the same month of 2017. America's currency will likely get even more support from the usual year-end demand for dollar funding in the interbank markets. The cost to convert foreign cash flows into dollars with cross-currency basis swaps has jumped the most in a year in a sign of rising demand. There's also the notion that yields on offer in the U.S. bond market are too juicy for international investors to ignore, even if the cost of hedging dollar exposure is relatively expensive.  For example, two-year Treasury notes yield about 3.50 percentage point more than similar maturity German bunds, the most since at least before 1990. As such, the Fed's custody holdings of U.S. Treasuries on behalf of foreign central banks and institutions have grown to $3.06 trillion from this year's low of $3.01 trillion in January.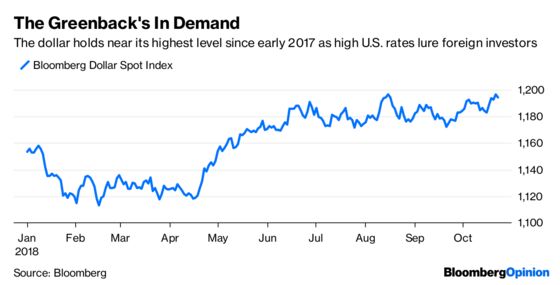 CHINA'S SLOW DRIP
China would also be another silver lining, in the sense that when things in that nation's financial markets look to be falling apart the government usually steps in with hefty support, spurring risk markets globally. That's what happened on Monday, but the global markets didn't react. The problem may be that China is responding to the slump in its stock markets and the slowdown in the economy with a trickle of stimulus to stabilize, rather than rejuvenate, investor sentiment, according to Bloomberg News. As the trade confrontation with the U.S. hardens into a lasting damper on the economy, investors have taken an ever-gloomier view on the chances of improvement, making China's domestic stocks the world's worst performers this year. Now comes news that China Everbright Ltd., the state-backed manager of about HK$139 billion ($18 billion) in assets, said it's preparing to sell shares in as many as 30 stocks on concern that valuations worldwide have peaked. There are 20 to 30 companies in China Everbright's global portfolio that are ripe for exit after they went through initial public offerings, Chief Executive Officer Chen Shuang told Bloomberg News in an interview Tuesday. Though he didn't specify which stocks Everbright would sell, Chen said the company is planning to make its exits "as soon as possible."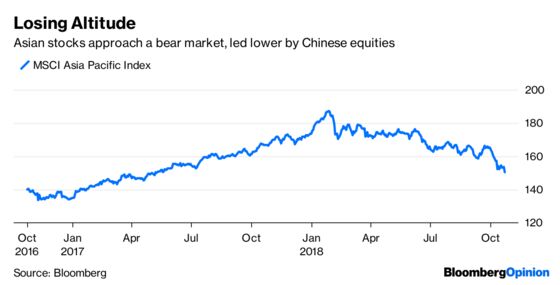 SAUDIS KNOCK DOWN OIL
With all the focus on stock markets, the big slump in oil seems to be getting hardly any notice. West Texas Intermediate crude fell as much as 4.96 percent Tuesday to as low as $65.74 a barrel. Just three weeks ago, oil was trading at almost $77 a barrel. The latest leg down in oil came as Saudi Arabia — which is trying to find a way to move beyond the Jamal Khashoggi scandal and get back in the good graces of the U.S. and its allies as quickly as possible — pledged to meet any supply shortfall that materializes from Iranian sanctions. OPEC and its allies are in "produce-as-much-as-you-can mode," Saudi Energy Minister Khalid Al-Falih told a conference in Riyadh. President Donald Trump is counting on Saudi cooperation to soften potential price increases from the sanctions that take effect next month. The kingdom has already boosted oil production to 10.7 million barrels a day, near an all-time high, and it can increase it even more, Al-Falih said, according to Bloomberg News. Saudi Arabia's energy minister has used public comments over the past week to tone down the kingdom's veiled threat to use oil as a political weapon to retaliate against possible sanctions related to the Khashoggi killing.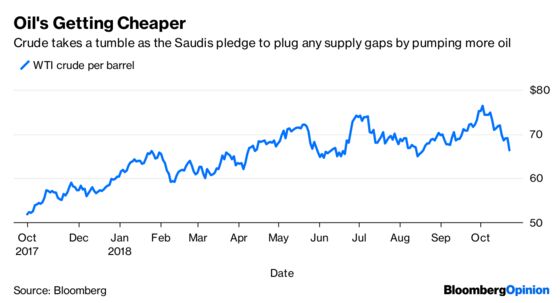 TEA LEAVES
One of the most important parts of the U.S. economy — housing — has been sending some serious down arrows lately, with sales and price gains slowing. That's why Wednesday will be an important day for markets, with data on mortgage applications, housing prices and new home sales all scheduled to be released. First up is the Mortgage Bankers Association's weekly data on mortgage applications. Last week's report showed a big 7.1 percent drop, the most since September 2017, amid a rise in mortgage rates. Next, the Federal Housing Finance Agency is forecast to say that its House Price Index rose 0.3 percent in August, below this year's average of 0.5 percent and 2017's 0.6 percent increase. Finally, the government is expected to say that new home sales fell 0.6 percent in September to a 625,000 annual rate. The thing to know about new home sales is that the actual results have come in below forecasts for three straight months.
This column does not necessarily reflect the opinion of the editorial board or Bloomberg LP and its owners.
Robert Burgess is an editor for Bloomberg Opinion. He is the former global executive editor in charge of financial markets for Bloomberg News. As managing editor, he led the company's news coverage of credit markets during the global financial crisis.