Sterling Isn't the Villain in Post-Brexit M&A
(Bloomberg Opinion) -- Sky Plc's takeover by Comcast Corp. is set to be one of the biggest acquisitions of a U.K. company by an overseas buyer. Expect more to follow.
No one is bidding for a British target solely because sterling is 12 percent cheaper than just before the Brexit referendum – but the pound's weakness is only making targets more digestible.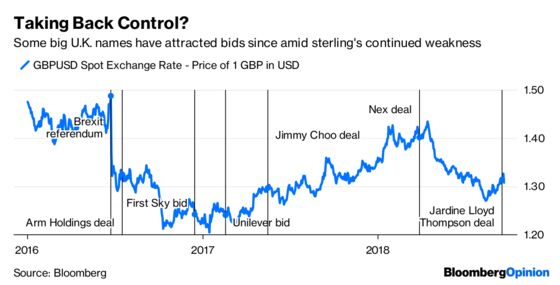 The highest-profile losses from the U.K. stock market in recent months have clearly been driven by the buyer's strategic imperatives. Softbank's acquisition of Arm Holdings is a long-term bet on the Cambridge chip designer's technology. Comcast gatecrashed an attempt by Sky founder Rupert Murdoch to buy out the satellite broadcaster, something the media tycoon had already tried to do before the vote to leave the European Union.
Jardine Lloyd Thompson Group Plc is one of last big assets in insurance broking still available to buy; Marsh & McLennan Cos. made a knockout bid to avoid getting into an auction. Jimmy Choo's dominant shareholder was open to exiting its holding, while Nex Group Plc founder Michael Spencer was also ready to secure his legacy by finding a long-term parent for his interdealer broking firm.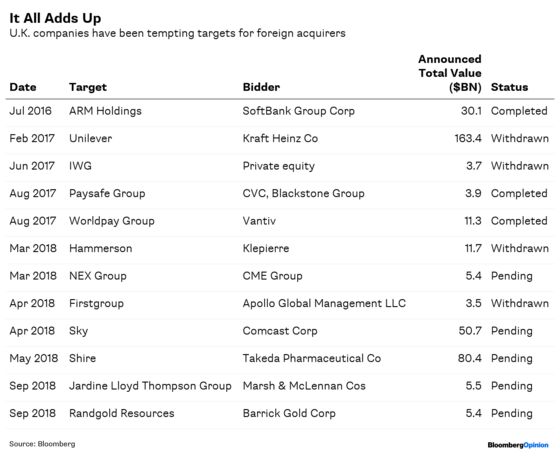 All these targets would have been less manageable acquisitions at sterling's past levels. Companies which generate a large proportion of their revenue from overseas – and are therefore insulated from economic uncertainty in the U.K. – will be particularly attractive to foreign bidders. Markets ought to be putting a higher value on the shares of these companies given their dollar revenue, but they aren't always perfectly efficient.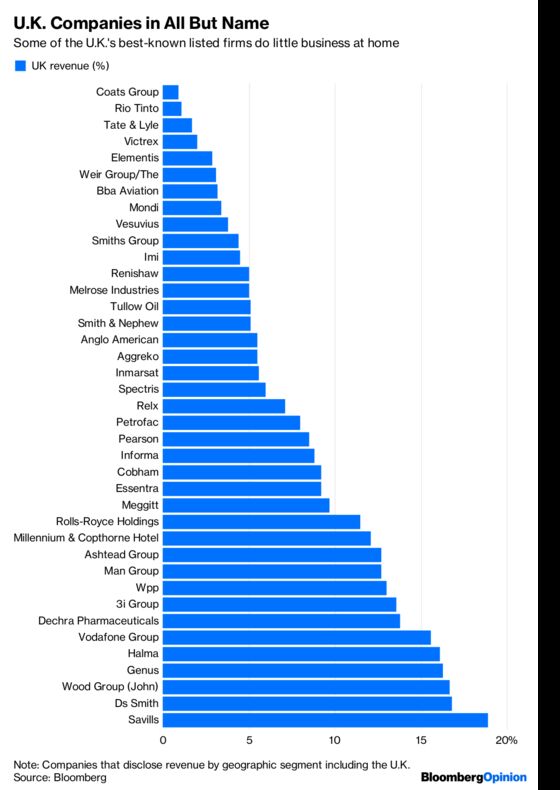 There is an impact on the U.K. economy of foreign acquisitions. The direct cost is the loss the head office functions abroad. The second-order consequences are potentially bigger: strategy and investment decisions are made elsewhere.
The U.K. government has sought to mitigate these effects, and bidders have anticipated London's demands. In the intensely political battle for Sky, Comcast made legally binding commitments to keep Sky looking like a British company.
The government is in a tricky position: It needs show it is fostering a welcome environment to foreign investment. Erecting too high barriers to overseas takeovers would be seen as protectionist. The solution has been to impose conditions, like keeping divisional offices open in the U.K., while stopping short of an actual block. That awkward compromise may prove hard to sustain if the pace of deals picks up.
This column does not necessarily reflect the opinion of the editorial board or Bloomberg LP and its owners.
Chris Hughes is a Bloomberg Opinion columnist covering deals. He previously worked for Reuters Breakingviews, as well as the Financial Times and the Independent newspaper.