Starbucks Rewards the Faithful, Bill Ackman Included
(Bloomberg Opinion) -- There are two roads that lead to a turnaround for Starbucks Corp.: One runs through China, and one runs through its home market. And in the latest quarter, the coffee giant made headway down both paths.
The company reported on Thursday that comparable sales in China swung back to the positive, rising 1 percent in the period from a year earlier after declining on this measure in the previous quarter. In the U.S., comparable sales were up 4 percent over the same period last year. Overall, improvements in those segments helped drive global comparable sales growth of 3 percent, an increase that exceeded analysts' expectations.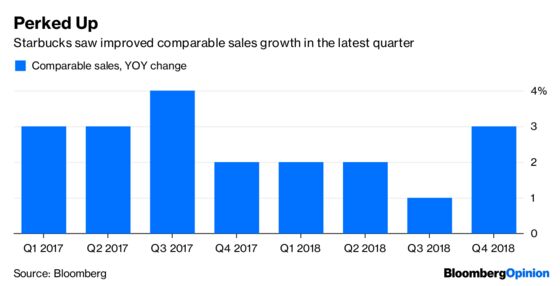 The return to growth in China is particularly important, because it allows us to trust that recent weakness there wasn't anything more than routine growing pains. The company is in a breakneck period of expansion in that market, opening 600 locations a year in a bid to have a fleet of 6,000 of them by the end of 2022. Executives have said previously that last quarter's comparable sales decline there happened in part because the company was accelerating store openings in order to quickly stake out market share in a country where coffee culture is just taking hold. That made for a temporary rush of cannibalization. The return to growth this quarter suggests it's already bouncing back from that issue. Going forward, Starbucks's recently launched partnership with Alibaba on delivery service in China should help it continue its progress.
In the U.S., the solid comparable sales increase shows the chain's new beverages are getting traction and are offsetting waning interest in sugary Frappuccinos.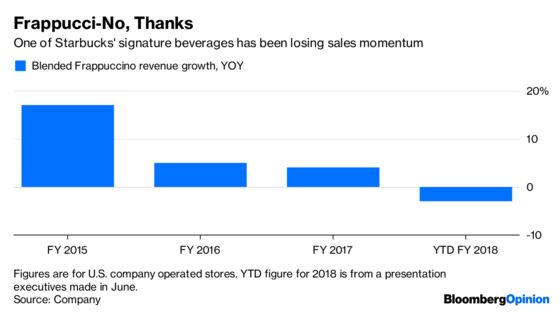 I still think investors should be somewhat wary about Starbucks' ongoing traffic problem in its home market. It's true that the wider restaurant industry is stuck in a dynamic in which higher average checks are cushioning the blow of gloomy traffic. But Starbucks has been putting serious advertising muscle behind getting more diners to come to its cafes during the afternoon, and executives said on the conference call it only saw "modest" improvement in that part of the day during the quarter.
It sure would help Starbucks achieve its guidance for a 3 percent to 5 percent increase in comparable sales in fiscal 2019 if it could get back to growing its traffic. (And, hey, it'd help Bill Ackman's big bet on the company pay off, too.)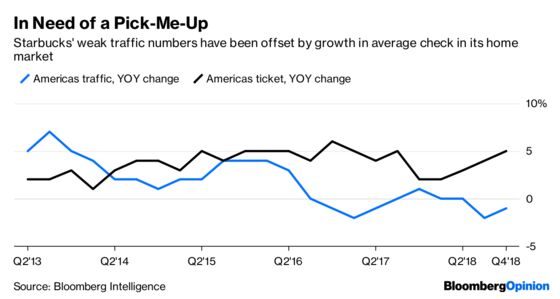 Any assessment of Starbucks' prospects right now is incomplete without considering the flurry of activity from other businesses that have a thirst for coffee.
These moves demonstrate that Starbucks is in an extremely desirable category of the food business, a rare pocket of safety in an industry being upended by changing dining preferences. But it also means Starbucks will face a difficult and fast-shifting competitive environment.
This quarter's results helped make the case that Starbucks isn't going to lose its grip on the brand power and loyalty it has amassed over decades.
This column does not necessarily reflect the opinion of the editorial board or Bloomberg LP and its owners.
Sarah Halzack is a Bloomberg Opinion columnist covering the consumer and retail industries. She was previously a national retail reporter for the Washington Post.