Spanish Bonds Learn the Wrong Italian Lesson
(Bloomberg Opinion) -- For a change it is not just Italy in the market spotlight. Spanish Prime Minister Mariano Rajoy's political opponents have boxed him into a corner. Either he calls a snap election, or he faces a no-confidence vote in parliament — which could lead to elections. 
The turn of events in Madrid is due to a resolution in a mess that has been brewing for years. A corruption scandal involving the ruling Popular Party dating back to 2005 — the year after Rajoy became president — has finally led to the imprisonment of a former treasurer. The party itself has also been fined.
Investors seem not really to care. True, 10-year bond yields have risen. But they're still below their high for the month. Any new government will still likely involve a coalition of the two current ruling parties — and the current fiscal policy would remain. Meanwhile, Italy's political drama has sparked serious existential concerns among its debt investors. The disparate reactions make sense.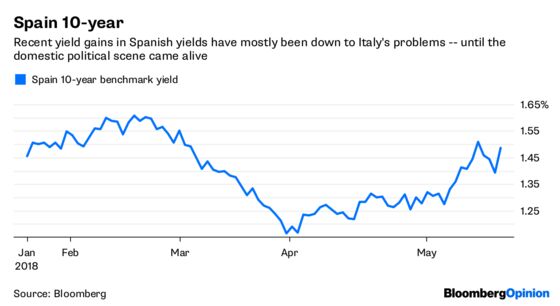 The crucial difference between Italy and Spain is that the latter has its finances in order. And, despite the party turmoil, from a broad perspective there is political stability. There is no question on the main political parties' support for the European Union — or, indeed, the EU's support for it.
And Spain has been here before — it has functioned before without a government and even without a budget, though it helps that this finally passed this week.
Italy's 10-year bond yields about 100 basis points more than Spain's. The spread has more than doubled this month. That makes sense, as Italy's problems are far bigger, and there's little prospect that will change soon.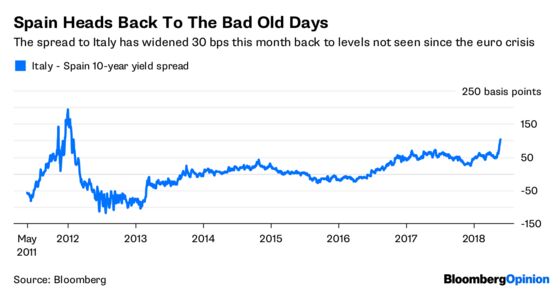 But that makes the 94 basis point spread of Spanish more than German debt look somewhat overdone. Forty basis points of widening came this month, and that looks mostly a knock-on impact from the Italian selloff. Some widening is warranted — were Italy to implode, Spain would find itself in a really difficult situation. But the widening ignores the economic and fiscal progress Spain has made.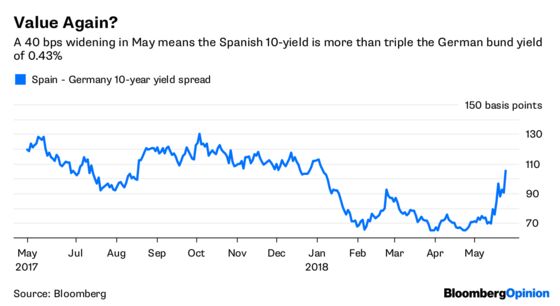 In addition, Spain's bond market still has decent technical support. It is about halfway through its 126 billion euro issuance schedule this year — all but 8 billion euros of that is covered by upcoming coupon and maturity payments. It also still has assistance from the European Central Bank. The ECB, as part of its regular bond buying, is set to continue to purchase more than 3 billion euros of the nation's debt each month until September, at the very least.
European government bond markets generally react far less to domestic political confusion since the euro crisis has passed — as long as it doesn't involve a fundamental shift in attitudes to the EU. But investor skittishness about international contagion is proving a hard habit to shake.
Spain has neither the difficult finances nor the anti-EU rhetoric to justify this degree of investor concern. It isn't in the midst of a push to break a load of EU fiscal rules. It seems the bond market should differentiate between degrees of risk.