Sovereign Wealth Fund Warning Light Is Flashing
Bloomberg
Opinion
(Bloomberg Opinion) -- Pension funds and insurers are being increasingly tempted to shift money out of publicly traded securities in pursuit of more lucrative private investments. But they should pay more heed to what the some of the largest pools of money are doing.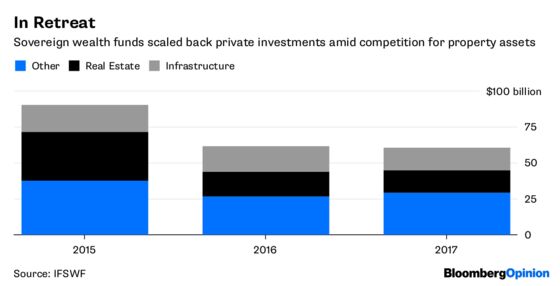 The International Forum of Sovereign Wealth Funds, which represents more than 30 of the state-owned investment groups, just published its annual review of the industry. The report suggests that the pickings from private assets are getting slimmer, especially in property and infrastructure, two of the most popular investment classes of recent years.
The IFSWF, which looked at more than 60 sovereign funds, found they were scaling back the amount of capital allocated to private investments. This matters. If any class of investors deserves to be dubbed "the smart money," this one does.
What explains this newfound lack of enthusiasm? Too much money has been chasing too few deals, driving up prices. For example, the total amount allocated globally to private equity — but not yet spent — rose to more than $1 trillion last year, according to figures compiled by research firm Preqin Ltd.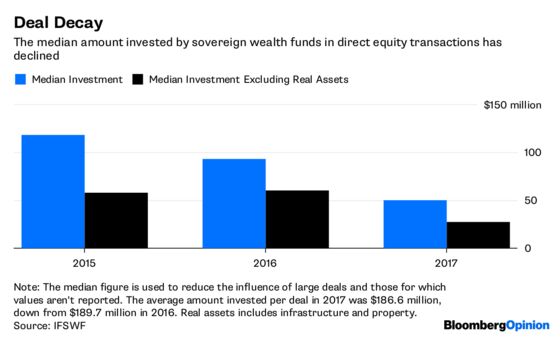 That's forced investors to scrabble for smaller targets, with the median deal size dropping for two consecutive years. Wealth funds have also become involved earlier in the company-building process by providing more seed capital funding, which typically demands smaller equity checks than traditional leveraged buyouts.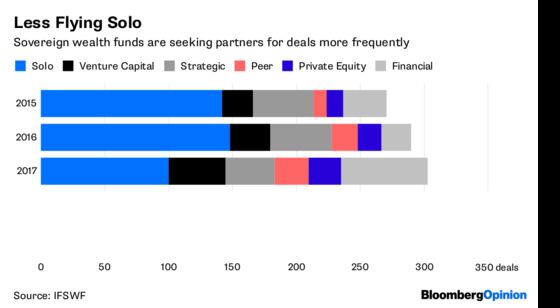 Another indication it's becoming tougher for sovereign funds to deploy their capital: The funds are increasingly teaming up with other classes of investor. "In many sectors, they need to harness the expertise of the private sector that they are unable to bring in-house," the report says. Hiring externally, though, doesn't come cheap.
Little wonder then that Singapore's GIC Pte. warned last week it expects investment returns to decline in the years ahead. The fund, which doesn't disclose its size, increased its private equity holdings to 11 percent by the end of the first quarter, up from 9 percent a year earlier. The London-based Sovereign Wealth Center estimates that the pool has almost $400 billion of assets, making it the fifth biggest in the world.
Being a sovereign wealth fund isn't as simple as it used to be — and that problem is something to which every investor should be paying attention.
Mark Gilbert is a Bloomberg Opinion columnist covering asset management. He previously was the London bureau chief for Bloomberg News. He is also the author of "Complicit: How Greed and Collusion Made the Credit Crisis Unstoppable."