SoftBank May Be Milking Its Cash Cow Dry
(Bloomberg Opinion) -- Japanese investors salivating at the juicy 5.4 percent dividend yield available from the initial public offering of SoftBank Group Corp.'s telecom unit should rein in their excitement. It won't last.
The $23.5 billion IPO of Softbank Group's cash-cow wireless carrier – which will confusingly trade on the Tokyo Stock Exchange as SoftBank Corp. – is a hit among Japan's traditionally conservative investors, with the entire offer and an extra allotment of shares all subscribed for. 
Size-wise, this looks like a deal most investors are wary of missing out on. At a firmed-up IPO price of 1,500 yen per share, SoftBank Corp. is now valued at 7.18 trillion yen ($63.8 billion). The $23.5 billion raised from new investors makes this the world's largest IPO since Alibaba Group Holding Ltd.'s $25 billion New York listing in 2014, a status it's unlikely to lose at least until Uber Technologies Inc. goes public next year valued at as much as $120 billion.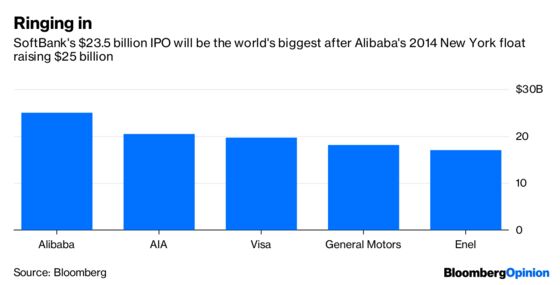 Throw in Son's star power and a promise of an 85 percent dividend payout ratio and it's no wonder retail investors have piled in. The payout ratio should add up to a 5.4 percent dividend yield at the IPO price and 10 percent annual earnings growth, according to Bloomberg Intelligence analyst Anthea Lai. In a country of negative interest rates, that return is better than almost anything the public markets have on offer, such as the 4 percent average yield of domestic real estate investment trusts, or the payouts from Japan's two bigger wireless operators, NTT Docomo Inc. (4 percent)  and KDDI Corp. (3.6 percent).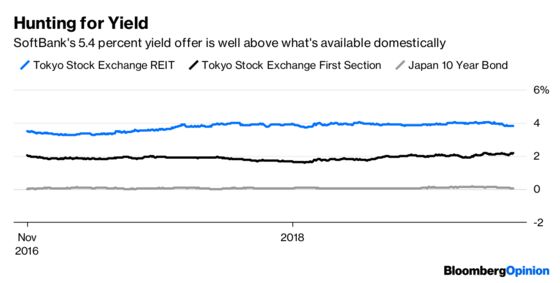 Meanwhile, Japan's government is pressuring SoftBank to lower its tariffs – and it has to be noted that Son's rates are already the lowest in the industry, especially for those on large data plans. 
Throw in competition, in the form of Japanese web giant Rakuten Inc., which is planning to come in as a fourth operator, and SoftBank's steady cash flow streams look a lot less certain. Add the risk of glitches, and it's even dicier: SoftBank's mobile service in Japan went down for more than four hours last week, unnerving investors who hadn't already signed up to the IPO.
But perhaps the biggest worry will be SoftBank Corp.'s links to its parent, which will still have 67 percent of the wireless unit once listed. Not only does SoftBank Group have close ties to Saudi Arabia (not the best of links in these times) but it also has a history of draining cash from its wireless division to pay down its debt. 
SoftBank Group has absorbed 3.1 trillion yen in dividends from the wireless unit over the last three years – and yet its debt, outside Sprint Corp. and Softbank Corp. itself, has surged 1.7 trillion yen in that time, according to LightStream Research analyst Mio Kato, who writes on SmartKarma. It stands to reason that such parental demands on Softbank Corp.'s earnings will continue – something the indebted wireless unit can ill-afford as it looks to roll out 5G networks. 
Retail investors tend to be flippers, anyway.  It's worth remembering that Japan Post Holdings Co., whose shares surged 38 percent in the first month, is now trading well below its IPO price. Prepare for SoftBank Corp. to follow a similar path.
This column does not necessarily reflect the opinion of the editorial board or Bloomberg LP and its owners.
Nisha Gopalan is a Bloomberg Opinion columnist covering deals and banking. She previously worked for the Wall Street Journal and Dow Jones as an editor and a reporter.