Snapchat's Cloud Doesn't Have a Silver Lining
(Bloomberg Opinion) -- Snap Inc. has been through a rocky 19 months as a public company, with shares ending Wednesday's ugly market day at an all-time low, about 60 percent below its IPO price, before recovering some on Thursday morning. Among Snap's myriad problems is a wrong-way bet on cloud computing.
Snap was perhaps the first big public internet company that was born in an era of reliable cloud-computing providers such as Amazon Web Services. Snapchat's parent company has contracts with both Amazon.com Inc. and Alphabet Inc.'s Google to ensure every dog-ear selfie and video diary created by the app's users pings smoothly among the world's smartphones. Few other companies of Snap's size have gone the route of outsourcing most of their computing needs to cloud services. 
That decision meant Snap could skip the cost and distraction of building and operating its own data centers. It might be the right choice eventually. But right now, Snap's life in the clouds is killing its finances. And it's getting worse.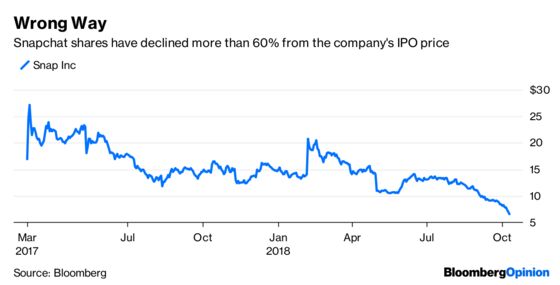 In the first three months of 2017, Snap's cloud-computing bills amounted to an average of 60 cents for each daily user of Snapchat's app. In the most recent quarter, those costs were 72 cents for each user. (See page 11 of this presentation). It's possible that the revision and re-revision of Snapchat's app spiked its computing costs temporarily. Either way, those cloud-service bills are a big reason Snap is bleeding so much cash that one stock analyst said the company was "quickly running out of money." (I don't believe Snap's cash situation is dire, but it's not good, either.)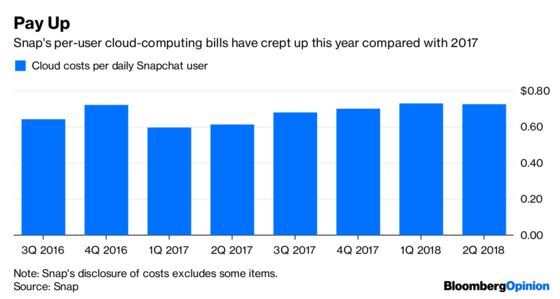 The bad news for Snap is that when more people use its app or use it more avidly, particularly for data-intensive features, the company's cloud-computing costs rise, too. If Snap had built its own computing infrastructure, those costs wouldn't increase so much along with use. It's perverse that the devotion of Snapchat's fans is battering the company's bottom line. And if Snapchat embarks next year on a global expansion, as its CEO has pledged, the company will be spreading into countries with minimal immediate revenue potential but the same or higher cloud costs.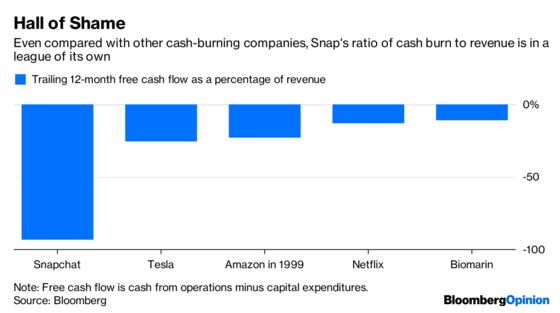 Before Snapchat went public in March 2017, I asked a number of tech infrastructure specialists whether Snap was making the right decision to outsource its computing backbone rather than build its own as most of its older peers had done. Their opinions were split. But it's clear that Snap isn't growing fast enough to absorb its massive cloud bills. Snap executives told analysts in August that the company was comfortable with its cloud-computing strategy. 
Dropbox Inc. is a glimpse at the opposite choice, and one that has been a boon to that newly public company. It initially opted to lean on cloud computing but started to build its own computing infrastructure several years ago. That decision gave Dropbox more control over its technology foundation, and it was a key factor in transforming the company's finances. The choice made the company's IPO path much easier. 
Just because Dropbox ditched the cloud and won doesn't mean that every company should. Snap's computing needs are different from Dropbox's. But the comparison shows some of the shortcomings of relying on cloud providers.  
We can't know the outcome of Snap's path not taken. Snap might have been worse off if it had spent perhaps billions of dollars to build and operate a global network of computer data centers. And being all-cloud might still be the ideal strategy for Snap in the long run — if the company can grow its advertising sales to the point where those cloud-computing bills are relatively puny. Like a lot of things about Snapchat, that rests on faith. And faith isn't something Snap investors have in abundance.
This column does not necessarily reflect the opinion of the editorial board or Bloomberg LP and its owners.
Shira Ovide is a Bloomberg Opinion columnist covering technology. She previously was a reporter for the Wall Street Journal.