Snapchat Pretends Even Less to Care About Stockholders
(Bloomberg Opinion) -- Corporate democracy is flawed, tacky and frequently a mirage. That doesn't mean Snapchat should ignore it. 
Parent company Snap Inc. became the latest in a growing number of companies to ditch a yearly in-person meeting with shareholders and instead conduct an annual stockholder "meeting" over the internet. Snap isn't required to care at all about the public investors who own $13 billion of its stock. The company took the unprecedented step of selling shares with zero voting rights in its initial public offering last year, and everyone who bought one knew what they were getting and giving up.
Still, this is Snap's first annual shareholder meeting as a public company, and it's not starting out on the right foot. For a company that already gets an F in shareholder democracy, not taking even the small step of holding an in-person stockholder meeting drags that grade to an F minus.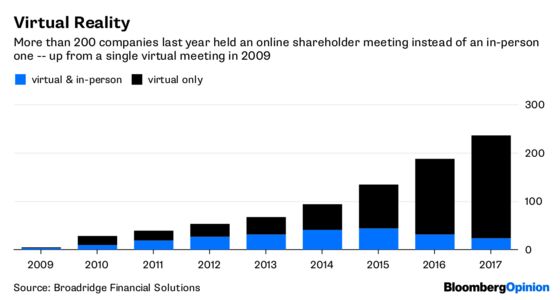 It's true that annual stockholder meetings are largely pointless routines. The only people who turn up are grumpy retired employees, grumpy stockholders with a grudge, grumpy journalists and other grumps who have nothing better to do at 10 a.m. on a Tuesday. Nearly everyone casts votes online for director elections or other matters — or shareholders leave those decisions up to investment fund managers. Cathy Conlon of Broadridge Financial Solutions, which processes electronic voting and facilitates virtual meetings, said that companies largely turn to online investor gatherings to avoid the expense and attention of planning in-person meetings that attract fewer attendees each year.
But I believe in-person investor meetings remain a useful check on power. It's important for companies owned by stockholders to be accountable by looking those grumpy shareholders in the eye once a year, feeding them some crummy pastries and lukewarm coffee and patiently answering their sometimes ill-informed questions. That is the psychic cost of being a public company, and the added measure of scrutiny is healthy. When something goes wrong at a company, annual shareholder meetings take on added gravitas.
Online stockholder meetings may follow the same script as the in-person versions but without real accountability. Shareholders typically are permitted to follow along on the internet and submit questions that executives and directors may (or may not) answer. At Netflix's online-only shareholder meeting last month, the CEO briefly answered three company-screened shareholder questions for a combined total of 95 seconds. The whole affair wrapped up in 20 minutes. One Netflix shareholder took a chunk of that time to complain about the "make-believe" annual meeting.
For their part, Snap shareholders have reasons to be unhappy this year. The company's stock price had fallen 20 percent from its IPO price in 2017 before a news report on Monday perked up shares a bit. The least Snapchat could do is talk to those stockholders in person once a year, even if it goes on ignoring them for the other 364 days. It might even be healthy for Snap executives to hear from people who don't live in the company's reality distortion field.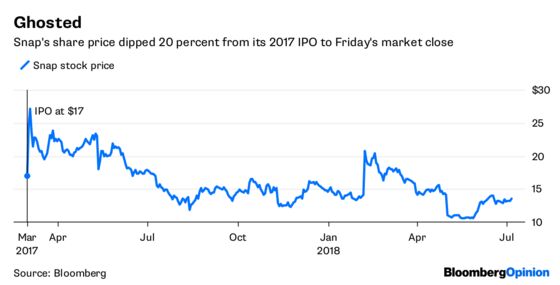 In the run-up to Snap's IPO, the Securities and Exchange Commission asked the company many questions about how its nonvoting shares would work and what rights shareholders would have. Among the queries from the SEC was whether Snap would permit those nonvoting shareholders to turn up at annual stockholder meetings at all. (The answer was yes, even though the annual shareholder meeting isn't legally an annual shareholder meeting.) 
I might feel differently about Snapchat's virtual shareholder meeting if the company hadn't spent face time in recent months with big institutional shareholders during at least two conferences held by investment banks. If Snapchat cares enough about nonvoting stockholders to fly its chief strategy officer to Hong Kong for a question-and-answer session hosted by Credit Suisse, then the company can find time to meet with some other nonvoting stockholders in a hotel ballroom. The fact that institutional investors tend to seek in-person interactions with corporate executives shows how meaningful that time can be to assess management's fitness and strategic acumen. Getting a vibe in-person is important. 
It had seemed Snap would be willing to do the in-person hangout with stockholders. As recently as February, Snap wrote in its annual financial report that it "invited and encouraged" board members to "attend our annual meeting of stockholders." Presumably next month that means those board members and executives will be "invited and encouraged" to fire up their iPhones from the beach for maybe 20 minutes in an audio-only webcast.
It's not too much trouble to ask them to take a break from the beach and shake hands with those grumpy shareholders. Annual shareholder meetings might be mostly meaningless, especially at Snapchat, but by effectively dispensing with them the company is sending a meaningful message that it doesn't really care.