Snap's Evan Spiegel Uses a Lot of Words to Miss the Point
(Bloomberg Opinion) -- Let's stipulate that it's not a great idea for the boss to send his employees memos that top 6,500 words, as Snap Inc. CEO Evan Spiegel did recently. That missive is eight times the length of this column. (You should, however, feel free to read this column eight times.) 
But really, I want to take issue with Spiegel's lack of focus. Among the CEO's goals for 2019 laid out in his novella: expand into less-developed countries that Snap has largely ignored, attract more people older than 35 to the Snapchat app, boost revenue growth, and — this one is a stretch — turn a profit. 
This combination of goals does not seem possible in one year, even allowing for some hyperbole to stoke employees' ambitions. And it is notable in the memo how much Spiegel has turned aside the quirks of Snap's strategy that he once trumpeted as strengths and now singles out as flaws.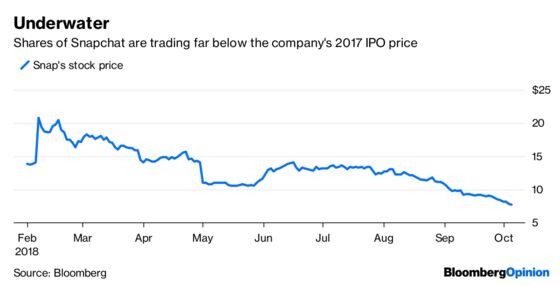 First, on going global: Spiegel says in his memo that 2019 is the year for Snap to start "digging our moat in the developing world."That's a change from Snap's prior strategy of expanding slowly beyond the U.S., the United Kingdom, France and other countries where use of Snapchat is concentrated. For one thing, it costs Snap a fortune to expand, particularly in developing countries, and for little immediate financial gain.
Snap has a unique cost model for a big internet company under which it leans on the computing power of Amazon and Google to fire off every photo and video posted by Snapchat users. This outsourced computing approach allows Snap to expand globally without building its own computer networks. But it also means Snap pays for every post sent by its users in countries where the company isn't going to generate significant advertising revenue.
In its IPO filing last year, Snap said that it benefits "from the concentration of our users in developed markets" because its computer costs are lower and its potential advertising revenue is larger compared with countries such as India with large populations but a nascent mobile internet and relatively small mobile advertising sales.
Spiegel in his employee memo acknowledges that it will be tough to generate ad sales from new app users in developing countries, but he said Snap needed to do this to establish itself in new spots and give its current users more choices with whom to interact. Fair enough, but Spiegel's desire for globe-trotting highlights the inherent weakness of Snap's cost model. It's not clear whether Snap plans to develop a less data-hungry version of its app for countries where cellular internet is weaker and costly. 
Spiegel also said his company wants to draw more people outside the loyal teens and twenty-somethings that have been core users of Snapchat. You might remember — although Spiegel himself does not — that the CEO initially said the goal of Snapchat's controversial app redesign was to make it less baffling to newcomers and perhaps draw in older people who might have ignored it. That goal was quickly forgotten once Spiegel latched onto other, self-aggrandizing missions of a reworked app that Snapchat fans turned against. 
Snap was never really a purist about sticking solely to younger users in developed countries. That pitch was always a positive spin on Snap's relatively small audience numbers. Now, though, Spiegel's articulation of the twin mission of going global and attracting older people seems to betray Snap's worry that it doesn't have enough people using its app. It feels a little desperate after Snapchat's struggles for the company to suddenly want to get big fast. 
Now I get to what Spiegel called the "2019 stretch output goal" of increasing revenue growth and generating "full year free cash flow and profitability." Insert the crying-laughing emoji here. Snap's growth has been disappointing so far. A year ago, analysts expected 2018 revenue to reach $1.6 billion, Bloomberg data show. Instead, revenue will be closer to $1.2 billion. Spiegel shouldn't be trying to inflate expectations after repeatedly missing them.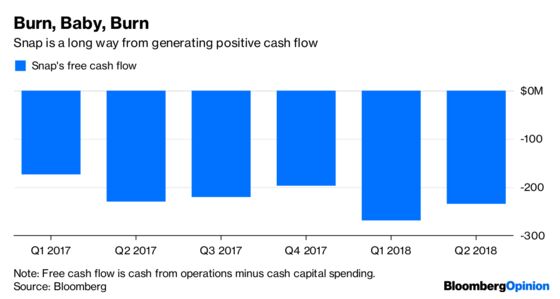 And I have no idea how Spiegel expects Snap to generate positive cash flow. I'm not exaggerating when I say a glimpse at Snap's
cash flow statement
makes me laugh out loud. In part because of the unique economic model of outsourcing its computing needs, Snap posted negative free cash flow of $1.02 for each dollar in revenue the company recorded in the first half of this year. The year the financial magazine Barron's wrote its "
Amazon.Bomb
" cover story warning about Amazon's cash burn, Amazon had negative free cash flow of 23 cents for each dollar of revenue. It's extremely unlikely Snap will turn this around next year — and it's not clear why Spiegel wants to try.
It's good to have ambitious goals, but it's unwise to have ridiculous goals. 
I assume Spiegel's note was supposed to be a call to arms for employees. Instead, it spotlighted his weakness as an unfocused leader with a muddled mission. 
This column does not necessarily reflect the opinion of the editorial board or Bloomberg LP and its owners.
Shira Ovide is a Bloomberg Opinion columnist covering technology. She previously was a reporter for the Wall Street Journal.