Small-Cap Stocks Should Be Doing Better, So Why Aren't They?
(Bloomberg Opinion) -- Small, on Wall Street, has not been beautiful lately. And that could be bad news not just for investors but the economy in general.
Shares of small-capitalization companies, generally considered those with a market value of less than $1 billion as measured by the S&P Small Cap 600 index, have fallen just more than 9 percent in the past three months, or about triple the drop of the S&P 500 Index, which tracks the market's largest companies, in the same period. That's a little bit of a reversal and most likely a surprise to many strategists on Wall Street who thought that 2018 would finally be the year that small caps, after years of underperformance, would leave large caps in the dust.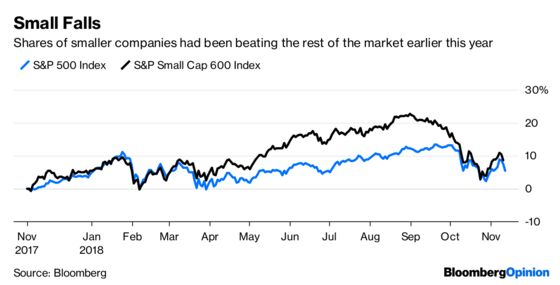 And they did for a while. In the first half of the year, it was a near mirror image of what is happening now. Small-cap stocks had returned 9.5 percent, including dividends, while the S&P 500 had returned a lowly 2.6 percent.
Jim Paulsen, a market strategist at investment research firm the Leuthold Group, expressed surprise in a note on Monday that the small-cap stock rally hasn't continued. Going back to the mid-1920s, Paulsen found that the average small-cap surge lasted much longer — just more than six years. And it's particularly odd given that the case for small-cap outperformance, for this year at the very least, was pretty compelling.
First, President Donald Trump started a wide-ranging trade war that has recently narrowed to China. That was relatively less bad news for small-cap stocks because they generally have less business overseas. This year's corporate tax cut also seemed to play into the favor of smaller companies, which generally pay higher tax rates than multinational ones and therefore would obtain more of the savings. And with global growth flagging, particularly in China, small-cap stocks seemed poised to benefit in an outsized way from the resilient U.S. economy. Finally, as Paulsen pointed out in his note, small caps have generally done better than large ones when inflation is on the rise. Paulsen's logic is that smaller companies often sell products or services that are more specialized, making the companies less vulnerable to a price war. And rising inflation has been one of the biggest fears out there.
Much of the above appears to still be true and yet small caps have fallen anyway, which some would suggest just underscores the market's irrationality and a bubble in large company shares (looking at you, FANG stocks) and the logic of shifting money into smaller companies.
That might prove doubly wrong. On Monday, Bank of America released a report on third-quarter earnings that said while results were generally good for corporate America, small companies did relatively worse in the third three months of the year than larger ones. Earnings for the companies in the S&P 600 were, on average, 2 percent better than expected, but revenue missed expectations by 1 percent. The bottom line of big companies were 5 percent better than expected, and revenue exceeded expectations by 1 percent.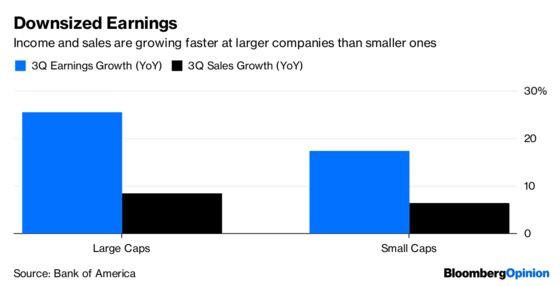 It's not clear exactly why the trends that investors were betting on when it comes to small caps haven't played out. One surprise could be that the impact of Trump's trade efforts has reverberated more widely than expected. According to Bank of America, 29 percent of the companies in the S&P Small Cap 600 that have reported earnings talked about the effect of tariffs on their business in their conference calls with analysts and investors. That compares with a similar 31 percent for companies in the S&P 500. Another problem could be that more of the debt of smaller companies is variable. That's not a great thing when interest rates are rising. Last, the withering earnings from domestic-focused small companies could indicate that the U.S. economy is not as strong as many people think.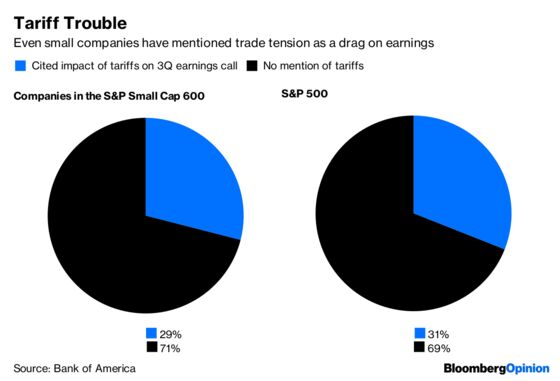 So while the recent drop in small-cap stocks could be viewed as a buying opportunity, it could also be seen as a subtle warning about weakness and potential trouble ahead.
This column does not necessarily reflect the opinion of the editorial board or Bloomberg LP and its owners.
Stephen Gandel is a Bloomberg Opinion columnist covering banking and equity markets. He was previously a deputy digital editor for Fortune and an economics blogger at Time. He has also covered finance and the housing market.