Short-Sellers Go On Nuclear Offensive in Britain
(Bloomberg Opinion) -- Babcock International Group Plc excels at fighting fires. The British engineering and support services group trains the London Fire Brigade and it operates aircraft that extinguish forest blazes in Spain and Italy. So far, though, Babcock's directors have done a lousy job of putting out the conflagration that's incinerated the company's share price.
Though sales and profit are the highest they've ever been, the stock has shed more than half its value since a 2014 peak. It trades on just 7 times estimated earnings, well below its five-year historic average. After the collapse of another U.K. outsourcer, Carillion Plc, and amid concerns about constrained defense budgets (much of Babcock's work is for the military) bearish investors hold short positions covering 9 percent of the stock, according to IHS Markit.
The market value has shrunk to just 3 billion pounds ($3.9 billion), forcing Babcock out of the FTSE 100.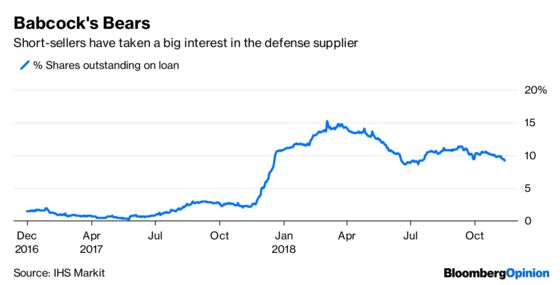 Babcock clearly has an image problem in the City of London, and possibly with the British government too. This week it hit back at an inflammatory report from an "untraceable" research outfit, the nub of which was that the company's relationship with the Ministry of Defence, which accounts for about 40 percent of its sales, is at a low ebb. Boatman Capital's allegations are "false and malicious," Babcock said. The relationship with the government remains "as strong as ever."
Unfortunately, the Financial Times subsequently reported that Babcock has been placed under extra government scrutiny over its handling of a sensitive contract to maintain and refit Britain's nuclear-armed submarines.
Some investors may be losing patience, especially with Babcock's long-serving chairman Mike Turner. Analysts at RBC Capital Markets have also raised questions about his stewardship. The company has the chance next week to provide a more full-throated defense of its business model. It should use it. 
Babcock often points out that it isn't like bog-standard outsourcers because much of what it does is complex industrial engineering. But the stock market index lumps it in with lower margin support services companies like G4S Plc. That means it's caught up in the post-Carillion skepticism about opaque long-term government contracts, which has pressured valuations across the sector. Babcock doesn't look like another Carillion though.
True, defense budgets are hardly bountiful. And there are perennial concerns that the regulator will cut the pricing of contracts that don't attract competing bids. A Labour government under Jeremy Corbyn would be even worse as he's a pacifist who opposes nuclear weapons and pledges to end "the outsourcing racket." 
With growth harder to come by, Babcock has also paid top-dollar for acquisitions, including the 1.6 billion pound purchase of helicopter provider Avincis Group, which preceded a collapse in demand from oil market customers. Babcock's balance sheet carries about 2.6 billion pounds of goodwill – the difference between what assets are worth on paper and how much you paid for them. That's about 40 percent of its total assets and not far below its market value. 
Still, the profit margins look reasonable. The operating return on sales was 8 percent last year, according to Bloomberg data. The company is cushioned by the barriers to entry in specialized areas like nuclear engineering. Much of its work supporting critical infrastructure is also non-discretionary, and so insulated from budget cuts.
And unlike another outsourcer Capita Plc, Babcock didn't suffer because of the new IFRS 15 accounting standard on when companies can recognize sales. Neither does it appear to playing questionable games with its working capital (unlike Carillion). Babcock has generated about 1 billion pounds of free cash flow over five years, according to Bloomberg data, which makes it harder to see aggressive accounting here. That cash has created room to pay dividends and fund the pension. Net debt is expected to fall to below 1 billion pounds by March, or 1.4 times anticipated Ebitda.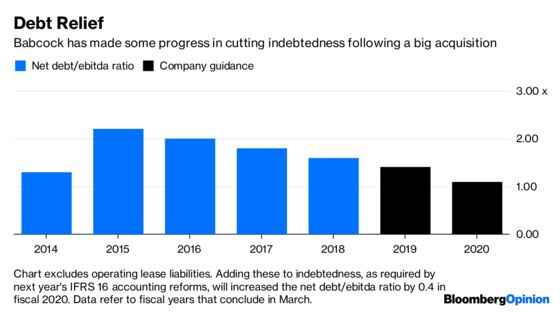 Hence shareholders are right to be be frustrated by Babcock's dismal valuation. Turner, who's chaired the company for a decade – a year longer than deemed appropriate by the U.K. corporate governance code – could make way for someone who'd smooth a few feathers. (Turner told the FT that he's "not stepping down" and that restoring shareholder value is a priority.) But the shares would probably struggle even without him. Brexit has cast a pall over domestically exposed companies and government contractors are doubly cursed. Look at Interserve Plc, an ailing U.K. services supplier whose shares have collapsed.
Somehow, Babcock needs to prove that not all outsourcing contracts are radioactive. Then pray that Corbyn doesn't become prime minister.
This column does not necessarily reflect the opinion of the editorial board or Bloomberg LP and its owners.
Chris Bryant is a Bloomberg Opinion columnist covering industrial companies. He previously worked for the Financial Times.