Things Are Finally Looking Up for Chipmakers
(Bloomberg Opinion) -- When you're trying to work out what's going to happen next year in the semiconductor industry, there are worse places to look than ASML Holdings NV.
The Dutch firm supplies photolithography machines to the likes of Intel Corp., Samsung Electronics Corp. and Taiwan Semiconductor Manufacturing Corp., who use the gear to etch circuit patterns just a few nanometers in size onto their silicon chips. 
Chipmakers have endured a torrid few months as oversupply has depressed prices (though that's been a gift for the likes of Apple Inc., which has been able to sell chips along to consumers at huge markups).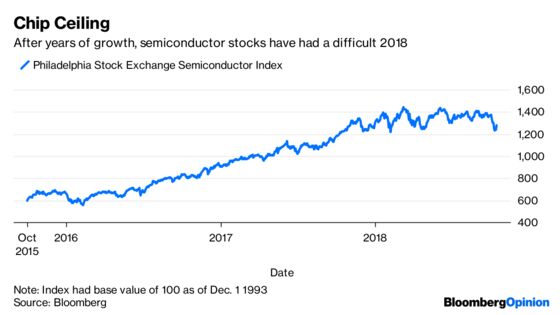 The cause may lie in one of the industry's perennial difficulties, according to Marcel Achterberg, an analyst for Bank Degroof Petercam in Amsterdam. It can be hard to judge how long it will take new machines to produce enough chips to be profitable, he said. So if you overestimate the time it takes to ramp up production, you could be left swimming in product.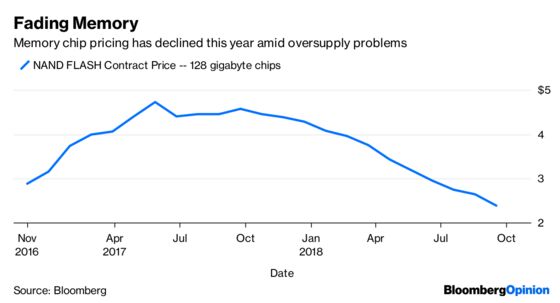 ASML's third-quarter earnings and fourth-quarter outlook give cause for optimism, after exceeding analyst expectations on almost all counts. The shares jumped as much as 7.2 percent, valuing ASML at more than 70 billion euros ($81 billion). The firm saw a surge in demand for equipment used to make memory chips, which have been a particular sore spot for the industry. Those orders suggest that chipmakers could be getting their supply issues under control.
The report followed Fremont, California-based Lam Research Corp.'s optimistic quarterly outlook late Tuesday. The $22 billion semiconductor firm suggested equipment spending is likely to increase in the current quarter.
ASML's decade-long bet on the next generation of semiconductor-making technology, dubbed extreme ultra-violet lithography, is also paying off. Competitors Nikon Corp. and Canon Inc. have no rival offering, and ASML expects to deliver 30 EUV systems in 2019, up from 18 this year. Each one can cost 100 million euros.
The business isn't going gangbusters just yet. True, analysts expect profitability to surge as R&D spend slows. But they also forecast a slower pace of revenue growth this year and next.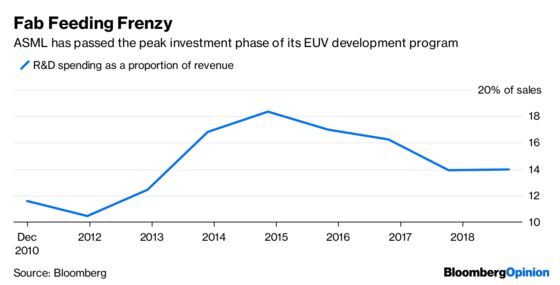 Chipmakers' bets on ASML's equipment can be seen as a response to concerns that Moore's Law is dead. According to that theory, coined by Intel co-founder Gordon Moore in the 1960s, the number of transistors on an integrated circuit doubles every two years. In layman's terms, computing power increases two-fold.
If it delivers as promised, the ASML gear should be able to reinvigorate that pace and ensure that we have another supercharged generation of smartphones, PCs and servers reaching the market in a year to 18 months' time. 
Things are looking up for chipmakers.
This column does not necessarily reflect the opinion of the editorial board or Bloomberg LP and its owners.
Alex Webb is a Bloomberg Opinion columnist covering Europe's technology, media and communications industries. He previously covered Apple and other technology companies for Bloomberg News in San Francisco.