The Strongest Horse in the Fund Management Glue Factory
(Bloomberg Opinion) -- In a tough year for the U.K. fund management industry, Schroders Plc has been faring better than its peers. But Thursday's first-half earnings report has dented its share price, and could presage more trouble for the industry.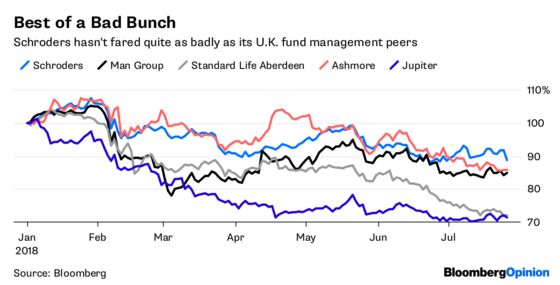 The stock dropped as much as 4 percent even after both revenue and profit beat analyst expectations in the first half. While net inflows of 1.2 billion pounds ($1.6 billion) helped drive the value of the assets Schroders manages to a record, they were still weaker than analysts had predicted. Morgan Stanley, for example, was anticipating the firm would attract an additional 3.9 billion pounds to 5.6 billion pounds of net new money.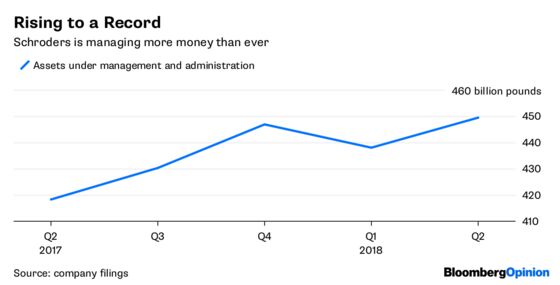 That dismal share price reaction shows the low tolerance investors have for any underperformance against what Schroders describes as a "challenging backdrop." And that poses risks for Standard Life Aberdeen Plc and Jupiter Fund Management Plc, both of which are already down almost 30 percent so far this year.
Jupiter is scheduled to deliver its first-half report on Friday after net outflows of 1.25 billion pounds in the first quarter left it just shy of 47 billion pounds of assets under management. Further withdrawals are likely to be judged harshly.
And Standard Life Aberdeen will follow on Aug. 7. It's resigned to losing almost 20 percent of its assets after Lloyds Banking Group Plc pulled a 109 billion-pound mandate earlier this year. So the 655 billion pounds it managed at the end of last year will shrink; the question is how much further away it drops from what Co-Chief Executive Officer Martin Gilbert calls the $1 trillion club.
In the current climate, investors are punishing any asset management firm deemed to be missing out in the all-important race to accumulate more assets and achieve economies of scale. More than ever, and more than anything else, size matters.
This column does not necessarily reflect the opinion of the editorial board or Bloomberg LP and its owners.
Mark Gilbert is a Bloomberg Opinion columnist covering asset management. He previously was the London bureau chief for Bloomberg News. He is also the author of "Complicit: How Greed and Collusion Made the Credit Crisis Unstoppable."