Another Reason to Be Skeptical of a Saudi Aramco IPO
(Bloomberg Opinion) -- Saudi Aramco buying Sabic is the perfect illustration of what has gone wrong with the long-promised Aramco IPO. So reports of difficulties around financing the acquisition are … more perfect?
Saudi Arabian Oil Co. is said to be backing away from a giant corporate bond issue to fund the purchase of a majority stake in Saudi Basic Industries Corp., according to a report from Dow Jones on Monday morning. Among other things, the slide in oil prices and concerns about disclosure requirements are reportedly leading Aramco to consider alternatives, such as a syndicated loan.
As I wrote here, Aramco buying Sabic runs counter to Riyadh's narrative around the IPO of its national oil champion in several respects. Most obviously, a deal like this delays the IPO further. More importantly, Aramco's debut was supposed to symbolize a decisive shift in Saudi Arabia's economic structure toward private enterprise. Having it buy the country's biggest listed company instead rather undermines this.
If disclosure requirements have played a role in abandoning a bond issue, it would be another signal that, almost three years after Prince Mohammed bin Salman first sprung the notion of an Aramco IPO on an unsuspecting world, the oil company isn't prepared to take on the obligations that would accompany an international listing.
Above all, though, the world has moved on in important ways since January 2016.
The Saudi reform story and the accompanying lionizing of "MBS" has been overshadowed by political intrigue, regional conflicts and the unexpectedly public killing of a journalist. Recent reports that the CIA has concluded the crown prince ordered the assassination of Jamal Khashoggi could fuel pressure from Congress for tougher sanctions from the U.S. President Donald Trump is clearly reluctant to squeeze the crown prince further. Regardless, the affair has laid bare that, for all the talk of reform, Saudi Arabia is a country whose fortunes are tied to two unpredictable masters: MBS and the oil price.
The oil market has also changed in certain respects since early 2016. Saudi Arabia engineered a recovery in oil prices alongside fellow OPEC members and Russia. Yet in doing so, it also laid bare the chronic weaknesses of OPEC and helped revive the U.S. tight-oil boom. The recent slide in prices illustrates the daunting task for Saudi Arabia of effectively trying to permanently manage an oil market that has become more competitive and conscious around the edges of its own mortality (or, at least, advancing maturity). This was, after all, a central reason for wanting to monetize some of Aramco's value upfront in the first place. And besides shale, America has become more of a wildcard in geopolitical terms, as the switcheroo on Iranian sanction waivers demonstrated.
This all becomes manifest in one critical metric: cost of capital. As my colleagues at Bloomberg News reported Monday, the risk premium on bonds issued by members of the Gulf Cooperation Council, including Saudi Arabia, had its biggest jump last week since January 2016, when oil traded below $30 a barrel and MBS first spoke of the Aramco IPO.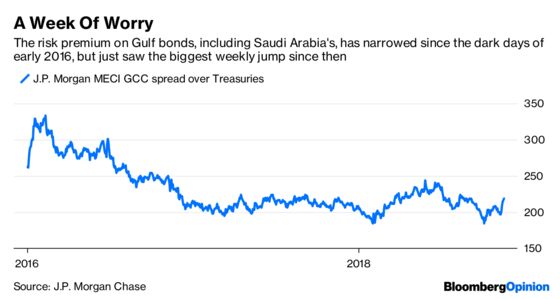 The plunge in oil prices is the proximate cause. Bonds for U.S. exploration and production companies also slipped badly, taking the option-adjusted spread for the ICE Bank of America-Merrill Lynch U.S. High Yield Energy Index back above 500 basis points for the first time in more than a year.
Yet even if that squeezes some competitors in shale, lower oil prices and rising capital costs present a far more serious problem for a state beholden to both. The single biggest factor in determining a valuation for Aramco is the risk premium (see this). The intention to buy Sabic, running counter to the already damaged narrative of reform, was a reason to raise that premium already. Backing away from the bond market as a means to get it done would only serve to reinforce that.
Moreover, with funding yet to be secured, a Saudi-led supply cut to force a rebound in oil prices is now all but certain — even if that also risks further pressure on demand. Oil's kingpin finds its room for maneuver shrinking in a changing world.
This column does not necessarily reflect the opinion of the editorial board or Bloomberg LP and its owners.
Liam Denning is a Bloomberg Opinion columnist covering energy, mining and commodities. He previously was editor of the Wall Street Journal's Heard on the Street column and wrote for the Financial Times' Lex column. He was also an investment banker.