SAP's Sales Army Still Doesn't Justify an $8 Billion Deal
(Bloomberg Opinion) -- The numbers are staggering. SAP SE is paying $8 billion to acquire Qualtrics International Inc., a maker of data collection and analysis software which expects revenue of just $400 million this year. What's more, the Utah-based startup reported a net profit margin of just 0.8 percent in the nine months through September.
SAP is attracted by Qualtrics' 40 percent growth rate, but it's ponying up a massive premium for a company that was already preparing an initial public offering. Qualtrics Chief Executive Officer Ryan Smith said in a conference call with investors on Monday that the IPO was already 13 times oversubscribed with the roadshow not yet complete, and would have valued the firm he founded with his father and brothers at between $5 billion and $6 billion. While we'll probably never know if the public markets would have matched that goal, he's certainly played his hand very well.
For his part, SAP CEO Bill McDermott seems conscious of investor nervousness about the deal. Since the $2.3 billion acquisition of Callidus Software Inc. was completed at the start of the year, he's been adamant that he'd henceforth restrict SAP to bolt-on deals. "This is clearly more than a tuck-in," he told investors Monday, adding hyperbolically that Qualtrics would have been the "most exciting IPO of this year." The drop in the stock price of as much as 4.7 percent on Monday suggests shareholders are still taken aback.
That drop pared some 5.5 billion euros ($6.2 billion) from SAP's market value, suggesting investors believe McDermott overpaid by roughly that much and are nervous about his judgment. With trailing 12-month sales growth having slipped to the lowest since 2014, overspending on a deal could confirm the worst fears that the slowdown isn't just a blip.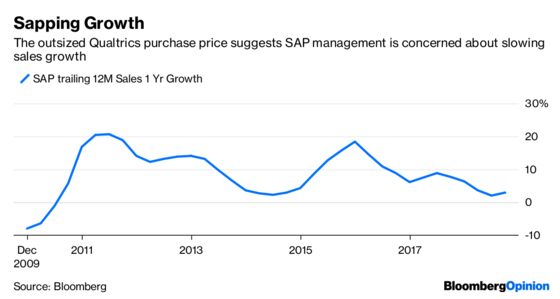 As he sought to justify the price, Smith compared his company to ServiceNow, another enterprise software firm enjoying 40 percent annual sales growth. It trades at about 12 times expected 2018 sales; the price SAP is paying for Qualtrics equates to 20 times sales. Given that ServiceNow, which is loss-making, is already on a fairly exorbitant multiple, the Qualtrics premium looks particularly generous. At its last funding round, it was valued at just $2.5 billion.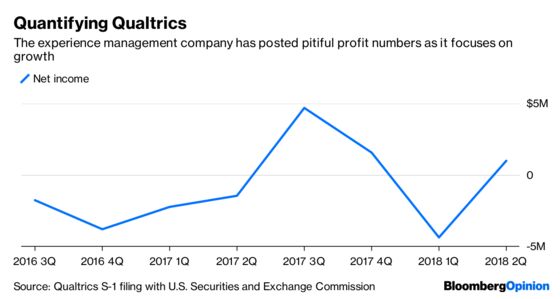 The high price might also raise the prospect that, flush with cash, key Qualtrics employees might not stick around, Mirabaud Securities analyst Neil Campling wrote in a note to clients, with good reason. This is a perennial problem for software acquisitions, and it's worrying that SAP hasn't said how it will solve this. 
To satisfy investor concerns, SAP will need to show it can generate a healthy return within a few years. If Qualtrics were to sustain its pace of growth, and gets close to its new parent's broader profit margin after tax of 14 percent, investors would probably have to wait until about the middle of the next decade to see the sort of profits that would justify the company engaging in the most expensive acquisition in its history.
But McDermott plans to turbocharge its trajectory by using SAP's 15,000-person sales network to sell Qualtrics' software for collecting and analyzing market research and customer loyalty data. There's no doubt that leveraging the company's existing channels can accelerate the target's growth. The promise of that pickup doesn't justify offering such an outsized multiple. McDermott still has a lot of explaining to do.
This column does not necessarily reflect the opinion of the editorial board or Bloomberg LP and its owners.
Alex Webb is a Bloomberg Opinion columnist covering Europe's technology, media and communications industries. He previously covered Apple and other technology companies for Bloomberg News in San Francisco.